We mentioned the other day that mControl is now available for Windows Home Server. The add-in allows you to view, manage and secure your home . mControl integrates lighting systems, security panels, security cameras, climate control and audio/visual components into a unified interface. Finally home automation is available to Windows Home Server.
We Can:
Monitor and control home security systems and thermostats
View and record IP cameras
Monitor and control INSTEON, Z-Wave and other lighting devices
Send and respond to IR (remote control) messages
Installation:
Since the add-in is embedded into the mControl v2.00 Home Edition software, we need to download that version which is available as a 31 day trial. To do so, click the Download button next to mControl v2.00 Home Edition software (currently the top item).
Before the download commences we need to supply a few details, including our name and email address. Once we have the download saved on your computer we need to open the zip archive and extract the 2 files in the WHS Setup folder to your add-in's folder (\\SERVER\Software\Add-Ins). To continue with the installation we followed the installation routine discussed in Embedded Automation's PDF installation guide for Windows Home Server.
Access:
Once installation is complete mControl administrative functions can be managed from the WHS console where the service can be started, stopped, restarted or refreshed. Basic diagnostic information is also displayed.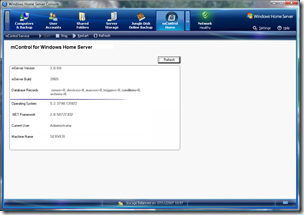 We can access mControl locally within our network using a web interface. To do this we open Internet Explorer and browse to http://WHS_NAME/mcontrol/Default.aspx, where WHS_NAME is the name of your Windows Home Server computer.
We can also access mControl remotely using the WHS web interface, where it is displayed under Web Sites on the Home tab to provide a convenient and secure remote access. Clicking on the mControl for WHS link takes us to the interface as displayed above.
More information about mControl including a 280 page PDF user manual and application notes for various home automation products is available from here. Pricing is $74.99 from Embedded Automation or from one of it's distributors.
Share this WHS Article with Others: