Yotsuba has developed a great add-in for Windows Home Server entitled Duplication Info, which enables you be see what hard drives your duplicated files reside on, enabling you to see how drive extender works.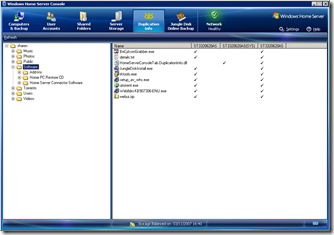 Since the add-in does not have an installer, it is a bit harder to install, but we will show you how:
Remote desktop into your Server machine.
Launch the Windows Home Server Console on the server machine.
Now close this open console
Copy HomeServerConsoleTab.DuplicationInfo.dll to C:\Program Files\Windows Home Server on the server machine.
This has now added a Duplication Info tab along the header in the console. You can now log off of the server machine and use the add-in from any client machine with the connector software installed.
More info, the download and uninstall details are available.
UPDATE: The add-in has now been updated with an easier installation routine. See post above for details.
Share this WHS Article with Others: