For those of you that don't know, Second Life is a 3-D online virtual world entirely created by its Residents. The infrastructure of user-built virtual worlds, is where people interact, play, trade and otherwise communicate.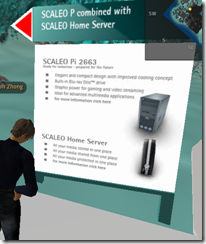 A virtual SCALEO Home Server from within the Green Island
As of October 17th 2007 Fujitsu Siemens Computers has opened the virtual gates to their Island in Second Life. Their green island includes Showrooms, conference meeting rooms, the headquarters of Fujitsu Siemens Computers in Second Life the Highlight-Tower, a shop and lots more.
Thanks to the German Homeserver Blog.
Share this WHS Article with Others: