This is a review of PhotoSync Beta2 for Windows Home Server. It's an Add-In that automatically uploads photos from your server to your Flickr account.
Installation. Installation was straightforward and simple. The steps were as follows (Steps 1-4 apply to any Add-In):
1. Download the msi file to a machine on your network
2. Open Shared Folders on the server and copy the msi file to the //Software/Add-Ins folder
3. Click Settings and choose Add-Ins
4. Click the Available tab and click Install next to the Add-In (PhotoSync Beta 2)
5. After the installation finishes it will log you out. After you log back in, you will see the Photo Sync icon in the console.
6. Click the Photo Sync button and it launches a wizard that gives the add-in permission to access your Flickr account.
Use. The way I use the Add-In is illustrated in the screen shot below.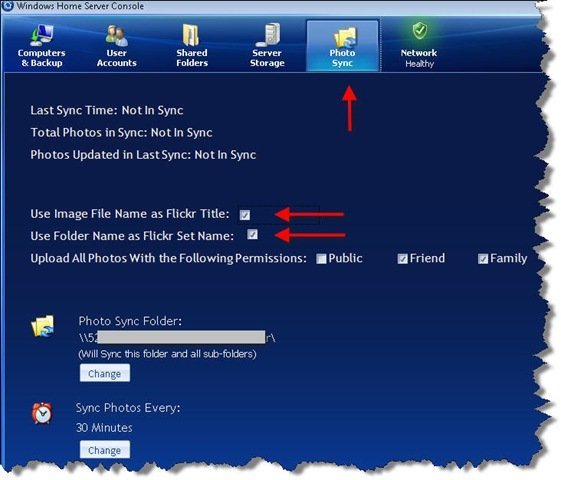 I created one folder called ToFlickr. Then I created a sub-folder for each set I wanted to create on Flickr. After that, all I had to do was copy the folder from my machine to the sub-folder. As soon as the Sync happened, it created the set on Flickr and copied the files to my account. Sweet!
Conclusion. If you use Windows Home Server and Flickr, this Add-In is a clear winner. I recommend it.
This is a guest post by Craig Huggart. He blogs at Tech Rest.
Share this WHS Article with Others: