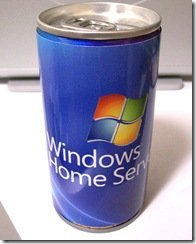 A table was setup by Microsoft at the "Linux Cafe" coffee shop in Tokyo to promote Windows home Server. Ironically the cafe was setup by a group of people to promote Linux and here we have what appears to be coffee Windows Home Server style.
On closer inspection MARS Magazine said that:
"Microsoft's people simply wrapped cans of Boss coffee in their product logo"
I don't feel so much of a geek now…one lump or two?
Share this WHS Article with Others: