We have three documents from Microsoft for you to flick through. The first is a technical brief available for download entitled WHS Technical Brief – Remote Access which provides an in-depth look at the features and functionality of Windows Home Server Remote Access. Learn about enabling, testing, troubleshooting, and customizing Remote Access. The 22 page document (19 pages in PDF format) is available either as a .docx file which can be loaded in Word 2003, Word 2007 or Word Viewer 2003 or as a PDF file.
Also available is an updated version of the Reviewer's Guide for Windows Home Server. Now at version 1.0a with 3 pages added, making it a 23 page PDF document which explains the Windows Home server product features.
The updated Reviewer's Guide has been taken down for some reason. The original 1.0 version is still available from here.
UPDATE: And now even the original version has been taken down, hopefully Microsoft will put up another link soon.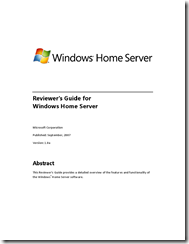 Of final note is Troubleshooting Windows Home Server Connector Installation. This 11 page .doc document can help troubleshoot problems if you see "An unknown network error has occurred," "Configuring computer backup failed," or some other error during Setup of the Windows Home Server Connector software.
Thanks to Blink.nu for the details on the first document.
Share this WHS Article with Others: