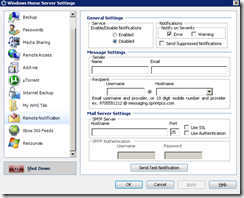 It is good to see great add-in's starting to be developed for Windows Home Server. Big Al's contribution is called Remote Notification which is designed to forward the System Health Notifications from the Home Server to an email address, allowing you to easily check the server health status when away from home. All WHS notification events are intercepted including those issued by 3rd party add-in's and the configuration process also allows you to setup an email to SMS service, so if out and about your mobile device will receive a text message.
More information and the download link has been published by developer Alex "Big Al" Kuretz.
UPDATE: To setup the email to SMS service, you will need your mobile phone carriers "SMS gateway" details. Once setup an email message from the Internet will be delivered to your cell phone as an SMS text message. For a list of world wide carriers and the format required see this article and check under SMS Gateways and Other Carriers.
Share this WHS Article with Others: