As you can see a new version of Home Server Download Manager is available and the main thing that you may notice is that the interface is now in English (Whoopee – My German is awful).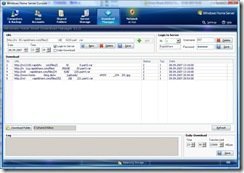 Some of the features are:
Two download functions are supported, without registration at the server for everyday downloads and those that require registration with the server (eg: RapidShare premium accounts).
As well as on demand downloading a daily download option is available so you can schedule your downloads to take place during the day/night at a regular interval.
The HTTP protocol is implemented, FTP Download/Upload will be added later.
Still only available as an internal release the beta should be available from the weekend beginning the 15 September 2007.
Information obtained from the German Homeserver forums.
Share this WHS Article with Others: