The Code2Fame Challenge winners have been announced. The three finalists presented their add-in's to the panel of judges who included Paul Thurrott, Charlie Kindel and Ed Bott amongst others.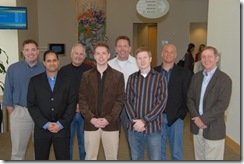 Back row in picture , left to right: tech journalist Paul Thurrott, analyst/industry pundit Rob Enderle, director of product management for Windows Server Solutions Steve VanRoekel, Home Server engineering GM Charlie Kindel, and author and blogger Ed Bott. Prakash, Andrew and David are pictured in front, left to right.
In third place winning $1000 was Prakash Gautam for Community Feeds for Windows Home Server which pulls RSS feeds to an Xbox or any Windows Media Connect device.
In second place is David Wright for Jungle Disk. An inexpensive online backup and storage add-in for our home server taking home $5000 for his troubles.
And the Winner in first place Ladies and Gentlemen is Developer Andrew Grant for his add-in Whiist. The add-in that allows users to easily host multiple web pages and photo albums on Windows Home Server wins him a cool $10,000.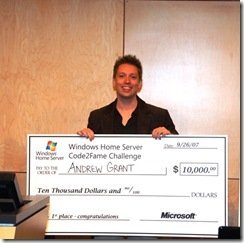 As the team said:
"Many thanks to all of our Code2Fame contestants for their great submissions. It was hard to choose the finalists, let alone the winners. One of the coolest things about the contest was the variety of applications….and Windows Home Server isn't even widely available yet!"
Well done folks, the community of add-in developers gets better and better. All I want now is an add-in that will wake me up at 7.30AM and make me a coffee…umm! Thanks to the Windows Home Server blog for the info.
Share this WHS Article with Others: