We reported earlier this week that add-in WHS Download Manager would be available for download by next weekend after being only available as an internal beta. Earlier than promised beta version 1.4 is now available for general release as an open beta for everyone.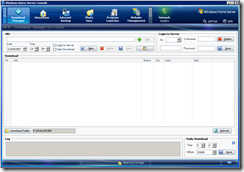 The ultimate download manager for your home network, centrally installed on your Home Server.
The file can be downloaded from the Homeserver blog in Germany and don't worry if German is not your native tongue, just scroll down to the English language version.
INSTALLATION NOTE: When first installed the add-in may crash the console when clicking the "Download Manager" tab. To avoid this make sure you restart your WHS via the console using Settings, Shut Down (bottom left) and Restart.
Share this WHS Article with Others: