Following up on Terry's We Got Served article last week the Harmony Home Server from Tranquil PC is now available for pre-order. The small fan less appliance comes as standard with an internal 500GB hard disc and 512MB of DDR2 Ram at an affordable price of £338 excl VAT.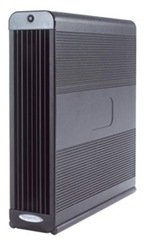 The Ram can be upgraded to 1024MB of DDR2 for an additional £19 and the hard disc to either 750GB or 100GB for £119 and £169 respectively. Since the T7-HSA has 4x USB2.0 ports, additional external HDD's can be added. Tranquil have two models available. A 320GB unit at £59 and a 500GB unit at £74. They add that delivery will be guaranteed as soon as Microsoft ship the software (due mid September 2007 or earlier).
PC Pro's test report and more information as a PDF file are available, and if you have some spare cash available you may also pre-order the T7-HSA Tranquil Harmony Home Server right now.
Share this WHS Article with Others: