Well we have two new books for you. The first is by Paul McFedries entitled Teach Yourself VISUALLY Windows Home Server. The 352 page $30 paperback from the Wiley publishers Visual series will be available from February 5 2008.
Book Description:
Technology enthusiasts and home users around the globe are buzzing about the latest product from Microsoft, Windows Home Server. This book features step-by-step instructions and hundreds of full color screenshots to provide readers with robust topic coverage. Succinct explanations walk readers through over 150 Windows Home Server tasks from Windows Home Server basics and configurations to working with WHS settings, restoring data, and making a remote connection to WHS. With all the features included in this inaugural product, even skilled users will need a solid resource like Teach Yourself VISUALLY Windows Home Server to help them get the most out of WHS. This book is aimed at intermediate computer users who are new to Windows Home Server and not particularly comfortable with networking. These are users who want to know what Windows Home Server can do, who want to get the most out of their investment, and who want to know how Windows Home Server can make their computing lives easier, richer, and safer. And they want to learn all this using the simple, visual, step-by-step tasks that this book will provide.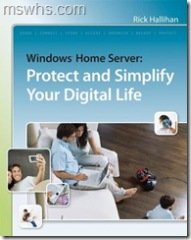 Another $30 paperback ($20 from Amazon) book from publishers Wiley is Windows Home Server: Protect and Simplify your Digital Life. With this book, available from January 22, 2008, Windows and networking expert Rick Hallihan brings the power of Microsoft's Windows Home Server to everyday PC users. Rick begins by taking the user through the process of selecting a pre-built hardware solution or reusing or building a new machine and setting up the Windows Home Server software package. Next readers will follow step by step tutorials for creating user accounts, installing the connector software, configuring backups, and configuring a shared printer.
The book includes expert guidance that teaches readers to develop a strategy for organizing their digital life, including documents, photos, movies, and music. This strategy is focused on making the best use of the capabilities of Windows Home Server for making the user's data available and survivable and for getting them onto the server, and organized in a logical and maintainable manner.
Next readers are presented with instruction on how to make use of Windows Home Server's recovery features, including recovering accidentally deleted files, point-in-time restoration of files, and recovery of a crashed machine. Advanced recovery procedures, including recovering from failed Windows Home Server secondary disks or the Windows Home Server primary disk will be covered as well.
Finally readers will learn the ins and outs of setting up and using Remote Access features, including considerations for security and how to configure a typical home broadband router to allow inbound connections, and as a bonus, Rick presents with some of the ways that third party applications can enhance and extend the capabilities of Windows Home Server including include 3rd party remote backup, home automation, and integration with security systems.
Share this WHS Article with Others: