Beta participants can no longer download the Release Candidate (RC) version of the software at the Microsoft Connect web site. Beta testers will be able to continue to use the beta product keys they downloaded from the Connect site, but no more product keys for the RC software will be issued.
The posting on the WHS Blog stated that the 120-day Evaluation Edition will be able to be ordered from the Windows Home Server product pages for a cost recovery basis to cover shipping and handling in the next 4-6 weeks as we originally stated earlier.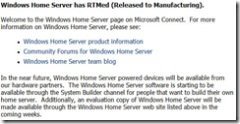 They also added that in the future, the Windows Home Server team will continue to use the Connect site for interacting with the Windows Home Server community by releasing additional items that we want people to get an early look at. All of the suggestions submitted by the community will continue to exist, and they are busy digging through all of the great ideas as they start planning version 2 of Windows Home Server.
Please check back at the Windows Home Server Connect site from time to time to see if there is additional stuff to download and test.
Share this WHS Article with Others: