Digital entertainment software for your Windows Home Server – enjoy TV/PVR, Online Video, Music and Photos on any TV, PC or Mac screen at home or away from home with SageTV Placeshifter.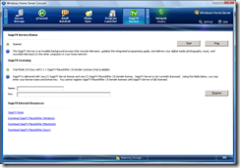 SageTV Media Server software available for Windows Home Server Platform offering digital entertainment at home and away from home.
SageTV is designed to be your "always on" digital entertainment hub that's accessible at home or over a broadband connection. Put any Video, Music or Photos onto your SageTV Media Server and enjoy them on any TV, PC or Mac screen.
Enjoy all your TV, Video, Music or Photos anytime, anywhere using SageTV Placeshifter to connect to your Windows Home Server from any broadband connection
Connect your TVs at home to SageTV on Windows Home Server with SageTV Media Extender
Handles nearly every Video, Music and Photo format
Works with Cable, Satellite and Broadcast TV around the world including NTSC, ATSC, PAL and DVB
Once you install the add-in you must also download and install the SageTV Placeshifter on your home PCs that you wish to view the content on. Which can be either a Windows, Macintosh or Linux PC.
Although SageTV 6.26 Release Candidate is still beta software, I have found it to be no problem. The Random Musings blog has details of his configuration.
Downloads and more information.
Share this WHS Article with Others: