If you are using a computer without the connector (console) software on it (e.g. at work trying to access your home server) and you try to connect to the web interface of WHS then the following error appears: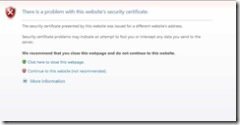 Home PCs with the connector/console software installed have the server's certificate automatically installed during connector setup. Computers without the software installed don't have this certificate and so the error message.
To stop this error appearing; when accessing the web interface we need to export the certificate from a PC with the connector/console software on it and then import it into the PC without the software on it.
EXPORT
So on the PC with the connector/console software on it open your web browser and type in your https://xxxx.livenode.com address
To the right of the address bar click on the Padlock icon and then View certificates
Click the Certification Path tab
Double click the long GUID number (root certificate)
Click the Details tab
Click the Copy to File… button
Export the certificate somewhere safe using default option
IMPORT
Move the certificate to the machine without the connector/console software
Double click the the .cer file and select Install Certificate… on the General tab
Click Next on the wizard that opens and place a dot in Place all certificates in the following store
Click Browse and select Trusted Root Certification Authorities and click OK
Click Next and then Finish
That's it. You can now access your web interface on your PC without the connector/console software via your livenode.com dynamic address, your server name e.g. SERVER or localhost without getting the dreaded error html page.
Share this WHS Article with Others: