More and more Internet Service Provider's (ISP's) are blocking the default ports which allow access via the web interface to your Windows Home Server. With this workaround we will have you remotely connecting to your server using your favorite browser.
The two ports in question here are 80 and 443. If your ISP is only blocking port 80 you only need to forward port 443 to your WHS and then connect using https:// and NOT http://
But what if your Internet provider is blocking both ports. What can you then do to allow web access to Windows Home Server?
Well, we have a workaround for you.
First remote desktop to the WHS as the Administrator and click Start, right click My Computer and select Manage.
In the left pane expand Services and Applications, expand Internet Information Services (IIS) Manager, expand Web Sites and right click on Default Web Site (making sure that it is highlighted first) and choose Properties.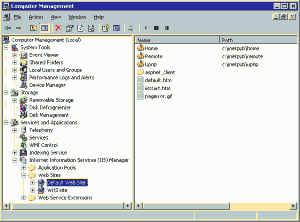 From the Web Site tab you can manually type the port number you want. In this example we use 8008 for http (TCP Port) and 600 for https (SSL Port).
You can now click OK and close the Computer Management Console.
We now need to forward these two new port numbers in the WHS firewall on the server.
Click Start, Control Panel then Windows Firewall. On the Exemptions tab we need to click Add Port. We then insert 8008 for the name and 8008 for the port and make sure that TCP has a dot in it. We then OK this and do the same again, but this time inserting 600 instead for name and port and again making sure TCP is dotted.
We can now OK out of the dialogs and Log Off the Windows Home Server.
Finally we need to forward these two ports to our WHS in the router.
If you need help with this part try this site. Select your router then go through the instructions replacing the port numbers with the ones from above, making sure that you do both ports.
You can now access your WHS via its web interface using:
http://xxx.xxx.xxx.xxx:8008/home
https://xxx.xxx.xxx.xxx:600/home
Please note that without the /home part it will not work.
If your router does Port Redirection (NOT the same as Port Forwarding) you need not do any of the above, but instead you could forward external port 8008 to 80 and forward external port 600 to 443 on your router instead.
UPDATE 19 October 2007: My article describes using port 8008 for HTTP and port 600 for SSL. Carsten Hartmann bought to my attention that port 600 is still a fairly low port number and will more than likely be blocked too since ISP's normally block ports below 1200. In his situation he used port 8008 for HTTP and 8009 for SSL, which is simple and easy to remember. He added, remember to stop and start your IIS services after you make the changes .
You can access your server by https://Servername.homeServer.com:8009/remote
UPDATE 25 June 2007: SME has posted a valid point that if their ISP blocks the ports, they don't want you to run servers and you agreed to follow their rules by accepting the Acceptable Use Policy (AUP). Personally my ISP has the ports blocked BUT only disallows FTP servers. So the Windows Home Server is OK. But your provider may be different, CHECK with them first as your account may be deleted by your provider!
Share this WHS Article with Others: