Ed Holloway has posted on his blog that Beta2 of PhotoSync for Windows Home Server is available.The new version has several tweaks, bug fixes and numerous enhancements.
PhotoSync monitors your WHS Photos folder or a sub folder within it and automatically uploads the contents to your Flickr account. You can select which photos you would like to make public, so your private ones are not uploaded and the frequency this happens can be scheduled also.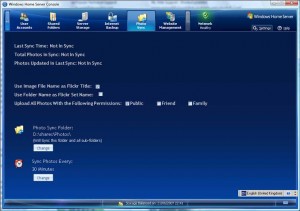 More information is available from Ed Holloway's Blog. Including the download link.
Ed has also posted a link to a nice install guide for PhotoSync from TechRepublic. As he states "This is from PhotoSync Beta1, so some screenshots will be different"
Share this WHS Article with Others: