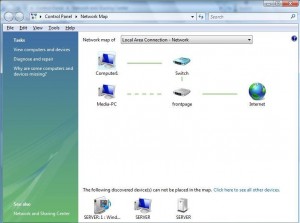 Windows Vista Network Map before the LLTD Responder install.
Those of you using Windows Vista can now have your WHS shown correctly in your Vista Network Map by having the LLTD Responder for Windows XP installed on your WHS machine.
Download the LLTD Responder for XP from Microsoft's website.
Run the exe on your WHS system (32bits only).
Ignore the Setup Error that it will not install on your version of windows and do NOT press the "ok" button of the error message but leave the message present as it is.
Search the root of your drives for a folder which should look something like:
"a64f92cd628ff82fa309fa2d8204f0" Mine was in the root of the D drive.
In this folder you will see the extracted files of the setup.
Copy the contents of the folder to a temp folder of your choice, except for the  $shtdwn$.req, as it is in use by the setup.
After you copied the files you can click the "OK" on the error message and the setup folder disappears.
Go to your temp folder where you copied the files.
In the update folder go to update.exe properties.
On the compatibility tab choose windows XP.
Run update.exe and the LLTD services will install.
We now need to go the properties of your network card via Start, Control Panel, Network Connections, Local Area Connection and click on Properties.
On the "General" tab choose Install.
Select "Protocol" and "Add".
On the list you now choose "Have Disk".
Browse to the folder where you copied the files and go to the \SP2GDR\ip\ folder.
Select the "inf" file, click OK and you'll see the LLTD.
Press OK and you will see it listed as "Link-Layer Topology Discovery Responder" in the list.
You will now need to restart the WHS machine.
Under the Network and Sharing Center, "View full map" in Windows Vista you can see that the WHS is now fully listed.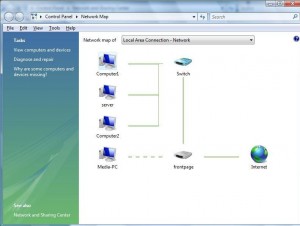 Windows Vista Network Map after the LLTD Responder install.
Share this WHS Article with Others: