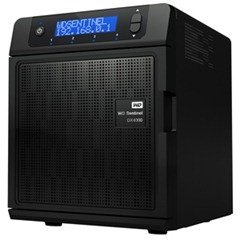 Western Digital are a brand well known to consumers, whether it is for the My Book storage range, WD TV media players or plain old internal hard disks, pretty much everybody has heard of or used a WD device.
Now Western Digital have released the DX4000 small office storage server, which promises enterprise class data protection for a small business. That is a big claim from such a small device, so lets see what the DX4000 server offers to substantiate its price premium over a domestic home server.
Windows Storage Server
I seem to have been working through Windows Home Server software variants recently. First it was Small Business Server 2011 Essentials, and now it is Storage Server.
So what exactly is Storage Server (or Windows Storage Server 2008 R2 Essentials to give it its full name)? According to Microsoft, it is a version of the Windows Server 2008 R2 operating system designed specifically for network-attached storage (NAS) appliances, optimised to deliver better file serving.
It is a bit tricky untangling the functional differences between all of these versions, but the headline difference between Storage Server and Home Server 2011 seems to be its ability to join an existing domain. This is slightly different to SBS 2011's ability to host a domain. Clear? Well, here is a table to try and illustrate the differences:
| | | | |
| --- | --- | --- | --- |
| | Home Server "Vail" | Storage Server "Brekenridge" | SBS 2011 Essentials "Aurora" |
| Users | 10 | 25 | 25 |
| Primary Customer | Consumer | Small Business | Small Business |
| Memory | 8GB | 8GB | 32GB |
| CPU | 1 CPU | 1 CPU | 2 CPU |
| Network Infrastructure (DNS, DHCP) | no | no | yes |
| Active Directory | no | no | yes |
| Remote Web Access | yes | yes | yes |
| Server Backup | yes | yes | yes |
| Client Backup | yes | yes | yes |
| Media Streaming | yes | yes | no |
| Join Domain | no | yes | Create only |
Storage Server seems to have a good range of features. On the positive side; it can support up to 25 users, join a domain and it retains the media streaming features that SBS 2011 has lost.
On the negative side; it is limited to a single CPU, can't host a domain and has no network infrastructure or Active Directory capabilities. But are these things that are essential to a NAS appliance? No, not really. So overall Storage Server seems to offer the best balance of features.
Hardware
Looking every inch a professional device, the DX4000 is finished in black painted steel, feels well constructed and a worthy place to store your precious and irreplaceable data. Measuring only 208 (8.1in) high, 223 (8.8in) deep and 160 (6.3in) wide, the DX4000 is arguably the smallest server I have reviewed, but don't be fooled by its diminutive size, as this server has several tricks up its sleeve.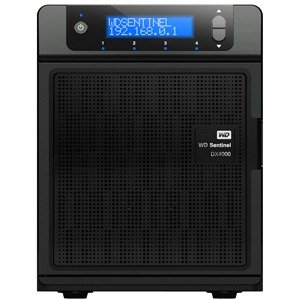 The DX4000 is aimed firmly at the business user, and as such it contains a few enterprise grade features and capabilities to ensure maximum data integrity and availability.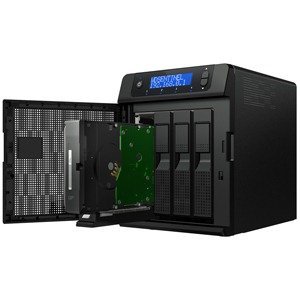 Beginning at the front of the server, behind the main door are four drive bays; not the normal caddies you would expect to find on a regular home server. Here the disk slides right into the bay without needing any tools, and is firmly held in place by the drive door. This greatly simplifies the replacement of hard disks, and makes it very easy to manage the physical storage of the server.
Starting us off on with one of the enterprise features, is the choice of hard disk you will find behind the drive bay doors. The DX4000 ships with the RE4-GP variant of the WD GreenPower disk, giving higher reliability and lower power consumption than the standard disk and normally found in enterprise data-center storage systems.
It is worth mentioning that the DX4000 will operate in RAID-1 mode with two hard disks, and in RAID-5 if there are three or more installed.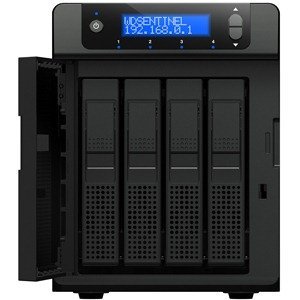 There are no ports or connections to be found on the front of the server, but there is a large LCD display that can be cycled through various status displays, system errors, IP address, capacity, number of drives etc. This makes monitoring the status of the server pretty simple without needing to use the regular dashboard software.
A power button and some drive-bay status lights finish off the front of the server.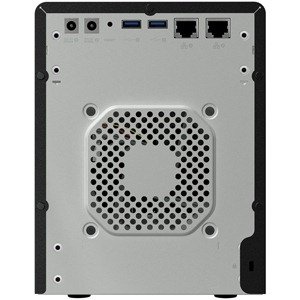 Moving  around to the rear we find the enterprise features continuing with the DX4000 ability to accommodate an optional second power supply. This is to allow the server to continue functioning in the event of a failure or replacement of the main power supply.
The same logic is behind the twin gigabit Ethernet ports also found on the rear, allowing the server to continue if there is any failure or interruption to one of its connections.
Finally two USB 3.0 ports allow more storage devices to be connected if you exhaust the internal drive bays.
Inside we find a 1.8GHz Intel Atom D525 and 2Gb of DDR3 RAM on an Intel motherboard. The review model had a pair of 2Tb RE4-GP disks giving a RAID-1 total of 2Tb.
Software
Initial commissioning of the server followed the normal Windows Home Server/SBS 2011 procedure, and the server soon presented itself to the network. Helpfully, the front display showed the TCP address allocated to the server, and even though there were two network connections only a single TCP/IP address lease is granted to the server.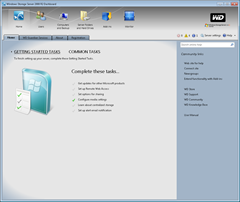 Bringing up the dashboard reveals some of the extra software and services provided by Western Digital.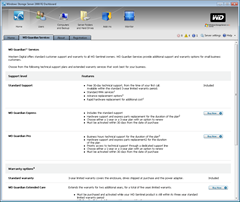 First up is WD Guardian Services, from this page you can buy extra levels of support or warranty services for your DX4000 server. As with all extended warranties, if you feel you need the extra cover and can justify the extra cost, go ahead and commit. The page links out to DigitalRiver and looks like it makes it pretty easy to buy into the service.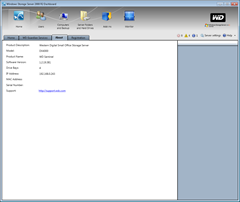 The About tab give you some very basic information about your servers model, software and hardware.
The other non-standard addition to the Dashboard is the Monitor section which has two tabs, the first one being Health.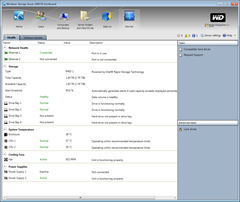 This tab displays some very rich information about the servers hardware, including the status of the dual Ethernet ports and power supplies, the RAID controller and system temperature.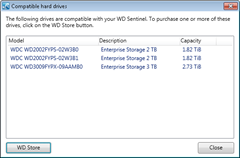 Also on this page is an option that will list compatible WD hard drives, and give you a button to an online store if you need to buy some.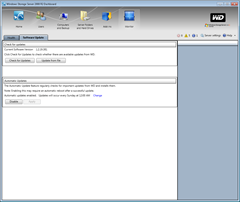 The final tab is for Software Update, which allows the WD system software to be updated or scheduled for automatic updates.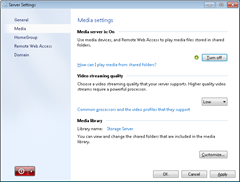 The difference between WHS 2011, SBS 2011 essentials and Storage Server can be seen on the Server Settings menu. Unlike SBS 2011 essentials, the DX4000 has the option for media streaming and conversion similar to those enjoyed by WHS 2011 users. This may prove useful to any businesses who need to share this type of content to their employees or customers.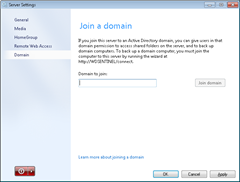 Lastly we have an option to join a domain. Again, this differs from WHS 2011 which has no domain support, and SBS 2011 essentials which can only host a domain.  The value of this capability is to allow the DX4000 to integrate into an existing Windows Active Directory domain, simplifying user access controls to the stored data.
In Use
Getting going with the client installation and configuration are just the same as the other server versions.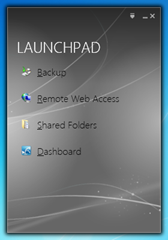 I am starting to get used to these changes of Launchpad and Dashboard colour now; instead of the familiar green of WHS 2011, we get grey for Storage Server and if you read our review of the Acer AC100S, you will remember that SBS 2011 was blue.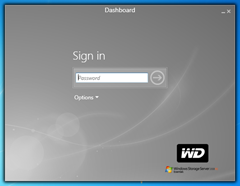 The remote Dashboard connection has been WD branded, but other than that it operates as you would expect.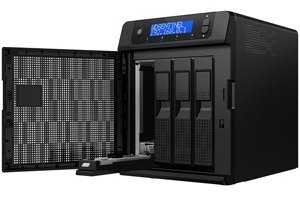 In its twin hard disk configuration, the review servers power consumption was a paltry 25 watts, amongst the lowest I have seen for any server. No suitable second power supply was available to test power failover, but I can vouch that the two Ethernet ports worked perfectly; unplugging either of them resulted in faultless and continuous connection to the network.
Noise levels are fairly low, with a slight amount of fan noise and an occasional blip of the hard disk heads to let you know the server is still there. When powering down of the DX4000, for reasons known only to Western Digital the normally quiet system fan will accelerate up to full speed, and stay running until you unplug the server from the wall. An odd thing for it to do, but in a working environment and with only 25 watts power consumption, I am not sure you would be powering it down anyway.
There is nothing to complain about performance wise. The DX4000 was fast and responsive at all times and as Windows Storage Server is able to support up to 25 users, it would be a fair assumption that WD had built the hardware to accommodate this many users.
Comparatively, 2Gb of RAM isn't a great deal for a server, but on the other hand it should be plenty for a NAS box (which is really what this hardware aims to be). Loading complicated, memory hungry and CPU intensive applications isn't going to be wise on this server, as it could compromise the DX4000 primary role; a file server.
I tried, but could find no obvious tools to manage the RAID array on the DX4000. You can see the type and status of the array on the Dashboard Health tab, but no management application or menu seems to be available. The manual didn't help much, simply stating that the server would operate in RAID-1 with two disks, and RAID-5 with three or more.  This might seem a little inflexible to those of us used controlling all aspects of their servers, but for this servers target customer, the small business user, a server knows best policy makes sense.
Verdict
This is a very impressive server, reassuringly resilient and a professional looking device, worthy of gracing the network of any small business.
Windows Storage Server 2008 R2 Essentials offers an ideal balance of features. The pedigree, familiarity and usability of its Window 2008 server origins allows easy integration into existing Windows domains; the ability to manage and fully backup 25 client PC's; internet accessibility and media distribution capabilities all add up to make this a very compelling device for a small business.
Pricing would seem expensive from the perspective of a regular home server owner, but you are getting an enterprise grade device offering resilience features that would allow a small business to continue functioning when lesser and cheaper servers could let them down. Data availability and integrity is the key to what this server is about.
I can find nothing really to fault with WD Sentinel DX4000, it is a as close to an ideal device as I have seen.
WD Sentinel DX4000 product page
http://www.mswhs.com/2012/02/wd-sentinel-dx4000-promo-video/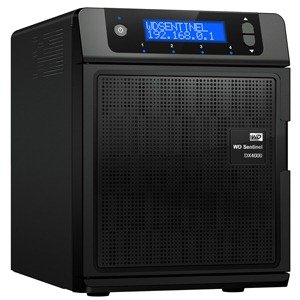 Share this WHS Article with Others: