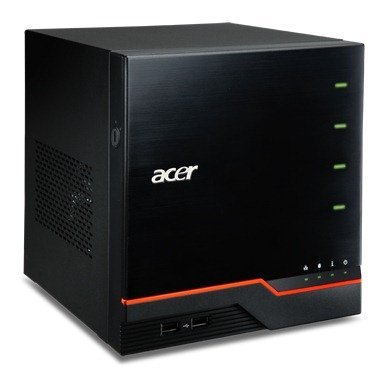 In a bit of a departure from the normal Windows Home Server based hardware review, today I find myself presented with an Acer AC100S server loaded with Microsoft Small Business Server 2001 Essentials (SBS).
Back when WHS v1 first shipped, many small businesses immediately saw the benefits that a home server could bring with its low cost, centralised storage, client backup and simple management, so it came as no surprise to see a version targeted at small businesses when Microsoft released the revamped Home Server family in 2011.
Acer describe this server as:
The Acer AC100S delivers essential server-class features and expandability along with unique Acer ITSmart utilities and Microsoft® Small Business Server 2011 Essentials together to ensure the success of startup and small-size businesses. The ultra-micro tower server is ENERGY STAR® certified and features an 80 PLUS® efficient power supply that saves space and energy while keeping your employees and office highly productive.
So that is a big claim from a small box, lets see if the AC100S can live up to the expectation.
Hardware
The AC100S wears a very similar case to the last Acer server I reviewed, the Revo Center RC-111. Measuring 200 (8in)w x 205 (8.1in)d  x 200 (8in)h there are some minor cosmetic differences, but it is essentially seems to be the same case, which is no bad thing as it is very sturdy and solidly built. In operation the AC100S is almost silent with the big 120mm fan keeping things cool without adding any unwanted noise. Power consumption hovered around 38-48 watts with the two supplied WD Caviar Blue disks, which is a very impressive figure given the potential power that lies within this little cube.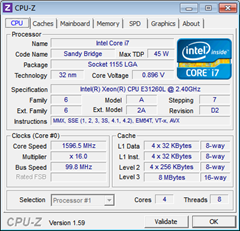 The AC100S supplied for review has an Intel Xeon E3-1260L 2.40Ghz (4 core, 8 thread) processor, 4GB DDR3 memory and 2 x 500GB disks (Western Digital WD5000AAKS Caviar Blue). Power comes from a 200w 80+ (bronze) power supply and internally there is a single (half height) PCIe x8 slot should you wish to add a graphics card or TV tuner (or whatever) to your server.
The usual trip around the buttons and sockets reveals two x USB 2.0 ports at the front, along with a the main power button and a family of status lights. There are also LED lights for each of the hard disks, which will normally be green, but can flash red if the RAID set has got out of sync or is rebuilding.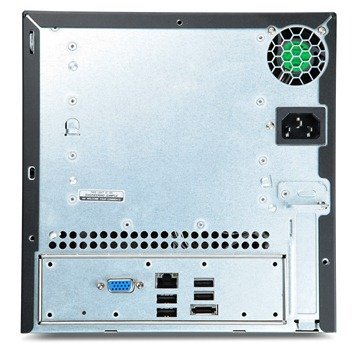 Around the back are all the normal connections, Gigabit Ethernet, eSATA, four x USB 2.0 and the very welcome addition of a VGA port. Having a screen attached to your server greatly simplifies the installation of an operating system and frees the manufacturer from the need to produce a custom headless installation process. Putting Windows 7 or Linux onto this hardware will be no issue, should that be your choice.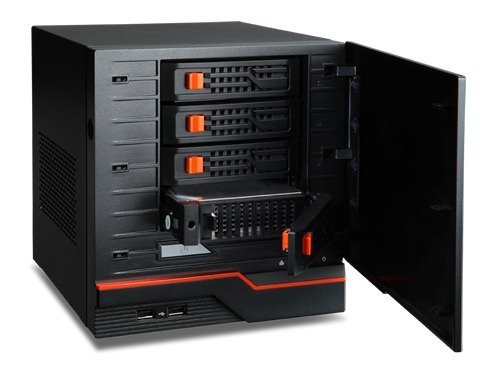 The four hard disk caddies are the same screw-less design used on the RC-111 and it is both quick and simple to change hard disks without any tools. Unlike the RC-111, the AC100S can have its front door locked to prevent accidental removal of the disks or to protect the power button from unauthorised shutdown.
Small Business Server 2011 Essentials
This is the first time I have seen SBS 2011 Essentials, so lets quickly see what the major differences are with WHS 2011:
| | | | |
| --- | --- | --- | --- |
| | Home Server "Vail" | Storage Server "Brekenridge" | SBS 2011 Essentials "Aurora" |
| Users | 10 | 25 | 25 |
| Primary Customer | Consumer | Small Business | Small Business |
| Memory | 8GB | 8GB | 32GB |
| CPU | 1 CPU | 1 CPU | 2 CPU |
| Network Infrastructure (DNS, DHCP) | no | no | yes |
| Active Directory | no | no | yes |
| Remote Web Access | yes | yes | yes |
| Server Backup | yes | yes | yes |
| Client Backup | yes | yes | yes |
| Media Streaming | yes | yes | no |
| Join Domain | no | yes | Create only |
Windows Server 2008 R2 provides the common core to both server platforms, but whereas WHS is licensed for 10 users, SBS can have up to 25. WHS has media serving and conversion capabilities to serve music, movies and pictures to a local network which SBS completely lacks. SBS can be an Active Domain controller but WHS can't.
Once installed and running, the AC100S and SBS 2011 Essentials have a very similar look an feel to WHS 2011, but unlike most WHS 2011 OEM servers, the Acer AC100S has a VGA port which allows it to be managed directly rather than having to connect using an RDC connection.
Log in and you will find the familiar Dashboard with all the normal functions and management tools, but you will see three main differences:
The Dashboard is blue not green
You wont find any media streaming controls
Acer ITSmart is the initial screen when the Dashboard loads.
The first two are self explanatory, so let's have a closer look at the third, Acer's ITSmart software.
Acer ITSMart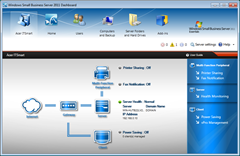 Initially ITSmart draws you a simple diagram of your network and some of the primary capabilities of the server. To the right you are able to control and configure Printer and Fax sharing, Server Health Monitoring and Client configuration.
Server Health allows you to see all of the servers hardware details, so lets look at what is on offer.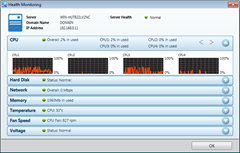 Starting with CPU, all of the Xeon E3-1260L cores can monitored (the < > are used to scroll between CPU 1-4 and CPU 5-8).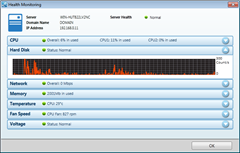 Next is hard disk activity.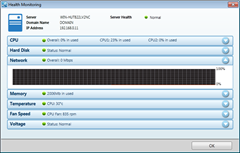 And then the network.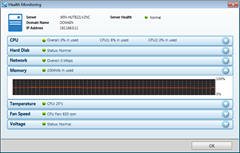 Memory is next, with the default SBS 2011 not really troubling the 4GB of RAM.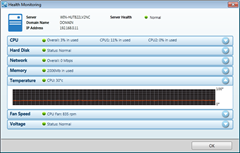 Now we have temperature.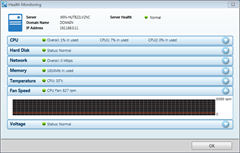 And fan speed.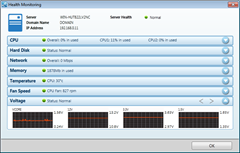 And finally voltage. Again the < > will allow you to scroll through the available values.
Moving to the Client section, we have the Power Saving controls. These allow the server to manage the standby/sleep of its clients. For this to work, there is an add-in that needs to be installed on each client.
The add-in can be deployed to all the clients remotely without needing to visit each one individually.

I haven't encountered an add-in that uses this technique on WHS before, so I don't know if it is something that WHS supports or not, but it is very neat and simple here on SBS 2011. Each of the clients dutifully loaded the add-in on their next reboot, with some new sections being added to the local Launchpad application.
Everything else on the dashboard performed as you would normally find on WHS, with the only thing really different being user accounts. Because SBS 2011 is an Active Directory domain controller, any clients capable of joining a domain (XP Pro, Vista Business, Enterprise & Ultimate, 7 Pro and above) can join the servers domain. This allows a user to log into any client PC joined to the domain in the same way you would expect to find in an large enterprise. Neat for a small business, but of limited use to a home user.
Intel tools
Outside of the Dashboard, Acer have installed some additional Intel tools to control the deeper elements of the server.
Intel Rapid Storage Technology controls the on board RAID built into the motherboard. Out of the box, the two Western Digital Blue 500GB hard disks are configured into a RAID 1 array, which makes sense for a business to ensure maximum up time for the server in the event of a single disk failure. There looks to be plenty of flexibility with the configuration, and I tested putting the array out of sync by booting up with only a single drive. Upon the re-connection of the missing drive the array rebuilt seamlessly in the background, with the only visible sign something had gone wrong being the blinking red lights on the front of the server. Once the array had fully synchronised, the lights returned to green.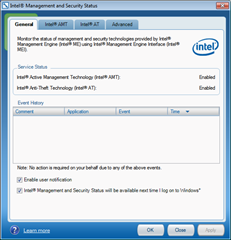 Also provided is the Intel Management and Security Status tool. This controls the Intel Active Management Technology which is all about remote control and healing of the server, and Intel Anti-Theft technology which can help protect against theft.
In Use
This server is very quick, the Xeon processor makes very short work of file serving, and because there is no media conversions or other streaming duties to bog it down, it remains fast at all times.
In the testing environment, I was not able to simulate the 25 simultaneous users that its license allows, but the Intel on-board RAID coupled with the WD Caviar Blue disks should make very short work of all the file serving required to keep a small business running.
Although there is some additional overhead for an SBS server over a WHS server (Active Directory domain, DHCP & DNS and so on), this doesn't seem to impact the AC100S performance one bit. In fact, this server should make an excellent platform to deliver other small business services such as email or databases should they be required in addition to the standard file serving and client backup.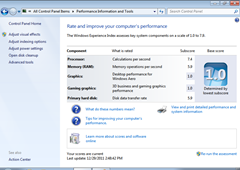 By way of a very quick comparison, Windows 7 was installed to give you an idea of the relative performance of this hardware. We can overlook the low graphics scores as they aren't important to a server, and as this hardware can take a half-height PCIe X8 card you could always opt to install a graphics card if you need one.
Verdict
The AC100S looks to be a very capable Small Business server, powerful, unobtrusive and expandable. Microsoft SBS 2011 Essentials presents the right level of enterprise functionality to allow a central logon policy, centralised file storage and client backups.
It would be nice to see Acer offer this hardware with WHS 2011 in addition to SBS 2011, as I am sure the extra power of the Xeon processor would be greatly appreciated by some home server enthusiasts who would find an Atom powered server a little to limited.
Pricing wise the Acer AC100S is available for $999 in the US and for  £840.00 ex VAT in the UK.
A AC100S data sheet in PDF format can be downloaded directly from here.
Share this WHS Article with Others: