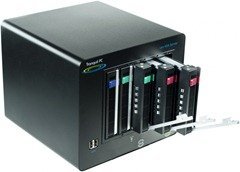 Tranquil PC have been long standing supporters of Windows Home Server, and at a time when there is little support from other PC manufacturers, Tranquil PC are offering a range of four different servers to UK users.
On test here is the Leo HS4, which sits at the top of Tranquil PC's range of Windows Home Server 2011 powered servers.
Case
The Leo HS4 shares its enamelled steel, five drive-bay case with Tranquil PC's SQA-5H range of home servers. Quiet in operation and solid in construction, these are excellent cases and at 213 (w) x 331 (d) x 195 (h) (mm) they are not going to take up a lot of space in the home. And don't be put off by the black cube appearance, as it can be also be ordered in white.
Although they share the same case, one major between the Leo HS4 and the SQA-5H is the number of the hard drive bays available. The case itself can accommodate up to five hard disks, all of which can be used on a SQA-5H, but due to the increased cooling requirements of the Leo's Core i3, one of the drive bays has been given over to the processors heat sink.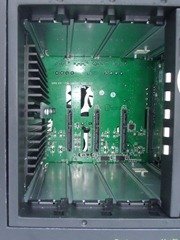 In the current world of 2tb and 3tb hard disks, this is more of an inconvenience than a major problem, but having to dedicate an entire drive bay to a heat sink does give the impression of a compromised design.
If you need more storage that the remaining four bays provide, you have plenty of external expansion options in the form of eSATA or USB 3.0. But if its a single box solution you are after, and you don't need the extra processor power of the Leo HS4, then consider the SQA-5H range of servers, as the lower spec Atom processors require less cooling and hence retain the use of the 5th drive bay.
Hardware
Internally, this Leo HS4 came with an Intel Core i3-2100t @ 2.50Ghz processor, 2Gb of RAM and a single 2TB hard disk. If you are ordering one of these servers directly from Tranquil PC, you can upgrade to either an Intel Core i5-2400S or i7-2600S, increase the RAM to either 4GB or 8GB and choose additional hard disks.
The correct choice here really comes down to what you are going to do with this server and what operating system you are planning to use.
For vanilla Windows Home Server 2011 duties, the basic configuration will serve you just fine. If you are planning on installing additional software server or going to be requiring heavy duty on-the-fly media transcoding, you might benefit from one of the optional upgrades.
On the front of the Leo HS4 you will find a pair of USB 2.0 ports, the power button and some status LED's.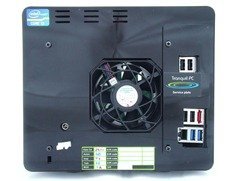 Around the back things are a bit more interesting, with 2x USB 3.0, 4x USB 2.0, an eSATA and gigabit Ethernet. These should provide plenty of options if you wish to expand on the internal storage capacity, but for those of you looking to build your own mini data centre at home, Tranquil PC offer the factory option of a two port eSATA expander.
As the eSATA expander offers port mutilplier capabilities, you will be able to add up to two of Tranquils matching SQA-ex expansion cases, giving you a maximum of ten extra hard disks. Using 2tb hard disks, this could give you up to 20tb of additional storage (2 expansion cases x 5 bays in each x 2tb).
Finally there is the 12v DC power input, as the Leo HS4 comes supplied with a laptop style external power supply.
Service plate
Although the Leo HS4 ships with Windows Home Server 2011 as standard, any of you that wish to install a different operating system will welcome the inclusion of some video ports behind the Service Plate. Being able to plug a screen into a headless server greatly simplifies the process of installing a alternative operating systems.
Behind the cover, the video bases are pretty well covered with DisplayPort, DVI and HDMI all being available, in additions to analogue and optical sound outputs.
In Use
The supplied hardware spec for this server is more than a match for the demands of domestic WHS 2011 duties. The Core i3 processor has plenty of capacity for transcoding media and delivering HD movie files to your local network devices.
The file server always remained responsive, and the management console was quick and snappy to use. All in all, WHS 2011 doesn't trouble this hardware at all.
Power consumption is a major factor for any hardware that is left running 24/7, and the Leo HS4 returns a very respectable 30 watts during normal operations, although this is going to increase depending on the number of hard disks you install.
By way of a comparison, the hidden HDMI port was used to install Windows 7 onto the Leo HS4.
As you can see from the Performance Information screen above, the Leo's is only let down by its graphic performance, and with no options to install a graphics card, it isn't really going to cut it as a home theatre PC. But that's not why you buy this hardware, its not an HTPC, its a Home Server.
Verdict
As there are not too many PC manufacturers supporting the Windows Home Server platform at the moment, so it is great to see a company who is providing high quality and flexible hardware.
This quality comes at a price unfortunately, but if you require a quiet, efficient and powerful server with the flexibility to grow and expand over time, then you should certainly consider the Tranquil PC Leo HS4.
Share this WHS Article with Others: