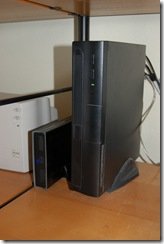 I have now been running WHS since Dec 2007 on a small self-built VIA based ITX system, chosen because it was small and ran on much lower power and generated less heat and noise than a conventional PC or low cost server allowing me to leave it on all the time. It's worked like a charm since it was turned on in 2007 and not crashed once! Since then I've added a second WHS using the VIA Artigo shoebox PC which I use for projects like the Earthquake monitoring project referred to on this site a few months back.
We have a pretty active PC home. I have gamer kids (I'm one of them) in the house with 3 dedicated gaming PCs mixed in with 3 laptops (2 college, 1 work), a digital audio workstation for audio and midi recording, plus a home built media center PC in the family room. Operating systems are a mix of Windows XP, Vista 32 bit, Vista 64 bit and Windows 7. All of the PCs have the WHS Connector software, though only 2 of them (my home desktop and home laptop) wake up automatically to do backup all the time as I found that the laptop would wake up in my hotel room looking for my WHS when travelling! The rest, I tend to run manual backups or turn on the automated backup only when I know the work laptop is going to be stationary for a while or I have a lot of new content I'm creating.
Having lost data from my pre-WHS writing days, I'd already developed a healthy habit of making sure I had multiple copies of important data (e.g. photos, audio/midi projects) in multiple locations so I've managed to avoid catastrophic loss of personal data with a little careful management so far. WHS really helped automate and simplify this previously manual process. On occasion however, there are situations where a recovery of a complete PC or file is still necessary beyond the normal "copy off your backup USB drive" scenario. I've included some of my own examples below which helped convince me that WHS was truly an effective data recovery device for my own situation.
Rescue #1: Restoring a Mis-configured Laptop
I have to admit, I created my own problem here. I simply wanted to attach my new work Dell laptop (2 days old) to my home network for backup and also printer sharing. As many of the corporate laptop users already know, most come configured as part of a work server domain along with VPN configurations, corporate virus scanning and pre-configured apps and so on. In my case, the DNS settings were a little custom and the workgroup wasn't my usual MSHOME. As all good corporate citizens know, you shouldn't really mess with the network settings unless you know why the original settings were there in the first place. At a minimum, you should talk with the IT guys ahead of time. Fully confident I could work my way through this, at 11PM one night I started changing the setup to talk to my home workgroup and changed the password to match that of my home server, etc, etc.
I wasn't really sure what I'd done, but the result of my meddling was that on a reboot I could not longer log into my laptop. No problem, just put in the old password to get things back again right…. wrong! No matter which way I tried, I'd successfully locked myself out of the laptop until the morning when I could get hold of the IT department to ask them to forgive/reset/undo what I'd done.
The good news is that I did install the WHS connector software on the newly acquired laptop BEFORE attempting changes, a habit I've developed for many years now given my own personal track record of occasionally trashing PC operating systems. For this first rescue, at midnight, I popped in the WHS restore disk to put the laptop back to the earlier configuration. Given it was a fresh install, it took a relatively short time and on completing, I was back fully up and running. Averted an awkward IT phone call in the morning!
Rescue #2: A Vista Upgrade Not Working
The next rescue was my personal laptop running Windows XP, a Sony VAIO which according to the shiny stickers on it, was "Vista Upgrade Ready". I made sure the laptop was fully backed up to the WHS before attempting to upgrade to Vista Premium. After several frustrating hours, it was clear that the shiny stickers on the laptop were plain wrong and this particular model of laptop did infact not support Vista (at least the early configuration) as cleanly as advertised.
I eventually had to restore the laptop back to it's XP configuration using the WHS bootable restore CD after it was clear not all the drivers were working properly. A few months later, a release of SP2 for Vista, attempt #2 was more successful and I was able to upgrade correctly. Lesson learned here, was that it was pretty easy to completely rollback to an earlier version of my laptop operating system.
Rescue #3: A Media Center Bad Boot Drive
After about a year of use, I started to get a SMART hard disk drive warning in the Media Center PC. I ignored it for a week or so, but after several failed boot attempts and system hangs, it was getting time to do something about it. In this case as the Media PC is not always on, the last backup was about 2 months old (I do this one manually from time to time), but good enough to restore to as this was a dedicated PC (in the ATC hi-fi casing) right next to the family room TV networked via HomePlug to the home network. It certainly beat rebuilding the entire operating system and reinstallation of the iTunes software and iTunes libraries, which is a 2-3 hour process especially with the iTunes 3000+ song library re-sync over the network as I keep all music on the WHS also.
So I opened the box, pulled out the old drive, popped in a new (bigger) drive, and the WHS restore CD worked like a charm, restoring to a different sized drive within an hour. Windows ran through it's update to get up to date as I was a few months old then I ran the manual backup to create a more recent update and was back to normal.
Rescue #4: The Case of the Missing Contact File
As well as using the WHS automated or manual laptop or PC backup process, I always manually copy critical files I've created (.DOC, .PPT, etc) onto my home server user directory which is set up to be duplicated to second hard drive I've attached via USB in case there is ever a WHS hard drive failure. This is also so I can access the files remotely when needed. On occasion, an old file I thought I had goes missing usually because it was stored in a different directory outside of the usual My Docs directory I'd copied across to my user folder on the WHS. In the operating system upgrade outlined above, I had lost a key contacts file which I'd exported from around the year 2003 which had not made it.
As I knew the file existed on my laptop's old XP setup which I'd been regularly backing up since Dec 2007 (my earliest complete backup entry), I was able to use the backup viewer via the WHS console to find the old excel file and restore it even though it was gone from the more recent backups of the laptop (now running Vista). Once I'd found it, it was a simple drag and drop copy back to my current laptop hard drive.
—
If you have comments or your own stories to share, please feel free to add a comment to the end of this story with your own recovery experiences.
Share this WHS Article with Others: