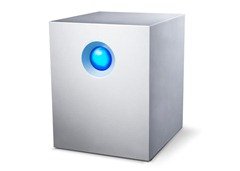 There haven't been that many Windows Home Servers specifically designed for the small business market, so what does the 5big server from LaCie have to offer a home user?
Hardware
With love it or hate it Cyclops styling, the LaCie 5big server is nothing if not distinctive. Its blue eye (reminiscent of the Dr Who character Davros) is in fact its power switch, which can thankfully be dimmed or switched off if you want it. The 5big case measures 173 x 196 x 220 mm (6.8 x 7.7 x 8.6 in) in size, so it is small enough to fit in just about anywhere.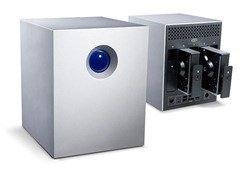 The base hardware for the 5big server is an Intel Atom D410 1.66Ghz and 1Gb of RAM, which is a little below the minimum spec we have come to expect from our servers these days, but should be sufficient for a small business if they are only going to be using the core WHS capabilities. Power users or anybody who wants to run heavyweight applications on their server might want to look for something with a higher spec.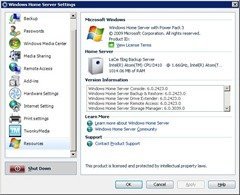 The review 5big server came pre-loaded with five Samsung 1Tb hard disks that fully populated all of the available drive bays, which are oddly only accessible from the back of the server. This is quite a stylish looking server, so I suppose having the drive bays on the font didn't fit the intended visual aesthetic of the server.
Also around the back are its external connecters, which are power in, four x USB 2.0, eSATA, Gigabit Ethernet and strangely an audio output jack. I don't recall seeing an audio out on a WHS server before, but it's there if you need it; office music server anyone?
If quality were measured by weight alone, this server would be a class leader because the 5big is heavy, very heavy and solid. The 5big really seems to be well put together and I would expect it to survive the rigors of life in a small business environment without any issues.
In use
Getting the server up and running is all standard WHS stuff; install the connector software, connect the server to the network; set an admin password and finally wait for the updates to install.
Once the server is up and running, you will find some additional software that LaCie have included in their installation: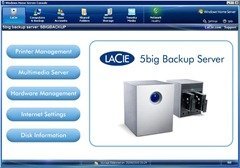 When opening the WHS console the first thing to be displayed is the LaCie add-in. This allows you to manage some additional settings and to get further information about the servers hardware and wellbeing.
The first option available is Printer Management. Clicking the blue button will take you to the print settings section in the consoles main server settings section. From here you can perform rudimentary management of any print queues on the server.
Next is the Multimedia Server button, which takes us to the TwonkyMedia server settings. I can't really see TwonkyMedia being a big benefit to a small business user, but the fact that its supplied with the server is a bonus for a home user.
The Hardware Management section allows us to control the fan speed, dim the all seeing blue eye or access some power management settings.
With an eye to the small business user we now find the internet settings section. This will allow you to configure the server to access the internet if its path is blocked by a proxy server that requires manual configuration. Putting it here saves a non-technical small business user having to scratch around with a terminal session.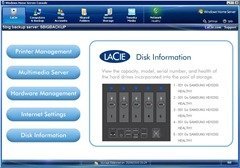 Finally we can access basic  health information about all of the installed hard drives.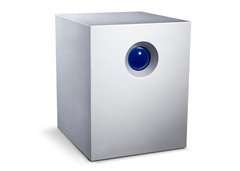 The 5big server performs perfectly well as a Windows Home Server. The WHS console loads quickly and is very responsive to use, files and media are all served without delay or hesitation. Power consumption hovers around 30-35 watts under full load, there is very little noise to be heard and the box runs pretty cool.
Conclusion
However you look at it, this is a very nice bit of hardware. It's as heavy as Battleship and is simply oozing quality, from its designer looks to the fit and finish of its components. This is certainly a top of the line Windows Home Server.
But this level of build quality comes with a price. The the 5Tb server on review here is currently priced at $1,199 or £939 which is going to be beyond the reach of most domestic WHS buyers.
Anyway, home users with lots of video media to convert and stream would really do better to look elsewhere, as this is clearly a server with businesses in mind. It feels built to last and should be a perfect fit to a small business network.
It comes with Time Machine software so will be usable for any business with a mixed PC/Macintosh network and in a business environment, where availability and accessibility of data is the key requirement, the relatively low hardware spec of this server simply wont be an issue.
Share this WHS Article with Others: