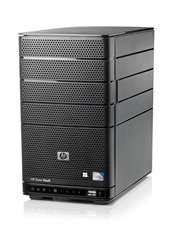 We have seen the HP MediaSmart range develop and expand into the domestic market over the last few years, but this is only the second server in the MediaSmart family to wear the small business orientated StorageWorks brand.
The X310's bigger brother, the StorageWorks X510 is essentially a re-badged business version of the MediaSmart EX495, but the lower hardware spec and reduced software capability X310 has no domestic market equivalent. So why would anybody want a reduced capability server?
Hardware
Well the answer is pretty straightforward; cost. Although the X510 is a great server and comes loaded with HP's excellent media friendly MediaSmart software, if we are honest it is a little over spec'ed for the typical small business user and is far better suited to media rich domestic duties.
With this in mind, HP have lower the hardware specifications, removed a lot of the media transcoding and streaming software and slightly simplified the casing for the X310.
Anybody remotely familiar with MediaSmart/StorageWorks servers will immediately recognise the X310 as part of the family. The external cosmetic differences include a matt black finish, changes to the lower silver foot section and the removal of the door mounted light-pipes in favour of drive LED's at the bottom of the case.
Connection wise things remain the same. There is still a front mounted USB 2.0 connection, and around the back you will find gigabit Ethernet, three x USB 2.0 ports and an eSATA connection with port multiplier. All of these connections add up to plenty of potential expansion capacity once you have fully populated the internal drive bays.
Inside, the X310 has an Intel Atom D510 @ 1.6GHz and 2Gb of RAM, which is more than adequate for core WHS duties especially after the burden of media transcoding and streaming software has been removed from the Data Vault software bundle.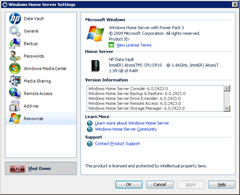 The X310 comes in a single 1Tb storage capacity variant, which is perfectly fine as adding additional hard disks to the three spare drive bays it absolute child's play using the same screw-less caddies we have seen on the other MediaSmart servers.
Software
To illustrate what software has been removed, lets compare the X310 and X510 Data Vault console screens:
So it looks like we have lost:
Web/iPhone Streaming
HP Media Collector
HP Video Converter
Media Server (Twonkymedia)
All of those functions run better with a powerful server and will not be very useful to a small business user, so it seems sensible to lower the hardware costs and do without them for the business market.
Lets have a closer look at what has been included.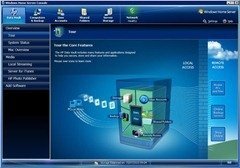 The Tour page tries to explain the concept of what the Data Vault server is doing, bringing together file storage, user accounts, backups and remote access all into a single server.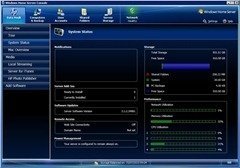 The Systems Status page is much more useful and addresses a missing facility from the core Windows Home Server software. Here you can see what you server is up to, how busy your CPU is, how your storage is being used and what your network utilization is.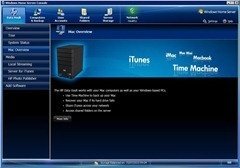 If your office uses Macs as well as Windows PC's, then the next page gives you information on how you are also able integrate them with the X310.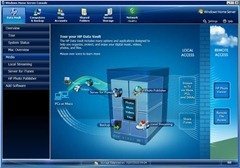 There is some basic media streaming capability with the X310. This initial page shows you what is available, and how to access it, either from the home (or office) network or from the internet.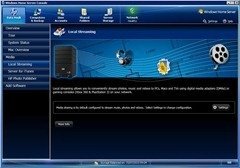 The Windows Home Server software is able to stream media by default, and this screen reminds you of the fact in case you didn't know.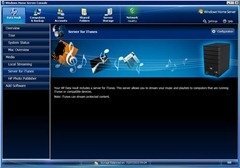 What isn't standard in WHS is the ability to be an iTunes server. The X310 retains this capability from is bigger siblings and will be useful if a small business user wants to fill their office with music.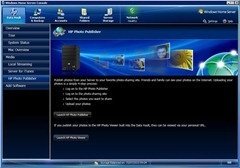 HP MediaSmart servers have a pretty cool utility for putting photo libraries onto the internet and this is also retained on the X310.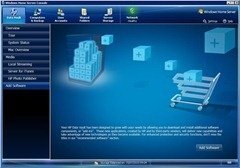 Last is a jumping off page to purchase additional plug-in software for your server. Not exactly an applications store, but there are some useful packages here that will benefit the server.
Verdict
Would a regular small business user notice the lower hardware specification of this server?
Well no, not really as the X310 is very spritely and its performance belies its humble hardware specification. In use the X310 is every bit as quick as the X510 for basic WHS file serving and PC backup duties, is quiet and only consumes around 25-30 watts of power.
Sure, a home user is going to want to store video, converted to other formats and stream it to multiple client devices, but in general a business user won't. So why pay extra for unwanted capabilities? It is when you see that the price for a 1Tb X310 is currently $519 and a 1Tb X510 price starts at $649 and goes up to $949 for the 3Tb, that all this makes sense.
Core WHS capability, fast performance, no unnecessary software, lower price.
Oh, and the X310 Easter Egg is pretty cool as well.
Share this WHS Article with Others: