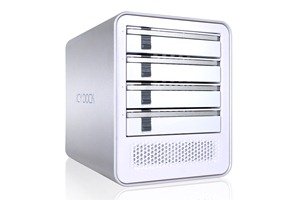 We have reviewed external drive enclosures before, they are a really good way to increase capacity if you have no space left in your server. But the Icy Dock MB561 is a little different; why? Because it's not ugly and it's not finished in shiny gloss black paint, so is it a good enclosure or just a pretty box?
The enclosure
Right from the minute you hold the packaging, you know this isn't going to be your typical PC peripheral. ICY DOCK know they have created an unusually attractive design, and have even cut a hole in the box to give you a glimpse of what awaits inside.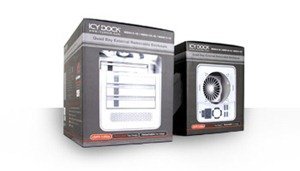 And what's inside is a quad bay external enclosure finished off with a solid aluminum alloy outer case and white end panels, offering connection to your data via USB 2.0 or eSATA connections.
The aluminum outer casing makes this enclosure feel incredibly solid and strong, and the silver and white theme even extends to the white LED activity lights for each drive caddy. The ICY DOCK web page lists the MB561-S4-1 as having a 'Mac Mini design concept', which I can sort of see, but the reality of it is simply an attractive modern design that will look good partnering any server and not just with a Mac Mini.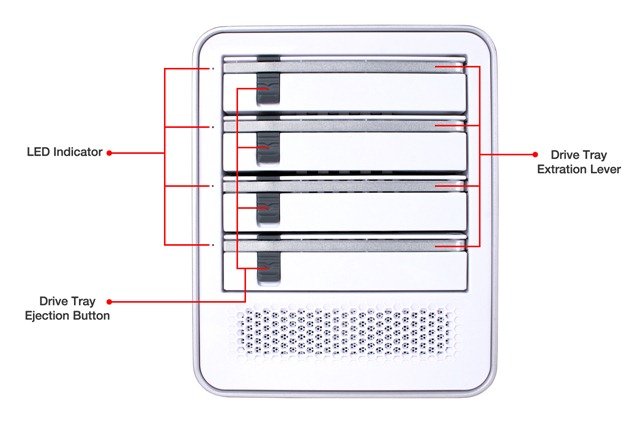 Once you get past the unconventional look of this enclosure you will find that is very conventional in its capabilities. Up front we find four drive caddies, with normal ejection buttons and locking handles/levers. The caddies require you to use four screws to retain each hard disk in place, and although this isn't overly difficult to do I often wish we could see more of the screw-less caddy design favored by HP in the MediaSmart/DataVault range of servers.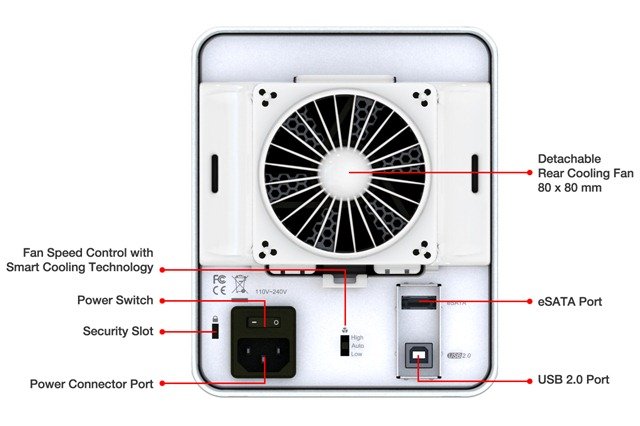 Around the back things are a little less conventional with the inclusion of a detachable rear fan. ICY DOCK don't really explain why it needs to be detachable as I can't imagine that you will want to run a quad bay enclosure without some decent airflow to stop your disk drives cooking. Perhaps they are expecting the fan to fail as making it detachable clearly makes it easier to replace. They have helpfully included a fan speed switch that includes an smart-auto option that more or less renders the switch redundant; but I guess we have the choice if we want it.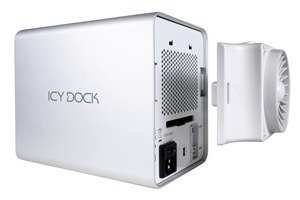 More mundane things on the rear are the power socket, locking port, USB 2.0 and eSATA ports. This enclosure doesn't have any form of RAID controllers built in, so the two ports simply provide access to the disks using straight forward JBOD access which makes it perfect for use with Windows Home Server and its Drive Extender technology.
What isn't quite so perfect though is the 480mbps you get when using the USB 2.0 connection, which might be ok for a single drive but things will slow considerably when you have loaded up with four disk drives. The good news is that the MB561-S4-1 includes an eSATA connection complete with a Port Multiplier that will allow you to access all four disks from a single eSATA port on your PC. The eSATA connection provides up to 3gbps so each drive should be considerably quicker compared to the USB 2.0 port.
In use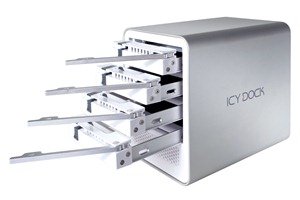 Some disks were installed into the caddies and the enclosure was connected to an HP MediaSmart server using the eSATA connection. Having previously had problems with HP MediaSmart servers and Port Multipliers, I was a little hesitant to switch it all on. But I shouldn't have worried, as the ICY DOCK disk drives were all seen by the HP first time without any issues. Windows Home Server allowed the external disks to be added into the server pool and everything performed as expected.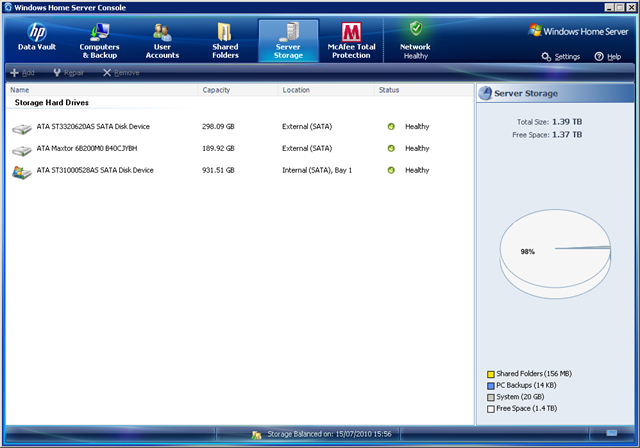 Overall noise levels were very low with the only noticeable sound coming from the fan, which varied depending on the level it was running. Power consumption with two drives installed was around 15-20w which seems reasonable to me.
Conclusion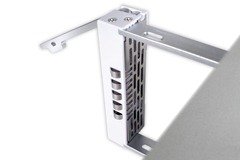 If you have fully loaded your server with disks, and are looking for a stylish and quality storage enclosure, then seriously consider looking at the ICY DOCK MB561-S4-1.
It's got notch build quality, stylish and unconventional looks, and has fast and flexible connection options. The eSATA and USB 2.0 ports gave no problems integrating with a MediaSmart server, and the additional speed and simplicity of the eSATA Port Multiplier is a welcome addition if you want to keep things simple without compromising access speed.
MB561-S4-1 at newegg.com
MB561-S4-1 at amazon.com
MB561-S4-1 at Scan.co.uk (UK)
ICY DOCK MB561-S4-1 official web page
Share this WHS Article with Others: