At first glance I thought this was going be just another Live MESH sync program and not something that was going to effectively backup my WHS data, on reflection maybe I was a little harsh.
The website is very informative quick and to the point idrive sync is a great tool for backing up your data the install process is very quick and easy, if you haven't much to backup then it is free!
The basic version is free and offers 2GB of online storage; this can also keep up to 5 PC's in sync at any one time. The pro version seems to offer real value for money $4.95 per month or $49.50 per year, with unlimited sync data don't see this as unlimited data stored online as a backup as during the checkout process you are told that you only actually get 150GB of online storage, which still isn't bad for the price, also you can still only use this on 5 PC's.
There is also an iDrive Pro Family account which entitles you to 500GB of online storage and still only usable on 5 PC's, but remember that if you ever have to download all that data in one go for whatever reason, it is going to take a long time.
You can find a business edition during the checkout process which seems very hidden away in the website, this allows you to use up to 1000GB of online storage for just $79.95 which is a very good price compared to many other online backup services aimed at business users.
Like I said before the program is very easy to use and you can very quickly be configured, to install just remotely access your server via remote desktop connection and then install using the installer, I was backing up data within just 5 minutes of downloading the program. You have no need to sign up before you download, as the install process allows you to signup direct from the installer and then automatically gives you the free account, you can click upgrade at the bottom of the program at any time to increase your storage.
Once installed just click "add files and folders to sync set" and you can add files to be backed up, if you want to back up your shares add "D:\shares" or add individual shares inside this folder, it will immediately start the backup selected folders, the real gripe I have is that I like my backups to run at night after midnight but there is nowhere to schedule specific backup times, as soon as the program notices a change to a file or folder in the backup set it immediately starts to upload it, you can have stop if the system is busy doing something else but with WHS it spends the majority of its time idle anyway.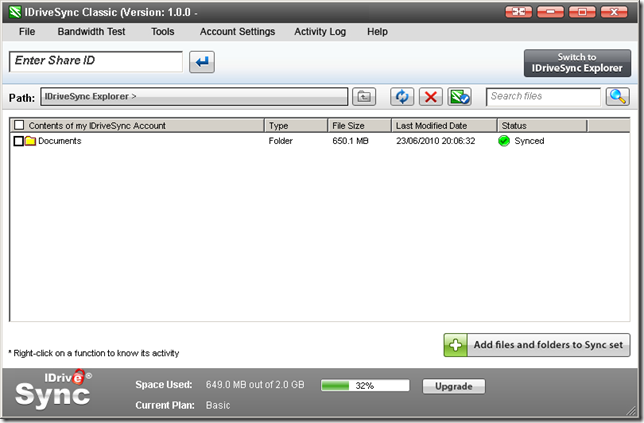 You can do a bandwidth test just to see how long it will take to upload all your data, which was a nice touch, I found this to be inaccurate when it told me 2 days to upload 2GB of data when it actually all went up by the next day.
I was also very impressed by its portability to different systems, normally you get stuck with something only able to be used on Windows XP, Vista and 7, iDrive Sync can used on Windows 7, Windows 2008 Server, Windows Home Server, Windows Vista, Windows 2003 Server, Windows 2000 Advanced Server, Microsoft Windows 2000 (Service pack 4), Windows XP Home/Professional.
This is a great piece of software with a very competitive price tag, compared to some of the others in the market this is definitely one of the simplest and easiest to install, setup and use, for this reason iDrive Sync is definitely gets my recommendation.
Written by
Matthew Glover
www.matthewglover.co.uk
Share this WHS Article with Others: