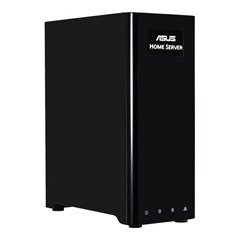 ASUS have taken a rather different path for their home server, forgoing the traditional four bay caddy design favored by other manufacturers for a sealed case that can hold two internal disks. So this is only a small capacity server then, aimed at users who don't want to store a great deal of information? Well no, because if you spin the TS mini around and look at its rear, you will find six x USB 2.0 and two x eSATA connections meaning that you can expand the storage of this little server far beyond the limitations that its two internal drive capacity suggests.
Hardware
Finished in shiny black with a silver top grill, the TS mini is an attractive little server which takes up no more space than a couple of hardback books, 245mm (h) x 96mm (w) x 204mm (d) to be exact.
The power button is on top, and the front panel has four status LEDs to let you know what's going on. Having no hard disk caddies to slide in and out means it has no doors to open, which this gives things a nice clean and uncluttered look and a decidedly solid feel.
Around back you find the afore mentioned USB 2.0 and eSATA connections along with a gigabit Ethernet port.
ASUS have given the TS mini an Intel Atom N280 1.66GHz processor and 2GB of RAM which is plenty to keep WHS ticking along nicely for most users, and allows the innards of server to stay cool and quiet.
The model on review here is the 1tb model which it achieves using a single hard drive, and ASUS have left internal space for another SATA drive if you wish to have the reassurance of folder duplication.
Finally comes the laptop-esque external 90w power supply which helps the TS mini to keep its overall size down. When up and running the server consumes about 30-35w with its single supplied hard disk and about 17w when its powered off.
Installing more storage
Having 1tb out of the box is great and is as much storage as a lot of people will ever need, but as this is achieved using a single hard disk, Windows Home Server can't protect your data using folder duplication. True, the TS mini does allow you to use the ASUS WebStorage service, but this is really about having off-site backups for use in an emergency, folder duplication is a more practical way to ensure your data is kept safe.
So how hard is it to add an extra internal hard disk to this server? The answer is reasonably easy. Reasonably because you have to be comfortable opening up the server and looking at its internal bits and pieces; not everybody will be because not everybody is a techie.
If you are comfortable inside a PC, then power down and start with the two rear thumb-wheels and slide off the left hand panel. Next, lay the server over on its right side, unscrew the three screws holding the server together and give the blue grab handle a sharp tug and a bit of a waggle.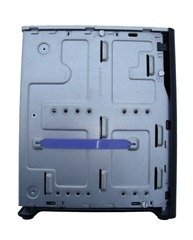 The top plate will come off in your hand and you will see the space ready for another drive to be installed.
Fix the six supplied fat-headed screws to your new hard disk, slide it into the spare space above the existing disk, and it will lock in with a click. Slide the top plate back onto the server, replace the screws and then the side panel and you are done.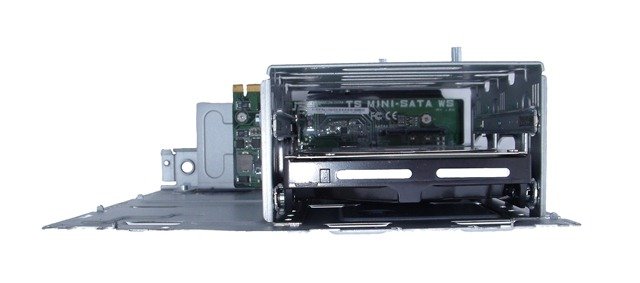 So this isn't quite as easy as adding a disk to something like an HP MediaSmart server with its screw-less caddies, but it is still reasonably straightforward. And remember, if you really aren't comfortable opening up a PC, then there are still the six x USB 2.0 and two x eSATA connections on the rear ready and waiting to be connected to external USB hard disks.
In use
All of the normal WHS components are present, correct and do what they are all supposed to do well enough without any undue delay or problems. The Intel Atom and the 2gb of RAM are plenty for routine WHS server duties and keep things moving along nicely.
ASUS do provide some additional software add-ins over and above the familiar WHS software, these are:
ASUS Xtor Manager – A backup and synchronization manager
ASUS WebStorage – Online storage free for the first year
ASWM – A system information management tool.
First up is the ASUS Xtor Manager, which is essentially a backup and synchronization manager which allows external disk drives to be kept in sync with folders on your home server.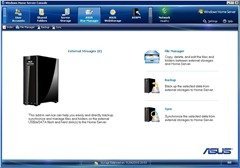 This tool breaks down into three parts, the File Manager, Backup and Sync.
Starting with the File Manager, you are able fully manage files and folders on your server and to any external disk. Folder creation and deletion, along with file and folder copy all replicate the capability of a Windows Explorer on the local box, so this is useful if you want to manage your storage without using a Remote Desktop connection.
The next tool is Backup, which lets you select a specific folder on your external device, and have the contents copied across to the home server.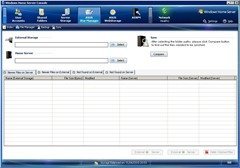 Lastly is the Sync tool, which will run a comparison between selected folders on the server and an external drive. Once the comparison has completed, you get the choice of which direction to synchronize the data (server->external or external<-server). None of these are life altering, but useful none the less.
The next plug-in is the ASUS WebStorage cloud backup service, and as an owner of a TS Mini you get 500gb storage free for a year.
When registered and configured, this tool allows you to selectively backup WHS shares to the cloud.
The final plug-in is the ASWM system management tool. We have seen this sort of thing before with other manufacturers servers, it allows direct control or visibility of the hardware that isn't available through the generic WHS console.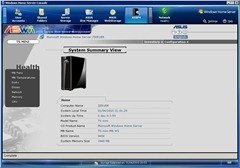 We start with a system summary view, giving very basic information about the server.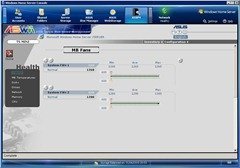 More detailed information is available from the left-hand menus. This screen is giving us the motherboard fan speeds.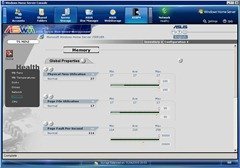 This one is memory utilization.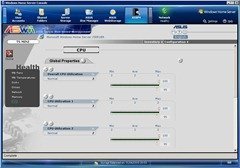 You get the idea now, this one is CPU. There is more information available under the inventory section, which lists various bits and pieces of the server but I think we all get the idea of this plug-in now.
Summary
The ASUS TS mini is a good, fast server little server that will appeal to a home user looking for a no nonsense NAS style device.
It is solidly built, unobtrusively small and compact with low power consumption and very little noise.
Internal hard disk upgrades are going to be a barrier to some, but there is of plenty of scope for external storage expansion if you can't face pulling the TS mini apart.
The Intel Atom and 2gb or RAM keeps things fast and snappy, and the addition of a years cloud backup will be a bonus to some.
Share this WHS Article with Others: