Well WHS websites seem to have lit up with the news of Vail and many questions have been asked, so now I have finally got the preview beta version of Vail I am going to go through the WHS Website, Remote Access, Final Thoughts and then try and answer everyone's questions.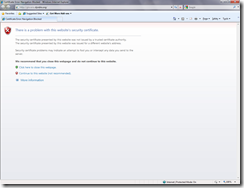 Going to http://yourservername/ will display the webpage above, I am sure Microsoft will resolve the certificate problem before RTM, for now clicking "continue to this website" will get you into your server.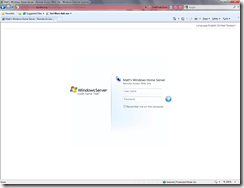 As I mentioned in the part 1 you can customise the WHS website now, as you can see from my screen shot above I have called my server "Matt's Windows Home Server". You can change the logo to the left although I think it may be business users that are more likely to use this.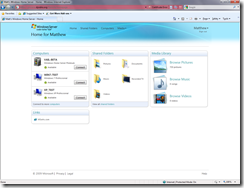 Logged in you can now immediately see the machine available for remote access, shared folders and your media library.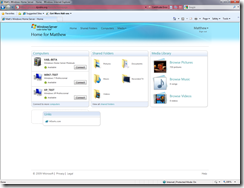 The website is now dynamic so you can move your most used sections to the top. Now I know you may be thinking well there aren't enough sections to want to do this, but all future add-ins have the ability of showing here now. I have a feeling in the future this space could become quite congested if you aren't careful and that is why I am confused as to why you can turn off or minimise a particular section, maybe this is something they may implement in future builds.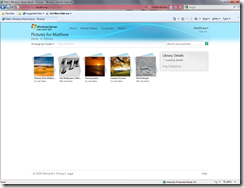 Going into one of the library will show you all the folders inside with picture previews, clicking on any folder will show the particular details of that folder on the right hand side.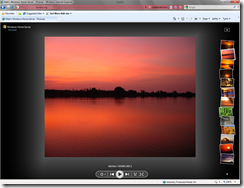 Inside the media folders you will be treated to a slide show of your pictures or be able to stream any music or video from there corresponding folder.
DLNA Compliant Media Streaming
it looks like Twonkey Media Server is about to become extinct and the other DLNA/UPnP media add-ins we've all been using in WHS v1. Vail now comes with DLNA compliance built directly inside, so when it comes to playing your music, video and photos on digital media receivers and network connected TVs, it'll stream like a dream.
Mobile Access
Vail also provides the inclusion of a mobile formatted website, I am sure many will welcome this fine addition. Unfortunately I am struggling to make this work on my phone a Blackberry Bold 9700, if anybody else has got this working I would love to see some screen shots, if you could send some on to me and I can share them everyone.
Remote Desktop Connection
Connecting to one of your machines in your local network is easier than in WHS V1 you are immediately presented with the available machines you can remote into, clicking connect will connect you too the relevant machine. Not much has changed here other than making the option more accessible, giving everything you need in manageable screen.
The major let down of this release is the emitted ability of being able to remote into Windows Vista Home Premium, Windows 7 Home Edition and Windows XP Home Edition machines, as we know the ability has never been given to these machines before, I thought with the premium product of Vail this small and insignificant addition may have been added. As we all know this is something very simple to add with free services such as Logmein.com, again maybe I'll be surprised to find that the WHS team include this in the RTM release.
Add-in Management
Now I want to go back over the add-ins section in Vail as I don't think I covered it enough in part 1. Improvements have certainly been made to Windows Home Server add-ins section, including how easy it is to now to install an add-in.
The old installation process in WHS v1 was far from perfect, inconsistent and sometimes confusing, the process of download add-in, copy to SERVER/Software/Add-ins, Open Console, Go to Settings Tab, Click Add-ins, Click Available, Click Install. This process has now been completely replaced and a brand new add-in file format added ".wssx" is something you will be seeing much more of, the ability to install add-ins to the server directly from one of your home computers is something many have hoped for.
Simply double click the file, and it'll be pushed to your home server. Better still, add-in features are/can be pushed direct from your home server to your home computers.
Now the big improvement I hope comes from this feature would be if you was able push software from your home server direct to your home computers, imagine installing Microsoft Office to your 6 home computers by just pushing a button, I know this is a feature of SBS Server, so why not WHS?
Additional enhancements to add-in management also allows you to be automatically notified when an add-in update is available with the option to download and install the update from the home server dashboard.
Questions & Answers
I have been asked a lot of questions in the last few days and unfortunately I haven't been able to answer everyone's comments and emails, please don't let this stop you from commenting and emailing me with your questions, if I don't answer them directly I will certainly be trying to put a post together to answer them all in one go.
Q) Why is Vail 64bit only?
A) Microsoft have been heavily pushing 64bit since Vista, I know Windows 8 due for release in 2012 is going to be 64bit only and possibly offered in 128bit form. I personally think that moving to 64bit only is a good thing, I understand those of you who have recently bought new hardware will be peeved and I do empathise with them, but the benefits of 64bit are plain to see and moving from 32bit for some was never going to be pain free.
Q) Will you be able to upgrade from WHS v1 to WHS v2?
A) There will be no upgrade path from WHS v1 to WHS v2 (Vail), the reason for this is that there hasn't and never will be an upgrade path from a 32bit to 64bit operating system.
Q) Can I install WHS v2 on a headless machine?
A) You can install WHS v2 on a headless machine, although it is strongly recommended you do not install "Vail" i.e. WHS v2 beta on a headless machine.
Q) Will current WHS v1 add-ins work on Vail?
A) The current add-ins are written for WHS v1 and will require to be re-written, this is due to the complete overhaul of the file format and install process.
Q) Why is there no Media Centre integration?
A) It looks like this will not be integrated into Vail, although I still believe Microsoft have time to integrate this before RTM as there are many months befor
e the final release of Vail.
Q) How can I schedule backups for a certain time like in WHS v1?
A) Unfortunately at the moment this feature isn't present, again remember this is a preview beta of Vail and there so much more to be added before final release.
My Thoughts & Impressions
Well, what an incredible few days since the news of Vail's release, like I said before the internet has been buzzing around this news, let it be said, this anticipation can only be good for the future of WHS as a long term product.
I am sure many will agree with me that this initial preview of Vail looks like it shows some real promise, let's just remember that we aren't even one third of the way there yet there is still so much more to come.
WHS has obviously had to go through a complete re-write, to have the ability to run not just on a completely different OS in server 2008, but on a 64bit only OS.
Homegroup integration is brilliant to see, I think everyone would have been extremely surprised had this feature not appeared in Vail. Homegroup permission setting is great to see, the ability to install a printer on just one machine and then watch it get shared around the network will make things so much easier for the average home user.
Media Centre integration is currently missing, and who knows if this will come before release date, if it doesn't, then Microsoft will have missed a trick. This is a feature that so many have requested, want and need in order to make sure WHS becomes an integral part of home entertainment, until this feature is fully integrated, WHS won't be able to gain the market share so many crave for it, and entertainment server for the masses will continue to be a distant dream.
Written by
Matthew Glover
www.matthewglover.co.uk
Share this WHS Article with Others: