I had never heard of vPOP3 before being asked to review it, at first glance at the website www.pscs.co.uk it looks like a piece of software that would be a worthwhile edition to any WHS for both domestic and business use.
The software unfortunately fails on my first impressions. I downloaded the software direct from the website, and transferred it direct to my servers software folder, I am presuming at this point this is what I need to do, as unfortunately there isn't any manual or online instructions. I was assured that there were tutorial videos which I didn't see until late on through the review, you can find them beneath the download of the software.
After looking over the videos I strongly advise you watch these before/whilst installing as I mentioned before there is no other manual.
Installing was very simple, once you have transferred your setup.exe file to the software folder you will need to access your server, by going to D:\share\software there you will see your installer, run the installer, the only thing you will be asked for is to set the quarantine location which should pre-populated, for those that it isn't type the name of your server in.
Once installation is finished you can open your WHS console on your machine, you will see a vPOP3 Mail Server. You should find the users section already populated with your WHS users, now unfortunately for me when I first went into my users there was nothing there, after a while of trying to figure out why I eventually clicked on the Name heading as if I was changing the way it would sort the names, hey presto all my users appeared.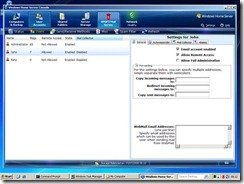 You can configure each user to their own pop account and also setup a catchall account, each user can have multiple aliases assigned to their account, but individual SMTP details cannot be setup for each user.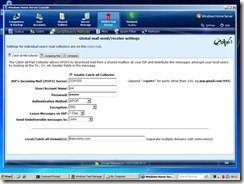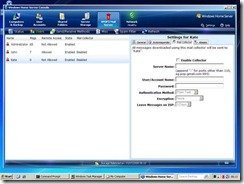 The great feature for me would is the ability to copy all incoming and outgoing mail from any user account to any other user account, whether it is external or internal. This allows you to keep a track of all email of your children, a function that gives you satisfaction they are safe with whom they are talking too.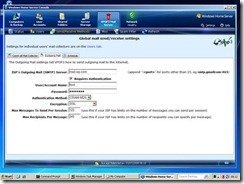 Auto responders are available so when you are on holiday it will respond with a predefined message, this is presuming you leave your WHS server on while you are away, I am sure many don't.
The webmail is very basic and those used to using Hotmail or Gmail will be vastly disappointed, it has no calendar but does boast a basic address book, again those previously using other webmail services will be disappointed. You can access the webmail function from your default server page when out and about as the installer nicely puts a link on the front page, but you do have to login to your server page and then the webmail.
If you have a marked one of the users as an administrator in the webmail section you will find administrative access at the bottom of the menu. In the admin section you will find a lot of advanced options that are sometimes not relevant like the vPOP3 Fax Server section, you also get a lot of additional control that you haven't got in the WHS console, for instance you can override how often you would like your vPOP3 to go and collect email, in the WHS console 10 minutes is as often as the mail server will collect email, from here you can change to as low as 1 minute.
Configuring your email client such as outlook or windows live mail to collect your email from your WHS vPOP3 enabled server is easy, and there is a simple video to watch to show you how to do this.
Overall a decent simple piece of software for both domestic and business use, but if you are looking for something with more than the basics, like calendar sharing and address book sharing this certainly isn't for you. It is surprising just how much knowledge is required to setup a basic mail server like this, so approach with caution if you are easily scared off by vast pages of options.
I am going to be reviewing the Axigen mail server next so will let you know how the two fair.
Matthew Glover
www.matthewglover.co.uk
Share this WHS Article with Others: