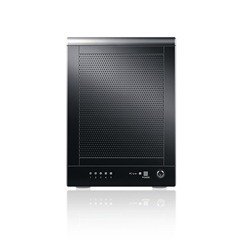 So you have your Windows Home Server, with its four built-in drive bays already maxed out with storage. How are you going to expand it so you can rip the rest of your movie collection or store all of that TV you record on the Media Center?
Perhaps you can expand by connecting standalone external USB hard disks, but the thought of all of the cables and power bricks put you off. Instead why not look at using a five drive expansion case, and good start would be to consider the Sans Digital TowerRAID TR5UT-B.
I will start off by saying that this device is a little bit over specified for a Windows Home Server, because it has a very comprehensive RAID capability. I know there is debate over whether a WHS server should or shouldn't have a RAID array connected to it, but for the purposes of this review, I am going to leave the RAID off and review it as a simple Port Multiplier eSATA controller connected to an HP MediaSmart server.
What do you get?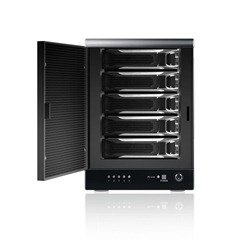 The enclosure has a very sturdy metal construction, finished off in fingerprint loving glossy black paint, and a black mesh front door. This model is also available in silver, but then it would look odd with a MediaSmart server sitting on top of it in silver wouldn't it?
On the front there are indicator lights for each drive bay, along with a power light, a PC link LED and finally a main power switch.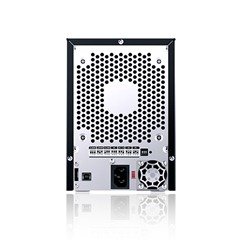 The rear panel is decorated by the eSATA and USB 2.0 inputs and the standard power connector. Here we also find the main 120mm cooling fan, and the intake for the smaller power supply fan. Finally there are some good old fashioned dip switches to set up the RAID array if you not able to run the supplied management software.
The five drive caddies are made from metal and plastic, and require four screws to secure a hard disk. Accidental removal of a caddy is prevented by a two stage release mechanism; slide the silver slider to release the black lever, then pull the black lever.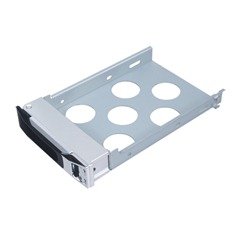 Aside from the five drive expansion case, the TR5UT also ships with a HighPoint Rocket 622 dual port eSATA 6GB PCI-express host adapter card which clearly isn't going to be of much use in a MediaSmart server, but will be a great addition to a self built server or a desktop PC.
Also included is an eSATA cable, a USB 2.0 and power lead, along with a SATA to eSATA bracket plate to turn a spare PCI slot into an eSATA connection, which is only going to be useful if you have no eSATA already and can't make use of the HighPoint card. Oh yes, I nearly forgot the bag of screws to secure the hard disks to the caddies.
To RAID or not to RAID?
I know we are not going to use the RAID capability, but the TR5UT does gives you some pretty comprehensive options for configuring the RAID array. You can have:
Clean Mode – JBOD (Just a bunch of disks); The disks present themselves individually to the server (arguably the preferred mode for WHS).
Large Mode – All disks are spanned, and one large volume is presented that is the sum of all drives present.
RAID 0 Mode – Spanning like Large Mode but capacity will be five times smallest drive instead of using all the space on mismatched drives.
RAID 1 Mode – Allows one drive to duplicate to another.
RAID 10 Mode – Combines the spanning of Raid 0 and the duplication of Raid 1.
RAID 3 Mode – Stripes data across the disks, and uses a single disk for parity.
RAID 5 Mode – Stripes data across disks keeping parity information on multiple disks
If you want to keep things simple, you can just install new drives into the enclosure, set the dip switches to the desired RAID level and power on whilst holding the setup button (helpfully you need a paperclip or pin to do this, to prevent accidental erasure of your data) and the TR5UT will configure everything for you ready to use. Of course, any existing data on the disks is lost, but you would expect it to be.
If you want to get more advanced, then don't bother with the dip switches. Instead connect up the TR5UT to your PC and install the supplied RAID management software, and providing you have sufficient hard disks in the enclosure, you can mix and match different RAID arrays to suit you needs.
The example below shows a RAID 0 array on two drives, and a Large (spanned) array on another two drives.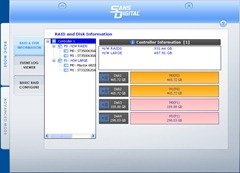 There is plenty of flexibility in the creation of these arrays as long as there are enough physical drives to support the chosen modes. I am sure your desired configuration can be catered for if you have a complicated requirement as its all pretty comprehensive.
When configuration is complete, the logical drives are presented back to Windows, either via USB 2.0 or eSATA to be formatted and used by Windows in the normal way.
In use

So having played with all the RAID modes, and been very impressed by the level of control and the amount of options available, it is time to completely disable them and switch to JBOD mode for use with WHS. In this mode, any hard disk installed into the enclosure is passed directly through to the host PC as is.
If you are using the USB 2.0 interface, there are no real complications here, you will always get all of the installed disks available on the PC. However, if you choose the faster eSATA interface and you are not using the supplied HighPoint card, you need to make sure your eSATA interface has sufficient port multipliers
for the number of hard disks installed.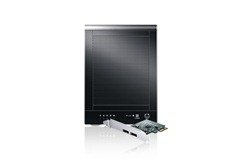 Taking the HP MediaSmart as an example, the number of port multipliers available is as follows: EX47x = 4, EX48x = 0, EX49x = 5. When using eSATA, owners of the EX48x server can only use a single disk and would be better off with USB 2.0 if they want multiple drives, whilst EX47x owners can use up to 4 drives and EX49x owners can fully load with disks.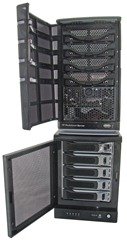 With all this in mind, I connected the TR5UT up to our trusty HP MediaSmart EX475, and as I was only using three hard disks in the enclosure the eSATA connection should be perfectly sufficient. Then came the problems.
The default eSATA drivers installed on the EX475 didn't play very nicely with the TR5UT's controller. From a cold start, the EX475 wouldn't see the drives offered up by the TR5UT, and I had to reboot it once the MediaSmart server was up before the drives would be available. Once rebooted, everything was fine, but there will clearly be some issues for EX475 users in the event of a power failure if they are expecting things to recover automatically.
I tried many different versions of the eSATA drivers, but they all had differing issues. The later versions seems to deactivate the MediaSmarts port multiplier capability, so things got worse rather than better as I could only access a single drive. I can't vouch for how this device is handled by other servers, but the HP EX475 really gave me problems.
Now this might be an unfair criticism of the TR5UT, as you will remember that is ships with a Highpoint Rocket 622 eSATA card, which I am sure will work great for all system builders who can install such a card, but we wanted to review this device as an add on to a compact OEM home server, and as such eSATA proved to be problematic.
Putting eSATA aside though, the TR5UT performed faultlessly using its USB 2.0 connection, but you are clearly going to get less performance using that connection. By using the reboot method, I continued to test the TR5UT with the eSATA connection, as it would give a better idea of what this device could do.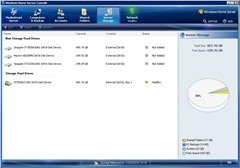 In clean mode all of the hard disks simply appear in the Windows Home Server console as external disks, so it was child's play to bring them into the storage pool as you would do with internal disks.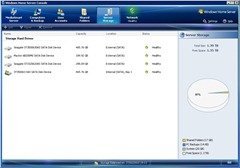 Once added to the pool, the TR5UT served external drives were used in the same way as normal internal drives.
In theory, using multiple disks like this on a single eSATA interface is going to provide less throughput to each drive, as all of the disks are sharing the 3gbits normally dedicated to a single device. In practice though, I found no real-world discernable difference to server speed when using the TR5UT. I am sure that there is a measurable performance reduction to these disks, but the reality to a user at the other end of the Ethernet connection really isn't noticeable.
Conclusion
It was very disappointing to have such a fundamental problem with the eSATA connection on the test MediaSmart. An EX49x or X510 wasn't available for testing, so I can't comment on how they would work with it, and as the EX48x only has a single port multiplier, eSATA isn't going to be the best option either.
However, assuming you have no eSATA driver issues with your particular server or you use the supplied eSATA card in your own server, then this is a nicely robust and very flexible device. It seems well constructed, solid and built to last.
The amount of RAID options available offers some very powerful configuration choices should you need them.
Access to the data on the drives was fast and any reduction in speed using the port multiplier really wasn't noticeable on a client PC.
Good
Good quality and solid construction.
Very flexibly RAID options.
Choice of USB 2.0 or eSATA
Bad
Driver support on the HP MediaSmart EX475 didn't allow easy operation with eSATA.

http://www.sansdigital.com/towerraid/tr5utb.html
Share this WHS Article with Others: