Axigen is a mail server working in a similar way to vPOP3 and SmarterMail the latter of which I will be reviewing next week, the former I reviewed last week and you can see here.
I wasn't sure what to expect when reviewing Axigen, I knew there wasn't going to be any WHS console integration, and on first impressions of the website and looking at the other products I knew this was going to be a far superior product than that of vPOP3 mail server.
I downloaded the setup.exe from the website, there are a number of products that Axigen offer but the one I am going to concentrate on is the Office Edition which is free. There are many other products with more business orientated features if you so wish, all of which are charged on a yearly basis and are bundled with many more features.
Once downloaded copy the setup.exe over to your WHS software share, I always keep things tidy in this folder by naming and placing in a folder. Installing is easy just remote in to your WHS and run the setup.exe, keep clicking next and accept the T&C's, once finished it will run the configuration wizard.
There is an install guide and user manual available on the Axigen website, you can find that here, now the one thing to note at this point is that this product is not specific to WHS it can be installed on any Windows Sever environment and just about every variation of Linux, for this reason all documentation is server based i.e. Windows Server 2003/2008 and some irrelevant Linux information, again this means there is no WHS console integration.
Installation
During the configuration fill in an administrator password and click next.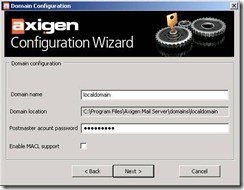 Next fill in your domain name, this can be anything you wish (example.local, example.org) my advice would be to leave it as default or enter your domain name that you are wishing to use.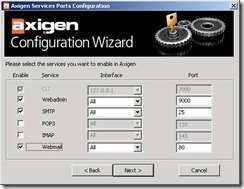 Next it will ask for the services you are wishing to use and the port number the service will come in through your broadband router on, you can also specify interface specific services so that webadmin you may only want to make that available for internal use only.
The one thing to note here is that if you are going to use the webmail function, you will have to specify a different port number other than port 80, as your WHS default webpage will already be using port 80, my advice would be to use port 81. The only adverse difference would be when accessing the webmail is use ":81" at the end of the web address, for example; http://windowshomeserver:81 for local access and http://mywhs.homeserver.com:81 for external access.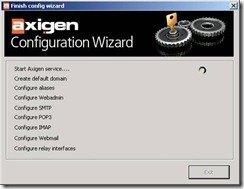 Once you have completed your installation you will need to open the ports up on both your server firewall and on your router to allow external and internal access, this is for the specific services you setup, you will obviously need to open the relevant port numbers you setup for each service.
Mail server setup
Now you can setup your Axigen server by logging on to http://yourwhsname:9000 from your web browser or if you have used a different port number for webadmin change 9000 to the port number you have specified.
Now I am not going to go through each feature one by one as I am sure you will forgive me when you see the amount of features there are, so I am going to explain some of the basics in order to allow you to start getting mail through and be able to access said mail, if at any point you are unsure about some of the settings refer to the manual, post on the forum or post comments below.
First thing to do is to install your license number for Axigen, you can do this by clicking on global settings and then upload new key. You will have been emailed this file when you registered with Axigen during the download process, if you have not done this then don't worry you can register here.
You can now setup each user that needs email access by going to "Domain & Accounts" and then "Manage Accounts", from here you can add your users and the domains you hold. Now one interesting thing for me when writing this article is that at this stage I was looking around to configure my users pop account, I had looked everywhere for it even in the users webmail account, turns out that if you are using Google Chrome in the webmail section 3 very important buttons will not display in the AJAX control panel, Add Connection, Add yahoo Mail, Add Google Mail, Add Windows Live Mail, the only way for these buttons to display under Google Chrome would be to login to the webmail in standard mode, you can access this below the login section.
It's a shame that the remote pop settings cannot be administered from the main administrator panel, this way more control can be given to parents using this for family use.
So now you have got your users setup, your domain names added and your first user logged in, the only thing left is to use it.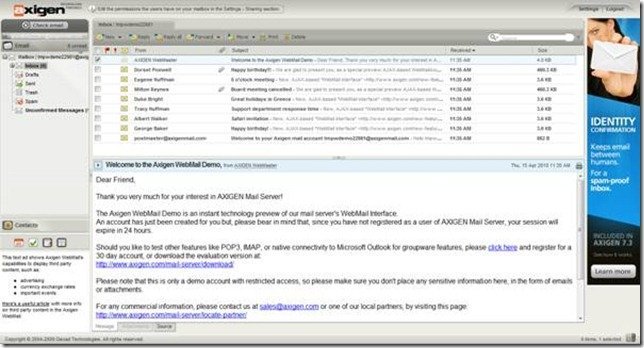 There is integration with Microsoft Outlook all you need to do is download the Outlook Connector from Axigens download page and install filling in the details of your server and account, if you have used Microsoft Outlook with an exchange server before you will find this very similar to this, it brings in your email direct from the server, shared/personal contacts, shared/personal calendar, shared/personal notes are just some of the other features brought through into Outlook, there is also integration with all other Mail clients such as thunderbird.
Main Features
Where to start, Axigen has everything vPOP3 didn't, SMTP sending and receiving, IMAP, POP3, mailing lists, public folders, contacts, calendar, notes, anti-virus and spam integration, online backup and restore, clustering. This list could go on and on, this software is just so versatile it's almost hard to believe it is free.
There is even Active Directory integration for Server 2003/2008 and that is even on the free package, now I can't be certain at the moment until I look in to this further, but I actually think it might be possible to make Axigen automatically pickup new and existing users within WHS. The way I would expect this to work is through a module that is available for download on Axigens website that is meant for active directory integration, I will let everyone know in due course about this but if someone else finds out before me please let me know.
Things to bewar
e of:
Make sure you open ports on your WHS firewall and broadband router or use internally and externally will be impossible, Axigen has no UPnP so it won't do it for you.
Make sure you configure your email account in Internet Explorer as the AJAX integration with Google Chrome will miss those vital buttons out.
Lastly make sure you register Axigen and obtain a registration file otherwise you might just find your new great free product will randomly stop working.
Conclusion
I have made no attempt to hide the fact I love Axigen Mail Server, it is a great product, easy to use and feature rich, the other great thing is that if you need the ability of more than 1 domain, 5 users or even mobile access then the price of an upgrade is very reasonable just $70 per year gets you 10 users, 10 domains and mobile integration.
I most definitely believe Axigen to be harder to setup and administer than vPOP3, simply because of the vast array of features it has, that's not to say the basics of getting email coming through is difficult, but when something goes wrong, and inevitably at some point it will, it isn't going to be the easiest thing to get your head round how to fix it, especially if you have had no prior experience, you only need a service to stop running for you to start getting random errors.
The person I expect to be using Axigen on WHS are people using WHS in a business environment and enthusiasts, you only have to look at the vast array features to see it just isn't for the faint hearted. You really have to have an in depth knowledge of not just how mail servers work, but how email traffic works in order to start configuring things like an SMTP feed, or maybe setting up clustering.
There are still controls that can be used by parents such as copy of email forwarding and user logging but I think there is so much administration needed it would almost be more trouble than it is worth.
Overall a great piece of software one that I absolutely love and would definitely recommend, if you feel confident enough, go for it, the time and effort you put in will be well rewarded with an excellent, stable and feature rich email server that will continue to serve many an email.
Update
I have been assured by Axigen, in the next version 7.4 the Windows Firewall ports will be automatically opened for you, as you can see from the screenshot below.
Matthew Glover
www.matthewglover.co.uk
Share this WHS Article with Others: