The Tranquil's SQA-5H-2000 Home Server looks just like the original design released approximately 2 years ago, and therefore retains the quirky design of the original unit. It's not an unattractive unit which will fit in any home/small office environment and you do have the option of specifying a white or black case.
What's in the box?
Inside the box there is the usual ensemble of a power supply, UK kettle lead, ethernet cable, information pack and a DVD case with the 3 discs required for a WHS setup. The DVD case also includes a rather neat bootable USB flash drive that can be used to restore the OS should other routes fail. Obviously the unit doesn't have a DVD drive built in so the bootable USB device is the next best thing, and frankly should be the default install methodology for other OS's such as Windows 7 but I digress!
Technical Specification
Tranquil SQA-5H

Processor
Intel Atom D510
Memory
4 GB RAM in review unit (extra cost), standard RAM 2 GB
Included capacity
3 x 1TB SATA drives in review unit (extra cost) standard 1TB
Expandability
5 SATA caddies
Ethernet Port
10/100/1000 Mbps
Ports
6 x USB 2.0 (4 rear, 2 front)
1 x ESATA (rear)
Dimensions

214 mm W x 220 mm D x 193 mm H
 
Supported OSs
Windows XP, Vista, 7
| | |
| --- | --- |
| Processor Information | |
| Processor 1 | ID = 0 |
| Number of cores | 2 (max 2) |
| Number of threads | 4 (max 4) |
| Name | Intel Atom D510 |
| Codename | Pineview-D |
| Specification | Intel(R) Atom(TM) CPU D510 @ 1.66GHz |
| Package (platform ID) | Socket 437 FCBGA8 (0x3) |
| CPUID | 6.C.A |
| Extended CPUID | 6.1C |
| Core Stepping | B0 |
| Technology | 45 nm |
| Core Speed | 1666.9 MHz |
| Multiplier x FSB | 10.0 x 166.7 MHz |
| Rated Bus speed | 666.8 MHz |
| Stock frequency | 1666 MHz |
| Instructions sets | MMX, SSE, SSE2, SSE3, SSSE3, EM64T |
| | |
| | |
| | |
| Chipset | |
| Northbridge | Intel Atom Host Bridge rev. 02 |
| Southbridge | Intel NM10 rev. 01 |
| Memory Type | |
| Memory Size | 4096 Mbytes (review unit) |
Power Usage
The initial power usage of the unit was 37 watts, quickly settling down to 32 watts with three 1 TB drives installed. Heavy file transfer didn't take this beyond 44 watts. I am told that each further drive will increase power usage by approximately 5 watts.
Initial Impressions
The unit retains the five caddys of the original SQA-5H, and let you slide 3.5" SATA hard disks in and out easily and retain the hot plug capabilities, (on the data disks). The colored tabs at the front don't represent anything in particular but allow you to create your own logical system of discs. External drives can be connected using either the two USB sockets at the front of the unit or using the four USB sockets on the back of the unit. These are all USB 2, so no sign of USB 3 capabilities as yet. There is also one eSATA socket on the back of the unit for faster transfer rates. Also on the back of the unit below the USB ports is a panel, and if you remove it you have access to a VGA connector to which you can obviously attach a monitor for troubleshooting purposes
The main upgrade for the unit is on the processor front as this has been upgraded to the Intel Atom D510.
The SQA-5H-2000 is very quiet because of a large slower rotating fan on the back of the unit extracting the warm air from the otherwise passively cooled bespoke motherboard.
The unit has a number of LEDs, which highlight various statuses and error conditions quickly, easily and relatively intuitively, however there is a label on the bottom of the SQA-5H to explain each one. Disk storage use can also be ascertained by LED status.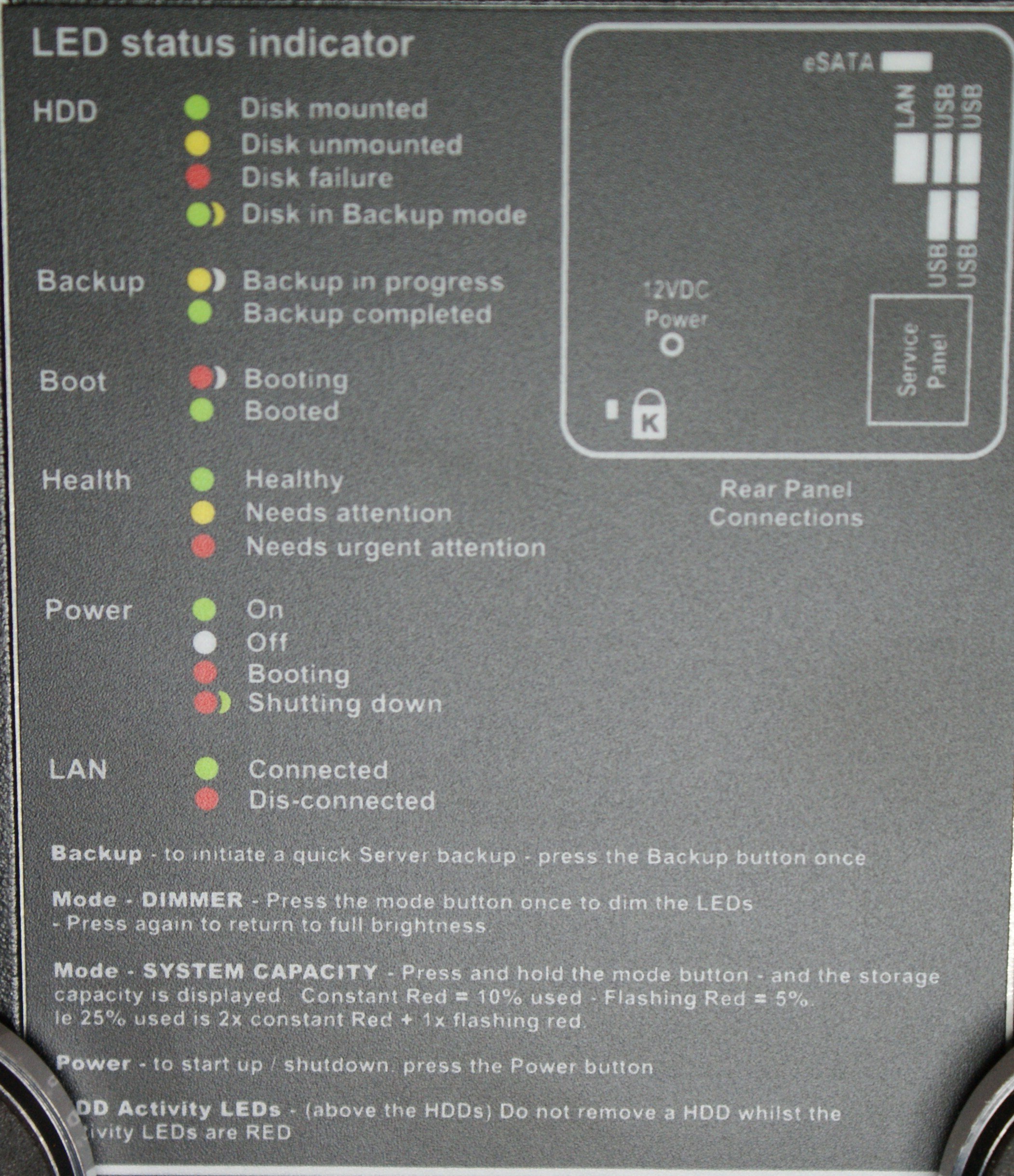 Tranquil Safe Server Module
This unit was also supplied with the Tranquil Safe Server Module (SSM). The SSM was delivered with 2x 500GB 2.5" HDDs, in a RAID1 mirror array, including a Tranquil build of Windows Home Server (PP3) for either the Series 1 or Series 2 SQA-5H. The SSM can also be added to an existing SQA-5H – and the Server initialized again (losing the data, so back this up first!), or you can Restore the Home Server with the supplied new DVD, with the SSM fitted and recover your data.  By replacing the first hard disc in your SQ
A-5H, (or many other WHS machines and potentially WHS home brews), with a SSM, you are going some way towards protecting the operating system and primary data partition from HDD failure.
There is a good write up of how to use the SSM on Tranquil's own blog here.


There is a note in the SSM box in which Tranquil "recommend" that you take off the tin plate in the front of the hard disk carrier so that the LEDs can be seen, however this is mainly because the SSM won't actually fit in the carrier if you don't take the plate off!
As you can see the SSM very neatly combines two 2.5" inch drives in to a 3.5" disk format drive. It is of course far smarter than a simple caddy because of the RAID1 mirror capabilities. All in all a very neat unit, a credit to Tranquil's technical team.
The SSM can be remotely managed from a client PC application, but we will look at this further in a separate article, to be published later on www.mswhs.com.
Start Her Up!
When you insert the Start-Up CD in a client PC you are presented with the screen below:-
To start the install process you would select the option "Initialise your home server" and the familiar WHS install process begins.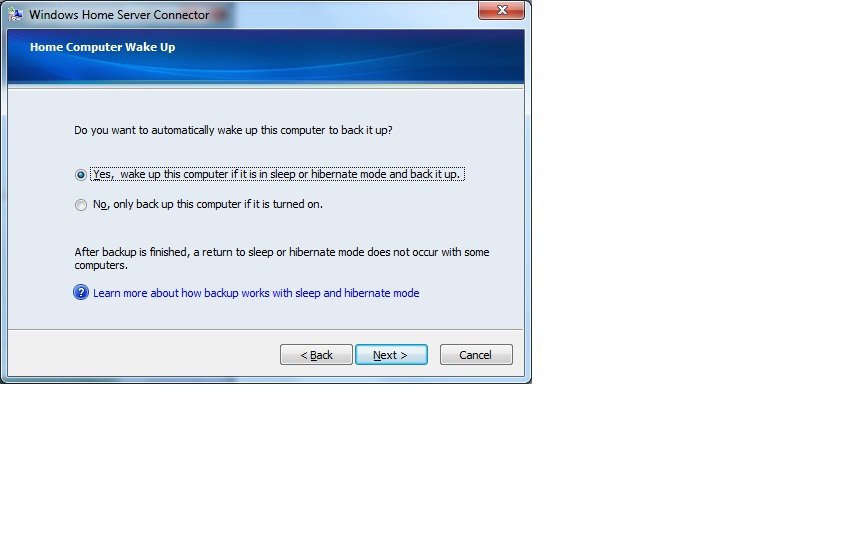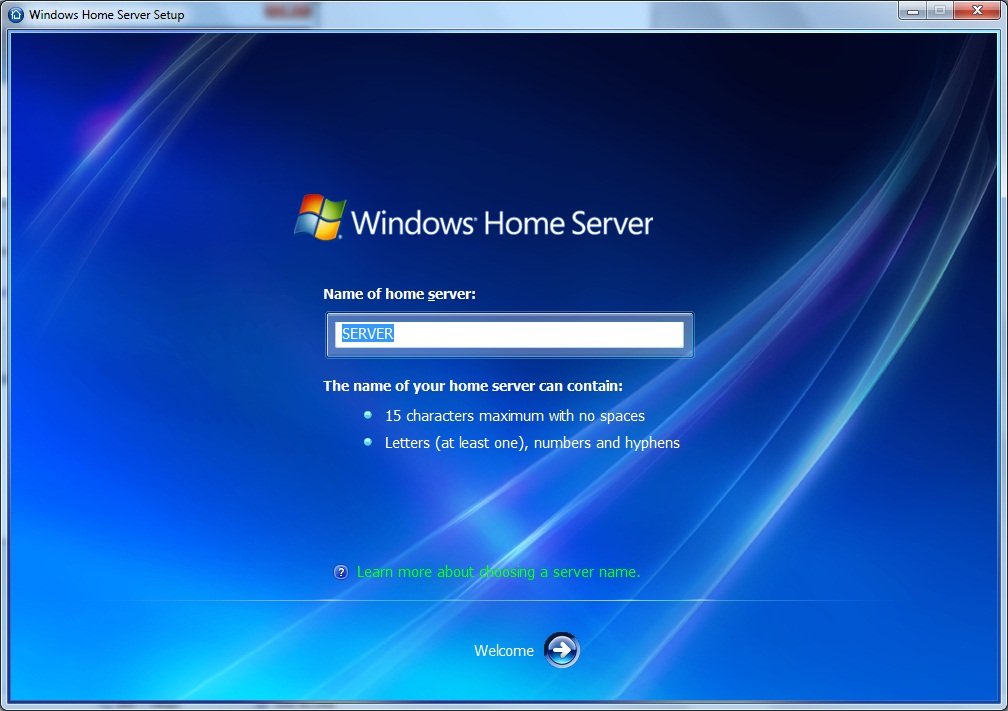 Name your server – I just stuck with the default name of "Server"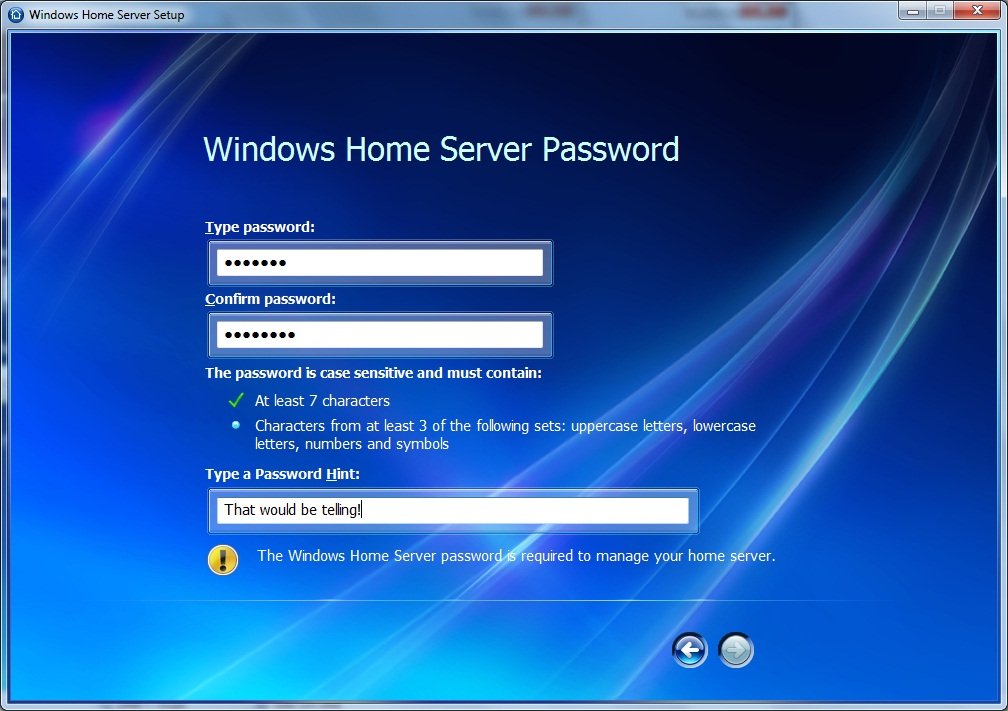 Enter the system default password – don't forget this otherwise it's a system rebuild!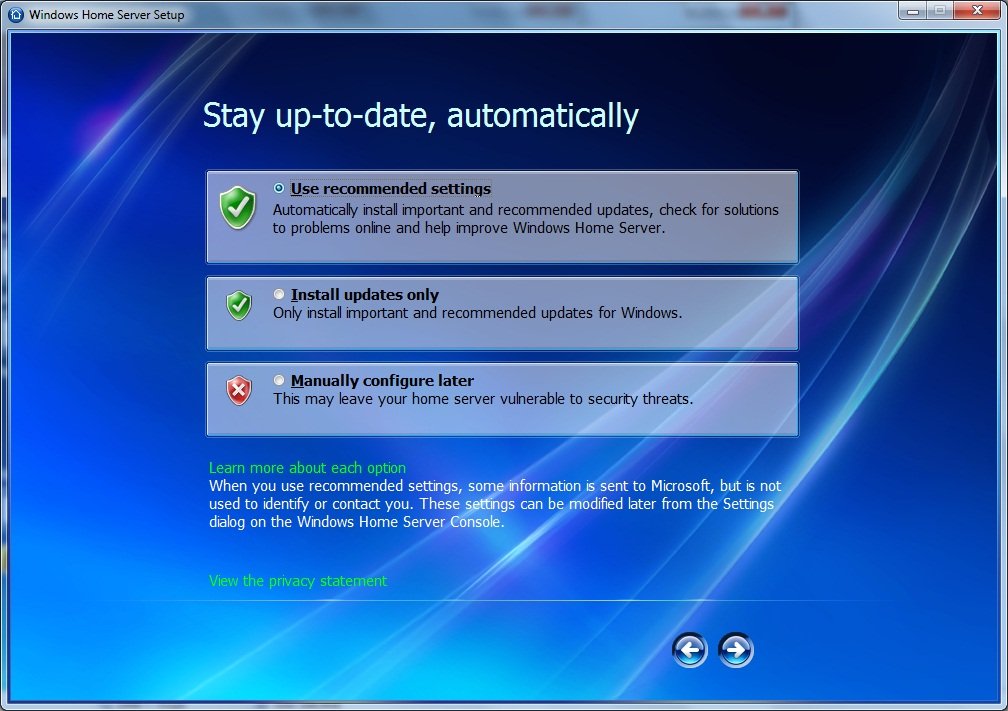 Set your update settings as appropriate.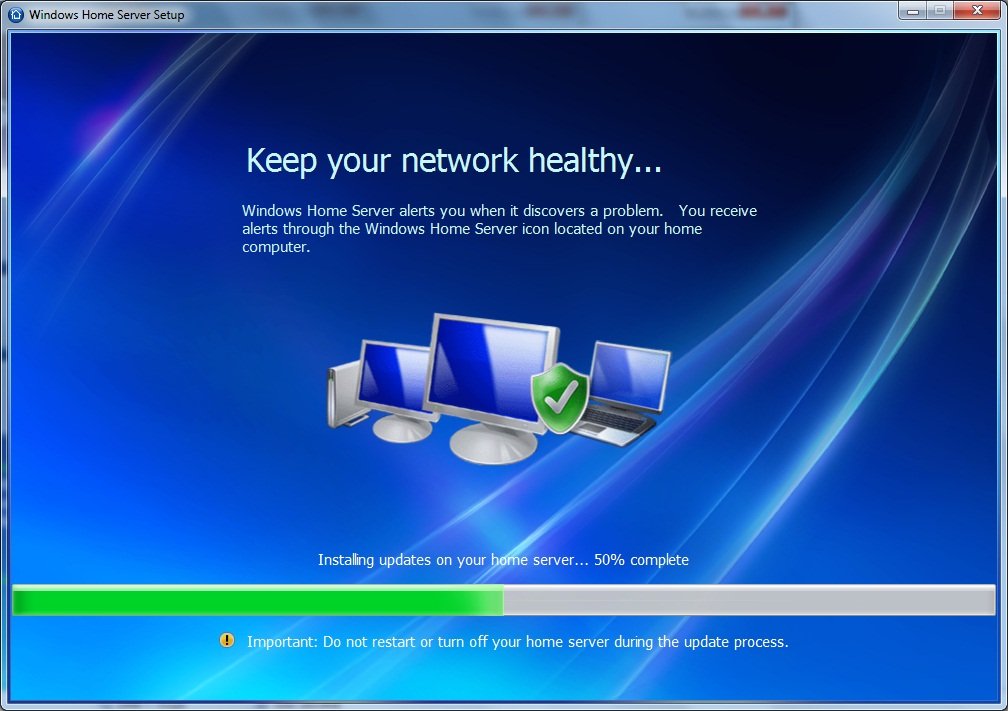 And the install process continues…
Add-Ins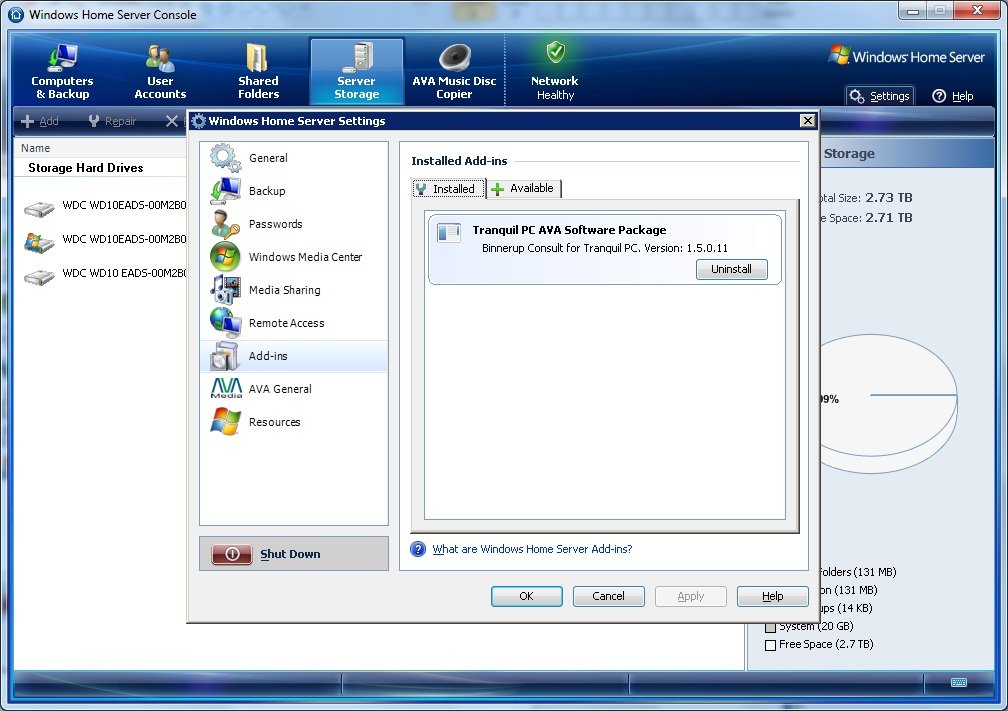 The AVA addin is installed as a matter of course.  The AVA Music Disc Copier add-in, automatically copies CDs into shared lossless and MP3 libraries – though to use it you'll need to hook up a USB optical drive.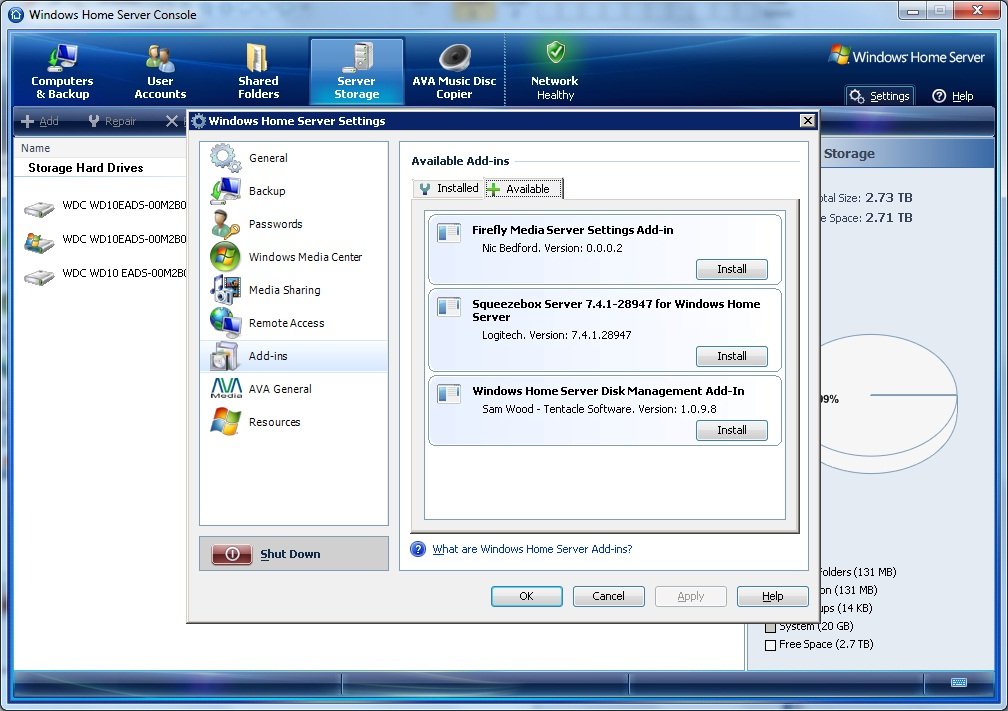 But there are 3 other addins available if you need them.
FireFly Server to stream your music to iTunes or any other DLNA equipped device.
Logitech SqueezeServer to stream your music to a Squeezebox device.
Tentacle Software Disk management add in
Pricing
The SQA-5H-2000-S2 which comes with 2GB of RAM and can be specified in Black or White retails at £469 , an extra 2GB can be specified for £36. One extra 1TB disk can be requested at £79, two extra 1TB disks at £154, three extra 1Tb disks at £224 and four extra 1TB disks at £294.  The SSM module is available for £169. (all prices ex VAT) If you order any SQA-5H plus at least ONE extra HDD during March 2010, you will receive a free Xtreamer Media Player.
Conclusion
The only chink in the armour is the fact that there is no scope to add any PCI cards to use the machine as a network tuner source with software such as DVB Link TV Source, but this is a small foible that most machines share unless they are homebrew WHS machines.
Otherwise the Tranquil SQA-5H-2000-S2 is a very capable machine and well specified, though a relatively expensive unit. But as the unit can be expanded at will with those impressive 5 caddies and an array of USB and eSATA ports, I think that it's probably a price worth paying. This unit definitely has a leaning towards the more professional/serious enthusiast end of the WHS market, but this is a role that it fills incredibly well.
Is the SSM module a must have? This depends on your own degree of paranoia but it could save you an awful lot of work and heartache if the system disk was to fail – a great idea but quite expensive!
Share this WHS Article with Others: