HP has just announced the availability of the HP MediaSmart Expander for TiVo.
This software application lets TiVo owners store movies and shows on their MediaSmart Server as well as watch them on their PCs, thus offloading your DVR material to the MediaSmart Server and sharing it is now possible.
TiVo customers are already able to record and pause live TV, and access on-demand videos to watch hit movies and TV shows etc, but with this new HP software application, TiVo customers can now:
Transfer shows from TiVo to a HP MediaSmart Server and back to TiVo
View TiVo recordings stored on a HP MediaSmart Server
Watch TiVo recordings that are stored on the HP MediaSmart Server on any PC in the home using Windows Media Player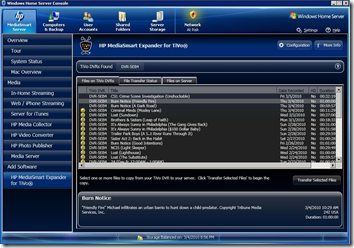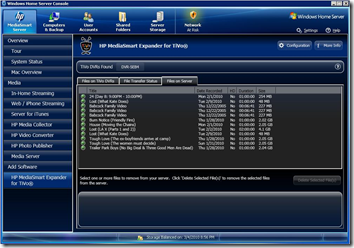 Jason Zajac, vice president of Attach, HP Personal Systems Group, had this to say:
The HP MediaSmart Server is the ideal companion to TiVo. With the HP MediaSmart Expander for TiVo, consumers don't have to worry about running out of high-definition storage space since they can save their movies and shows on the HP MediaSmart Server and watch them on any computer in the home.
During testing standard definition material is fast in transferring whilst high definition material takes approx. 30 minutes for a 30 minute program to transfer across.
The software is available right now from the "Add Software" tab on the "MediaSmart Server" tab within the HP MediaSmart Server console.
The software:
Requires TiVo Series2 or Series3 DVR and TiVo desktop software. Upon availability, TiVo Premiere and TiVo Premiere XL will also be compatible with the HP MediaSmart Server TiVo application.
Is compatible with HP MediaSmart Servers EX490/EX495. HP MediaSmart Server, PCs and TiVo DVR must be on the same network – Naturally those of you who have upgraded their EX47x/EX48x with the 3.0 software will also be able to use the software too.
TiVo service is only available in the US
Both HP and the TiVo Community Site have an advertising campaign highlighting the benefits of both TiVo and the MediaSmart Server, and the software is FREE too – What more can you ask. More value added software from HP for MediaSmart owners.
Share this WHS Article with Others: