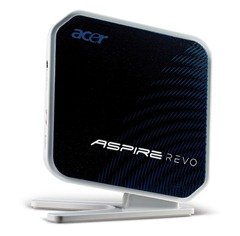 Today we have a bit of a departure over previous hardware reviews, as the Acer Revo R3610 isn't specifically designed or sold as a Windows Home Server. We thought that as it was such a neat and compact box, with good spec hardware it might make a handy and capable little server.
The Acer Revo R3610's day job when it isn't moonlighting as a Windows Home Server is what I can only describe as a netbook without a screen; not the fastest PC you can buy, but small and capable of allowing its users to surf the Internet and know that it will run most of the things they will want.
It is designed to either sit on top of a desk, or by using the supplied VESA mount, hide itself around the back of your LCD TV, giving your TV the power of the Internet. This internet enabling of an existing TV is made even easier with the supplied wireless keyboard and mouse.
Hardware
At its heart, the R3610 has an Intel Atom N330 running at 1.6Ghz and an NVIDIA ION chipset providing the graphics. Storage options vary depending on model, but RAM at 2Gb or 4GB and hard disk at 250gb or 500gb seems to be the order of business if you look around online stores for one. Finally we also have built in wireless networking.

There are plenty of ports and connections on the R3610, which is really helpful for its forthcoming transformation into a home server. Top of the list is an eSATA connection followed by no less than six USB 2.0 ports with a Gigabit LAN RJ45 bringing up the rear.

The less useful connections from a server point of view are a VGA and HDMI monitor connections, headphone and microphone jacks, optical SPDIF and a multi-in-one card reader (supporting Memory Stick, MMC, SD or xD).

Day Job
In its day job, this is a great little device. Safely screwed to the back of an LCD TV, the R3610 just peeps its power switch over the top of the screen so you don't have to grope around the back to turn it on. With similar attention to detail, the multi-card slot and some USB ports are up facing so you can insert memory into them without having to resort to moving the TV.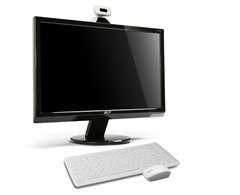 The supplied keyboard and mouse seem up to the job, and were stylish and of good enough quality so not to disgrace your TV.
Windows 7 Home Premium 64-bit comes pre-installed which worked fine on this little PC; actually it worked even better when most of the bloatware was removed, but I think we are all very used to that problem with any preinstalled operating system. I am not really going to delve into a review of the R3610 in its day job, as I am really more interested in how it can become a server.
So it was unscrewed from the TV and reunited with its desk stand ready for to have Windows Home Server installed.
As a server
Making the little R3610 a Windows Home Server requires a little bit of work upfront. Firstly, as the R3610 has no optical device, so you will need to make a USB copy of your WHS installation CD or alternatively obtain a external USB CD ROM drive.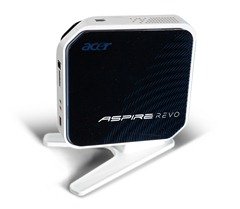 Next you will need to ensure you have changed the SATA interface mode from AHCI to Native IDE in the BIOS, unless you are happy seeing Blue Screens of Death every time you try and install the server. There may be a technical way to allow WHS to run in AHCI mode, but I found this method perfectly ok for the review.
Finally as the WHS installation disk doesnt have them already, you will need to get a copy of the network card drivers from the Nvidia site, otherwise nothing will be able to talk to the server on the network which really defeats the point of having a server.
With these three steps accomplished, Windows Home Server installed onto the R3610 without any undue problems or delay.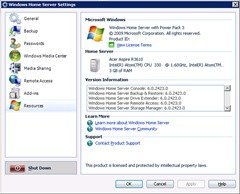 The first order of business for me once I had got Windows Home Server running and connected to the network was to install a second hard disk to supplement the built-in one. This obviously isn't necessary if your R3610 is only going to be on light service duties or you don't want to enable folder duplication.
I used the eSATA port and my chosen hard disk was soon active in the WHS storage pool.
In use
So how did it perform? Surprising well to be honest. The Intel Atom N330 seems to make short work of normal WHS duties, and performance from this little server was every bit as good as any dedicated OEM server. I tested it against my normal WHS box, and it was comparable in the copy times for all the different files sizes I tested.
The console was always snappy and responsive while web access was served without delay, and there always seemed to be plenty of CPU cycles available for streaming.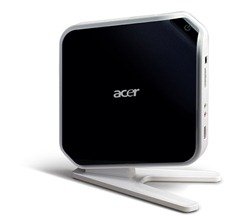 Having the additional eSATA disk connected gave extra storage capacity, and there were no perceivable delays or holds up when the external disk was in use. The 4gb o
f RAM in our review R3610 is probably overkill for general purpose WHS duties, but would be of great benefit for anybody who runs a lot of applications on their Windows Home Server.
The R3610 itself is practically silent in use, and any noise it does make certainly isn't very noticeable or intrusive.
Conclusion
Whilst the hardware specifications of the R3610 make it superior to many OEM Windows Home Servers, taking the design of the hardware into account, I don't feel comfortable recommending that the R3610 is left on 24/7 like you would with a more traditional WHS box.
The R3610 has a small case, and I can only assume there is limited air-flow to the internal components. Ok, so perhaps I am wrong and by having the bulk of the storage in external drives, and the R3610 can certainly connect a lot of drives if it wants too, you might have no problems leaving it on 24/7.
Instead I see a niche that this server can fulfil, and that is of the occasional Windows Home Server. So that sounds odd, as I am sure that most of us are used to having our servers up 24/7, backing up PC's, running Mail servers, hosting web sites, streaming and converting video or whatever else.
But this could be different. Screwed to the back of an LCD TV, it can become an unobtrusive uPNP server for the ever increasing number of uPNP/DLNA type media receivers out there. Switch it on when you need it, and use it to watch TV – perhaps backup your laptop – and power it down at the end of the day.
A lifestyle Windows Home Server, could that catch on? If it does, then the R3610 should be at the top of your shopping list.
Acer Aspire R3610 technical details
Share this WHS Article with Others: