This new edition from Diskeeper looks pretty good, I have to be honest I have never been a big fan of Diskeeper, I have always felt O&O Defrag has always had something more to offer.
The initial install is very standard apart from the fact you have to install the initial software from the WHS console and then do a second install for the WHS console integration. In previous editions this has been done through the use of Remote Desktop Connection, where you had to install the program direct to the server and then install the WHS console addin. So I have to say this new way of installing is a welcome addition for many, which should make this program more easy to use.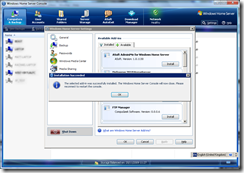 There is an install guide here.
Once the program was installed, my initial impression was this looks very cramped. I can't help thinking that Diskeeper have taken their normal desktop program and just blatantly forgot that the WHS console is a lot smaller and cannot be maximised, essentially shoe horning the program onto WHS.
From the initial Diskeeper screen there are many summary section to which you can either scroll down to or use the Goto drop down box at the top of the summary section, to be fair to diskeeper although the initial screen is not much to look at it does have all the relevant information you are looking for just at a glance.
There isn't really any setting up you have to do for this software, it just gets on with the job at hand, automatically defragging each drive as the server is idle and for this reason it gets a big thumbs up from me. This gives the average user who doesn't want to have to configure software after install, the ability to once the software is installed, you can just walk away.
By default automatic defragmentation is set for all the time, this for me was something I wanted to change and to do this you can just right click on any drive and select "automatic defragmentation… " now you can either configure the one drive or all drives at once, I always want my drive the be defragged during the night but others may want during the day while they are at work. The good thing is that you can configure on a day to day basis.
InteliWrite pre-empts fragmentation and deals with it there then, an excellent feature that is going to keep performance at a maximum at all times and as always prevention is better than the cure.
If you go in to the configuration settings there are many things that can be changed, such as file exclusions, event logging, power management, volume shadow copy settings, proxy settings and new volume protection.
You really do get a lot for your money with this edition and I should think so when the software weighs in at $59.95. Now this for me has always been my gripe with defragmentation software, the price of it is always more than it should be, after all this isn't software that will give you hours of entertainment or pleasure, it basically sits there, doing what looks like nothing.
I will have to report back later on the exact performance, but on first looks it is doing exactly what it says on the tin.
Overall an easy to install piece of software which is easy to configure, but the price for me is what lets it down, and maybe will put off some or even many off buying.
Matthew Glover
www.matthewglover.co.uk
Share this WHS Article with Others: