VIA is pretty well known for its chipsets, processors and boards, but less so for complete systems. So I find myself here with the NSD-7800 server, which is a complete system from VIA, well not really a complete system as it ships without hard disks or operating system, so that makes it a bare bones system then.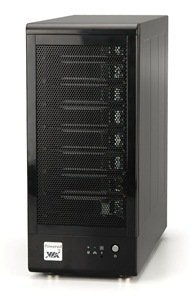 Hardware
For the NSD-7800, VIA have taken their embedded NAS-7800 board and popped it into a compact little eight drive bay case, and the case is smaller than you expect an eight drive bay case to be, measuring approximately 13.5 L x 6 W x 13.5 H (34 x 15 x 34 cm).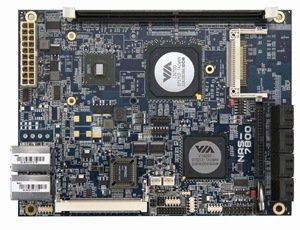 Inside, the NAS-7800 board is equipped with VIA's own C7-D processor running at 1.5Ghz, a DDR2 RAM slot with a maximum capacity of 1gb and 8 SATA connections. Interestingly this board also sports a bootable type-I Compact Flash slot for any system builders who fancy putting an embedded operating system onto that particular medium. An embedded VIA VT6130 LAN card and VIA Unichrome Pro Graphics are also present and correct.
Finally inside, we find a 300w ATX power supply, and a 120cm fan keeping everything nice and cool.
Outside, the case has normal glossy black finished metal we all expect our servers to be wearing this year, along with four rear USB sockets, a gigabit Ethernet connection and power in. Up front are some status lights an a power button.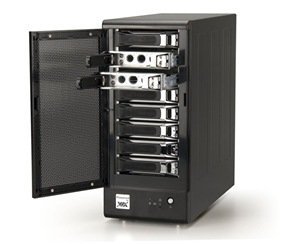 Opening up the mesh front door reveals the eight hard disk caddies which can are removed by sliding the silver section on the right hand side and pulling the lever that pops out; all pretty straightforward stuff.
Installation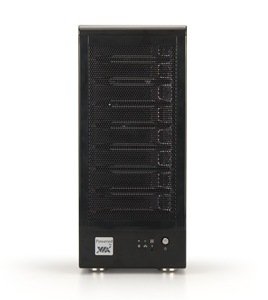 The NSD-7800 has been designed to operate as a headless server, and as such is has no VGA connection on the rear panel. Unlike the HP MediaSmart servers which use TFTP to load the operating system, the NSD-7800 requires you to install an operating system locally; so how do you manage this with no VGA connection? Well thankfully there is a VGA pin header on the motherboard, and VIA supply a VGA cable to convert the header pins to a proper VGA socket allowing you to connect up a screen.
With the monitor dutifully connected, the installation of Windows Home Server still presents a couple of challenges. For one thing, the lack of a built-in CD/DVD drive presents you with an initial hurdle of how to install the operating system. This is of course easily remedied with either a USB DVD drive or by transferring the WHS installation media over to a USB memory stick.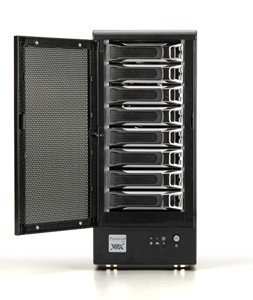 Installing a hard disk into one of the caddies wasn't a great chore, four screws and in it went. Not as simple as a MediaSmart server, but easier than installing it internally on a regular case. The next question was which of the eight drive bays should the system disk go in? As I have been used to using an HP MediaSmart server, I automatically went for the lower bay. This turns out to be a mistake with the NSD-7800 as the lower 4 bays are connected to the RAID controller which means the Windows installer disk can't see them. A better bet then is the top most drive bay which is connected to the regular SATA controller.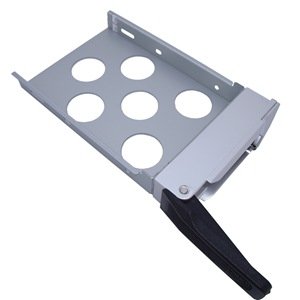 Lastly connect up a USB keyboard and mouse, power and Ethernet and you are ready to go with the installation.
Using my newly created installation USB thumb drive, the NSD-7800 loaded Windows Home Server without any problems, and everything seemed fine until I tried to access the server from another PC across the network. What could be wrong? Well simply that the Windows Home Server installation media doesn't contain the drivers for the NSD-7800's embedded VT6130 network card (it didn't have the RAID drivers either, but never mind). A quick trip to VIA driver web site soon sorted things out and we are up and running on the network.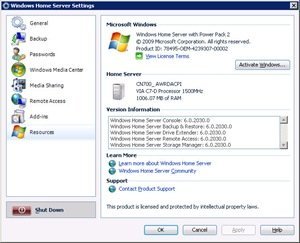 In use
Power consumption using a single hard disk was a respectable 40w, and the NSD-7800 ran pretty quiet and cool during use.
The NSD-7800's little C7-D 1.5ghz processor and 1gb of RAM are never going to set the world on fire in raw CPU horsepower, but they seemed perfectly sufficient to power Windows Home Server to an acceptable level of performance. If you like to add a plethora of other applications onto your home server, then you should perhaps consider another platform as I would expect the NSD-7800 will run out of steam pretty quickly, but as a basic Windows Home Server box you should be fine.
And here lies the strength of this little system; as a simple file server this server can currently pack up to 16tb of storage into a small form factor, low power consumption package, not
forgetting that this can be extended further using the four USB sockets up to a possible 24tb if you wish (assuming all of your disks are 2tb). Not many other systems of this size can boast that amount of storage capacity.
Verdict
It would be unfair to compare the NSD-7800 with complete and ready to go servers like the recently release HP MediaSmart server. This is because the NSD-7800 is a barebones system, supplied without any hard disk or even an operating system. In fact the NSD-7800 isn't even specifically intended as a Windows Home Server, as other operating systems will work just fine on it.
However, it is impossible to ignore the fact that you can get a ready to go HP MediaSmart EX490 with all its extra media streaming bells and whistles for around $550, which is only marginally more than the NSD-7800 which is available for around $530 (www.e-itx.com or www.via-itx.com), and this is before you buy any hard disks or a copy of Windows Home Server.
So the NSD-7800's strengths are as a workhorse system, able to provide a single box solution for a large amount of storage, but with weaknesses being the additional cost and perhaps lacking the extra power to offer the media conversion and streaming tricks of an HP MediaSmart server.
Share this WHS Article with Others: