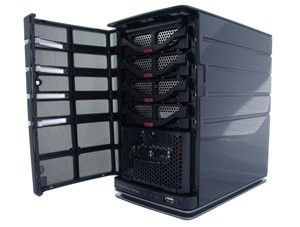 HP is set to replace their current MediaSmart EX485 and EX487 servers with the addition of two new models, the EX490 and EX495. So what can we expect from these two servers?
What's new
HP MediaSmart EX range has always stood apart from the Windows Home Server crowd because of the extra software that is included with the server. This time around, HP have enhanced automatic video conversion to ensure that your streamed video files are readable over the internet, the admin console has received a make over with an enhanced status display, server setup and configuration checks. The Mac hasn't been forgotten about either with the additional capabilities for hard disk recovery, media collection and server administration. This comes as an addition to the existing MediaSmart extras already included in the earlier servers.
Hardware wise, the new servers retain the same compact sized case and 2GB RAM capacity of their predecessors, but have taken upgrades in the processor and hard disk configurations.
The EX490 has a slightly faster Intel Celeron 2.2GHz than its predecessor and a bigger 1TB drive, but things get a fair bit faster with the EX495 which boasts an Intel Pentium Dual Core E5200 2.5GHz processor and a single 1.5TB hard disk. Although at 1.5TB this is the same capacity as the previous EX487, the EX495 achieves it using a single disk which leaves us with three free drive bays rather than the of the two of the earlier server.
The downside of having a single disk of course is that neither the EX490 or EX495 are able to use folder duplication out of the box, although this really is a minor problem when you consider that currently hard disk prices are fairly cheap, and the absolute ease with which you can add a new disk to the MediaSmart case and the Windows Home Server itself. I suspect HP were seeing that customers preferred to buy the single disk EX485, and were adding their own hard disks to it rather than going for the more expensive EX487, so HP are now giving some real extra value to the higher capacity server.
This table shows the basic specs of the old and new models.
Product

EX485

EX487

EX490

EX495

Processor
Intel Celeron 2.0GHz
Intel Celeron 2.0GHz
Intel Celeron 2.2GHz
Intel Dual Core 2.5GHz
Memory
2GB DDR2
2GB DDR2
2GB DDR2
2GB DDR2
Capacity Included
750GB
1.5TB
1TB
1.5TB
Open Bays
3
2
3
3
Ports
4 USB
1 eSATA
4 USB
1 eSATA
4 USB
1 eSATA
4 USB
1 eSATA
Dimensions (inches)
W x D x H
5.5 x 9.8 x 9.2
5.5 x 9.8 x 9.2
5.5 x 9.8 x 9.2
5.5 x 9.8 x 9.2
 
 
 
 
 
So this time around HP have provided some proper performance differences between their two MediaSmart servers rather than simply adding an extra hard disk. Perhaps HP will be pitching the higher spec EX495 as a server for users who want to take advantage of the extra power for media conversion and remote streaming, with the lower spec EX490 as a standard home server for people without the media conversion requirements. Time will tell I guess.
Capacity wise HP suggest that these servers can be expanded to 17TB. The math's to get to this dizzy height, is to take the supplied 1TB or 1.5TB drive, then add a 2TB drive into the three remaining caddies, one into the eSATA port and four into the USB 2.0 ports.
Hardware
The EX495 comes safely packaged in a nicely compact box, and is supplied with a power cable, Ethernet lead, three disks (server recovery, PC restore and Connector installation) and a handy setup poster giving details for connecting things up, including the adding of a new disk to one of the caddies.
Outwardly there is nothing obviously different to the previous models, which is just fine as the HP MediaSmart servers use a really compact and sturdy design for their cases.
Up front there is a single USB 2.0 port and some status lights. Use this USB port to connect up an external hard disk for your server backups rather than having to grapple around the back looking for a spare one. The rear connections include 3 x USB 2.0, an eSATA connection and gigabit a Ethernet port. Power input, power switch and a locking point are also present here.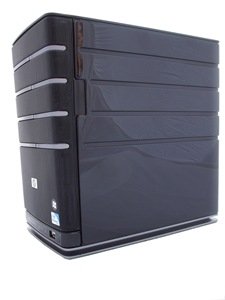 The MediaSmart case is black and glossy, with the lines from the large drive LED lights being carried around the sides to make things look reasonably attractive, you certainly won't be forced to hide it in a cupboard simply on aesthetics.  And no, this picture isn't crooked, the front of the EX495 slopes out toward the top.
Swing open the front, and you see the four hard disk caddies which can be easily removed once the locking mechanism has been released. This is a welcome feature to prevent accidental removal.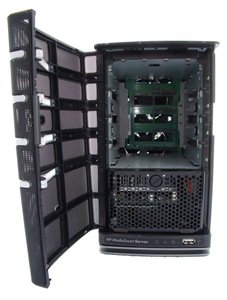 With the caddies removed, we can see the the four internal SATA connections and 2 x 80cm fans to keep things cool in the drive bay.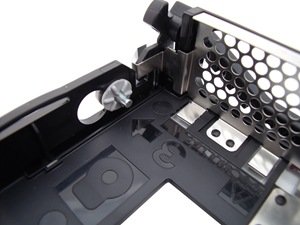 The caddies themselves have a clever screw-less design to make the loading of new hard disks a breeze, nobody should be put off from adding an extra hard disk or two to their server simply because of the design of the caddy.
Installation
Setting up the EX495 is very straightforward. Connect it up to your router, give it some power and put the client installation disk into a PC running Windows (so I don't know what you do if you are a Mac only household!).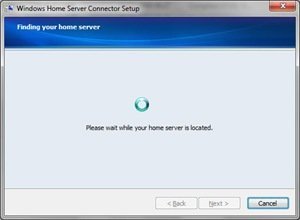 Next you run the connector setup and your PC looks for the EX495, and assuming that all is well with the network, your PC will connect and run through a normal Windows Home Server client installation.
When everything has completed, you now get to configure the server by giving it a name and setting the administration password.
Now the EX495 does some final installation and configuration, and you are ready to go.
In Use

HP have installed an Intel Dual Core Pentium E5200 and Seagate 1.5TB hard disk into the EX495, and this combination gives a very respectable power consumption figure of around 35 watts. Clearly this will increase when you add the inevitable second hard drive, but it is a pretty low baseline to start from.
The MediaSmart server has the full compliment of Windows Home Servers usual features, and performs all the regular Windows file sharing, PC backup and remote access duties without undue delay or issue. So now we come on to the extra software that HP provides over and above the normal Windows Home Server base software.
MediaSmart Server Software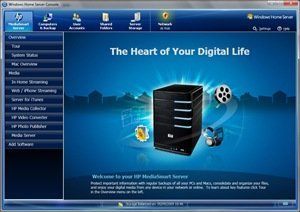 Users familiar with Windows Home Server will not recognize the MediaSmart Server icon in the administration console, as this section gives access to the extra goodies that HP bake into their Home Servers. Lets take a walk through this section and see what extras there are, and what is different from the previous version of the MediaSmart software.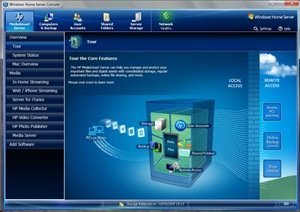 The first stop is the Tour screen. This is a new screen and is simply a logical overview of the MediaSmart concept and how the different elements hang together. I don't expect anybody will linger on this section once they get to grips with the server, although it will be of use to anybody new to Windows Home Server or the MediaSmart extras.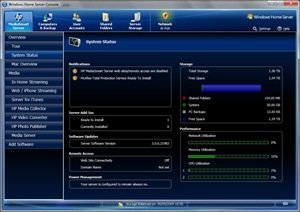 Next up is the System Status page which is much more useful long-term. Here you will find many of the servers operational details presented in a single easy to understand layout, some of this information is available elsewhere in the console, but this is a helpful addition that brings it all together in one place.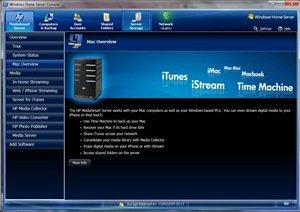 Finally in this section is the Mac Overview screen. Mac owners will find a link here to the online help section covering the MediaSmart's operation with the Mac.
Media Streaming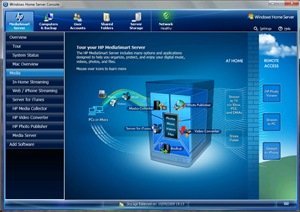 First in this section is the Media button, and it gives you pretty much the same logical overview as the Tour screen but does adds a little extra info on media streaming.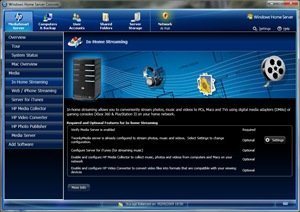 Now we move into the meat of the MediaSmart's extra functionality starting with the In-Home Streaming view. This screen allows you to see most of the components that control the media streaming capability in a checklist style view helpful to anybody unfamiliar with a MediaSmart server.
It seems as if HP have demoted Microsoft's standard Windows Media Connect software that would normally handles DLNA streaming to Xbox 360, PS3 etc in favor of a bundled copy of TwonkyMedia server. You are still free to use the Microsoft software if you wish, but it seems pointless given that the TwonkyMedia server is so well integrated with the administration console and  it offers far greater flexibility over which folders you are able to stream media from.

Next comes the Web / iPhone Streaming section and again there is a checklist to help new users out with the complexities of this capability. The real intention of this section is to allow remote users to stream content across internet, but in practice the streaming works equally as well for anybody who is connected to the local network.
In use the web client looks pretty good, is easy to navigate and is fairly responsive, although this will vary greatly depending on available internet bandwidth. Thankfully you are able you to go into full screen with photo and movie content, and the client will let you select which of the video profiles (more of which later) you can view your movies with.
The quality of video streaming is really down to how much upstream bandwidth you have available and what resolution you encoded the source video with, but given enough bandwidth the video is perfectly watchable for a remotely streamed video. The web client uses the familiar flash video client method of showing download progress verses current position, so you will know if your video is outstripping your servers bandwidth before the video stuttering starts.
The MediaSmart iPod/iPhone application, which is free to download from the Apple application store, allows you to navigate the same media content as the web client. Everything seems in order with this application with photos, music and video all presenting themselves on the iPod/iPhones small screen without too many issues.
iTunes
A really useful feature of the MediaSmart's extra software is the iTunes server that allows the EX495's music library to be shared to all iTunes clients on your local network. This is a very simple feature to enable, only allowing you to change the servers name, whether or not your clients require a password and the period of time it scans your music library looking for changes.
In use, your music library simply appears in iTunes as a server and allows you to fully navigate and play all of the music stored on the server, very neat if you are a fan of iTunes.
Media Collector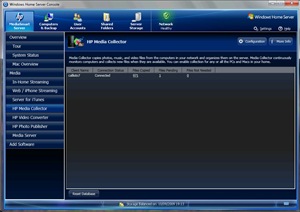 The HP Media Collector is a feature first implemented in an earlier release of the MediaSmart server, but with the new servers HP have built in some performance, customization and feedback enhancements over its previous version. The Media Collector allows the MediaSmart server to trawl through all of your client PC's hard disks and have their locally stored movies, photos and music files aggregated into the appropriate storage folders on the server, where they will become available to all users via the standard media streaming and file serving.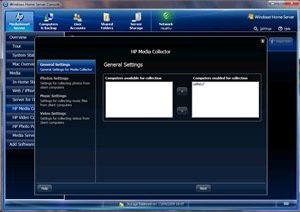 Every client PC can have collection enabled or disabled for each of the media types and you are able select different search locations for each of the file types on each client (so don't worry if you have content
you don't want to share). You have plenty of control how the copied files are integrated into the servers main libraries, for example you can store by PC name to ensure you can keep tabs on which PC's the files have come from.
This is a really useful feature if you have a number of PC users in the house who all want to have media content stored locally on their own PC's. Sure, the Windows Home Server backup mechanisms will ensure that these files are kept safe, but the Media Collector feature goes one step further and makes their content available to all of the other users with a minimum of fuss.
Video Converter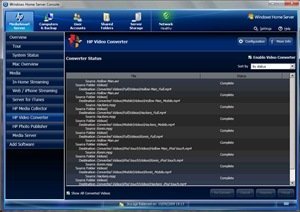 Video Converter is an updated addition to the MediaSmart server that goes hand in hand with the internet video streaming capability. This section controls how videos are converted from their original files into other formats ready to be streamed out to your internet web or iPod/iPhone clients, with the EX495 keeping a constant watch on any folders you define, and automatically converting your videos in line with the client profiles. The converted files are not stored with the original videos, instead HP has created a new share on the server called Converted Videos where the converted videos are organized by profile name and media type.
You can predefine a number of different profiles to suit your different clients screen sizes or available bandwidth, and define were the server will search for video files for that profile.
You can even convert non-copyright DVD's, and are offered plenty of control how the server selects the correct VOB file to convert for streaming. Finally comes fine control over the converted  video resolution and streaming bandwidth needs. This is all pretty comprehensive and should allow you to tailor the converted files to your clients and available bandwidth.
Photo Publisher
Next comes the HP Photo Publisher which seems to be pretty much unchanged from last years MediaSmart servers. The initial screen launches a web page that allows you to upload your photos to some commonly used photo sharing websites.
If you don't want to use any of those photo sharing web sites, HP have also added an additional option that allows you to share copies of your photo albums directly from the EX495.
Media Server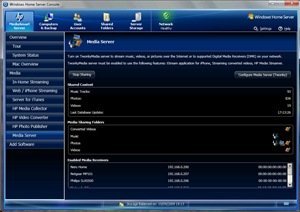 The final page of the Media section is the Media Server information screen, from here you get given lots of information about what you are sharing and to which clients. This is really a reproduction of the information that can be found in the TwonkyMedia setting menus found within the normal Windows Home Server settings window, but there is no real problem with putting it all onto a single page here as an overview.
Add Software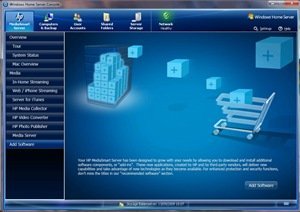 Finally, right at the bottom we have the Add Software screen with a button that jumps to an external HP web
page selling extra software or giving details of special offers to MediaSmart owners.
Web Access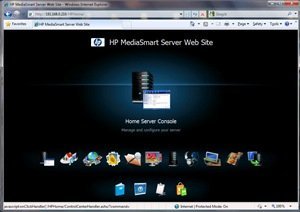 Users familiar with the normal Windows Home Server web login screen will see a big difference on the EX495, as it offers many more options for all of the extra media streaming available with the MediaSmart server. The Microsoft original home page is there under the surface though if you still prefer to use it, simply append /home to your servers URL.
Hardware Controls
The MediaSmart server gains an extra settings section in the administration console, for control of the hardware.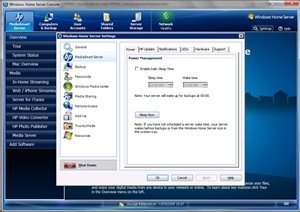 To save a little bit of power when not in use, you can arrange for the server to sleep and wake to a regular schedule, and there is no problem if you unexpectedly need to use the server when it is asleep as you are able to send a wakeup command from your Home Server client icon in the system tray.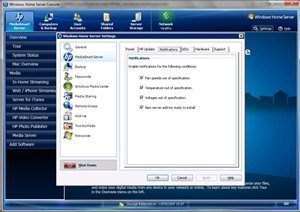 You can add hardware notifications into the normal Windows Home Server client notification, which will give your icon another excuse to turn yellow or red.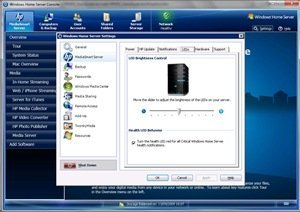 LED's too bright for you? No problem, just move the slider around and all of the front LED's will dim or brighten in real-time.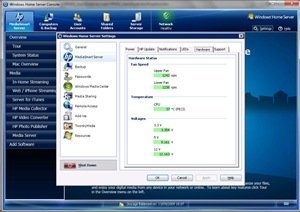 Finally you can see some of the PC hardware values should you be interested.
Verdict
HP continues in its tradition of great hardware on the MediaSmart range, the EX495 offers plenty of processor power and storage capacity in a sturdy, stylish and low power consuming little package.
This time round HP have made a very sensible decision to offer a faster processor on the EX495, as the increase in speed gives extra value if you want to take advantage of the video streaming and conversion capabilities of the new MediaSmart servers, or for anybody who wants to use their server for additional tasks such as a mail or database serving.
Don't be put off by the single disk storage options, as adding a second or third disk to the EX495 is one of the easiest things it is possible to do with a PC, and you will want to do this to take advantage of folder duplication.
Lets hope Microsoft are taking notes on what HP are adding into their MediaSmart servers when they design Windows Home Server 2.0. There are some excellent new features here and many improvements over the previous release, it is a shame that these are only available to owners of the HP MediaSmart range.
Share this WHS Article with Others: