The HP MediaSmart server EX 487 was first announced at the 2009 CES show in Las Vegas and and forms the first of the second generation of the HP Windows home server line of products.
What's in the box?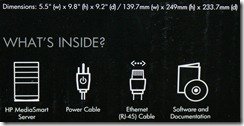 Inside the box there is the server itself, a power adapter and cable, an Ethernet cable, a software installation disc, a PC restore disc, a server recovery disc, and various documentation including warranty, packing list and quick start guide.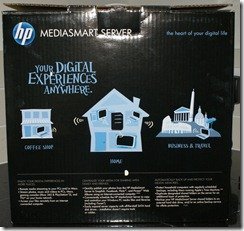 Technical Specification
Product
HP MediaSmart Server EX487
Processor
Intel 2.0 GHz 64-bit Celeron
Memory
2 GB RAM
Included capacity
2 x 750Gb SATA drives
Expandability
2 extra caddies available making a total of 4 SATA caddies
Ethernet Port
10/100/1000 Mbps
Ports
4 x USB 2.0 (3 rear, 1 front)
1 x ESATA (rear)
Dimensions & Weight
5.5" (139.7mm) W x 9.2" (233.7mm) D9.8" (249mm) H
9.9 lb (4.5kg) without hard drive, 11.2 lb. (5.1kg) with one hard drive
Supported OSs
Windows XP, Vista, Mac OS X (10.5 or later
Processors
Number of processors  1
Number of cores  1 (max 1)
Number of threads 1 (max 1)
Name   Intel Celeron 440
Codename  Conroe-L
Specification  Intel(R) Celeron(R) CPU          440  @ 2.00GHz
Package (platform ID) Socket 775 LGA (0x0)
CPUID   6.6.1
Extended CPUID  6.16
Core Stepping  A1
Technology  65 nm
Core Speed  1197.2 MHz
Multiplier x FSB 6.0 x 199.5 MHz
Rated Bus speed  798.1 MHz
Stock frequency  2000 MHz
Instructions sets MMX, SSE, SSE2, SSE3, SSSE3, EM64T
L1 Data cache  32 KBytes, 8-way set associative, 64-byte line size
L1 Instruction cache 32 KBytes, 8-way set associative, 64-byte line size
L2 cache  512 KBytes, 2-way set associative, 64-byte line size
FID/VID Control  no
Chipset
Northbridge   Intel P35/G33/G31 rev. A2
Southbridge   Intel 82801IR (ICH9R) rev. 02
Memory Type   DDR2
Memory Size   2048 MBytes
Channels   Single
Memory Frequency  399.1 MHz (1:2)
Graphics
Number of adapters  0
Software
Windows Version   Microsoft Windows Server 2003 Standard Edition  Service Pack 2 (Build 3790)
DirectX Version   9.0c
Power Usage
Initial startup 96 watts settling back to a consistent 44 – 47 watts. Heavy file transfer didn't take this beyond 50watts.
Initial Impressions
As you would expect from an organisation such as HP, the styling of the machine is very tasteful and restrained, and would look nice in any Home Office setup. The machine is very quiet in operation and wouldn't disrupt anyone, even in the smallest of home offices. The case is a shiny hard plastic that may get easily covered in fingerprints, but realistically there aren't many reasons why you would need to touch the machine! As per other WHS machines it works as a headless unit and only requires Ethernet and power connections.
As you can see from my usual unit of measure, (a 1 litre juice carton!), the actual size of the machine is really quite small.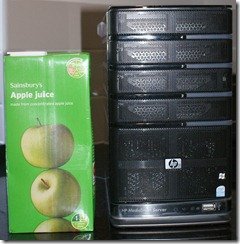 The magnetically latched door opens easily to reveal 4 SATA removable trays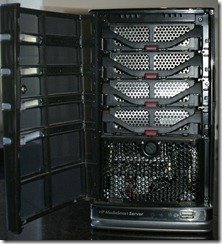 To remove the tray, you first need to turn the little "lock" dial from locked to unlocked, then you press the little red button down and then lift up the black handle and pull to remove it.
Four trays are available , of which two are filled with 750 GB disks out of the box.  The bottom tray contains the operating system disk and the other three caddies contain hot swappable data disks.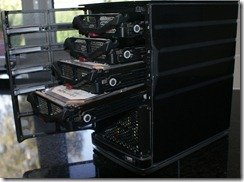 The neat little caddie doesn't require any tools to swap discs in and out.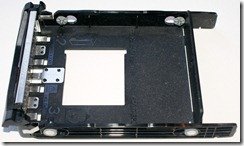 Right side view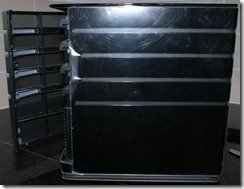 View of the top of the machine with the lid removed by sliding it forward.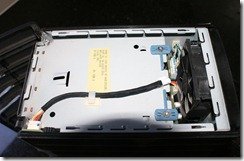 The tidy and functional rear view of the unit .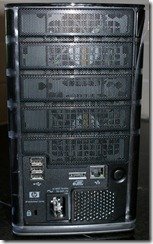 Close-up of all the available ports and the power button on the back of the unit.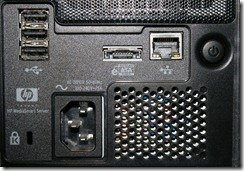 The COA is on the bottom of the unit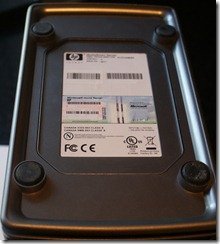 Start Her Up!
To start the installation process of the HP MediaSmart Server
EX487 all you have to do is insert the provided software installation CD into one of your existing home computers. If you have autorun installed then the Windows Home Server Connector will start automatically and go off and search for your new WHS machine on the network. (Alternatively if you have autorun disabled then start up the HPInstall.exe program).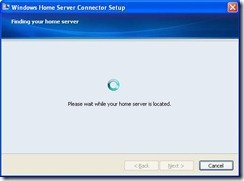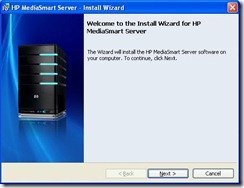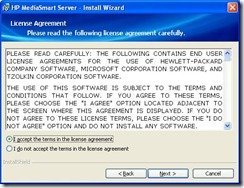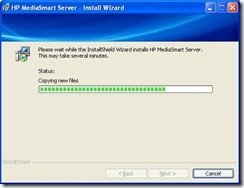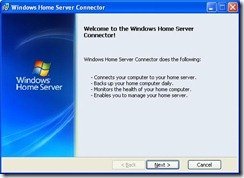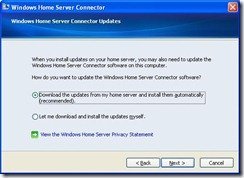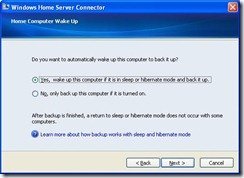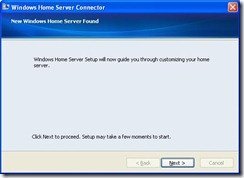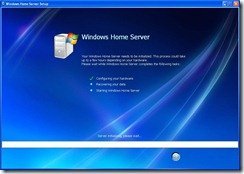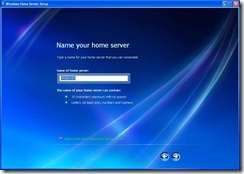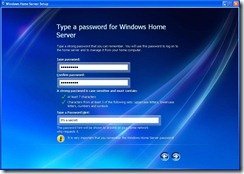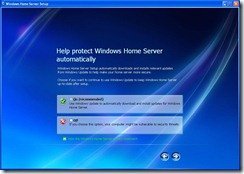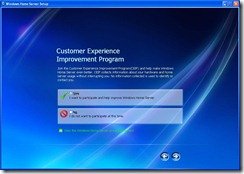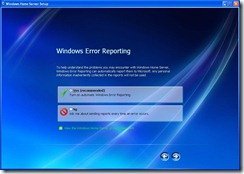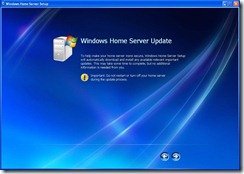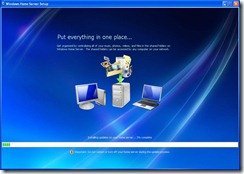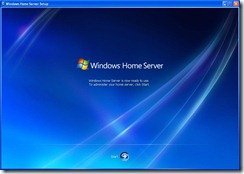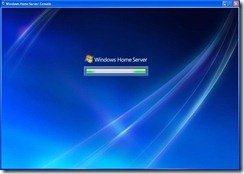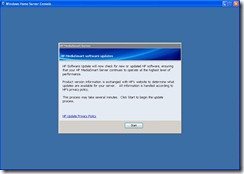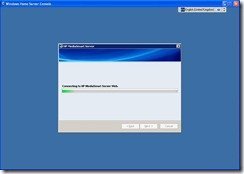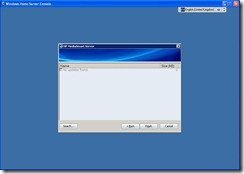 Home Server Console Splash Screen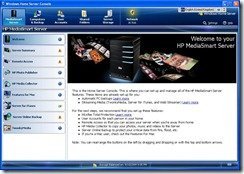 General
In the settings dialogue the general tab shows all the usual information you would expect from a WHS setup. The backup, passwords, media sharing, remote access and add-in tabs are also standard fare for WHS users.
HP MediaSmart Server Add-In
This add-in specifically addresses the EX487s capabilities, including such functions as sleep times, updates, other notifications, the brightness of the LEDs on the unit and fan speeds, as well as a generic support screen.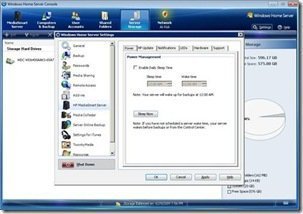 Interestingly as per other HP machines the option to show the health status of the WHS installation is set off as a default. Realistically this option should be set to on, so that you can see from the LEDs on the machine that there is possibly a network issue.
Media Collector
This add-in is likely to be superseded by functionality in the upcoming PowerPack3, but it's nice to see that HP understands t
he value of centralizing the data from all the PCs on a home network. This add-in basically pulls Photos, Music and Videos from the connected machines.
Server Online Backup
Another neat add-in is integration into the Amazon S3 online backup service. Of course there are charges associated to this. Just be aware that large amounts of data being saved online using this service, will take a long time to upload and will cost a fair bit of money!

iTunes Add-In
Another add-in available out of the box is the ITunes server, (which is enabled by default). This may or may not be of use depending on how you plan to distribute music throughout your network.
TwonkyMedia
To quote the TwonkyMedia website, TwonkyMedia manager works with DLNA-certified digital media adapters, A/V systems, TVs, PCs, game consoles and mobile devices. It also works with most UPnP AV-compliant devices, even if they are not DLNA-compliant. This means it also works with hundreds of UPnP media servers (both software and NAS devices) and UPnP control points–including popular mobile phones and UPnP media renderer hardware.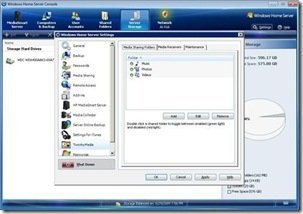 Add-Ins
The TwonkyMedia server and HP MediaSmart Server online backup add-ins are installed by default. And the McAfee total protection service is available for installation should you require it.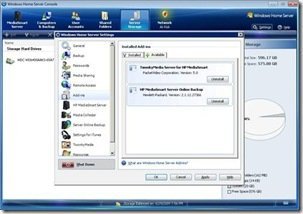 Client Desktop Software
On all client PCs there is also a icon installed on the desktop that points to the HP MediaSmart Server control centre, which basically just gives you an easy way to get to various folders on the WHS machine and to various other tools are available to use with it. The interface that you get when you use this with Microsoft Windows is shown below, but there is a similar interface available for Mac users.
Pricing
The recommended price from HP is $749.
Conclusion
The HP MediaSmart Server EX487 is a sturdy good looking machine with plenty of software add-ins which accentuate any owners use of Windows Home Server. My reservation on other machines has been the ability to add further discs to expand the unit, but this will not be a problem on this machine with an initial 1.5TB available, and a further 2 bays supplied empty.
The HP MediaSmart Server EX487 also has further expansion possibilities available with 4 USB ports and an eSata port which are easily accessible.
This is a very nice machine and the only real downside I can see is that the cost is a little high. But for your money you get a great little machine with lots of expansion capabilities backed by one of the main names in the WHS market – HP.
Share this WHS Article with Others: