I sit at work (browsing when I should be working) quite often, sometimes thinking I could just do with downloading that software for later, and in order for me to do this I have to log onto my WHS website, then wake one of my machines up using "Asofts AutoExit 2008 R2" and then I can use Remote Desktop Connection to log into the machine. Once I have done this I can start the download I require direct from that machine, all this is taking time and taking money from me, as I have now got to leave that machine on all day. Ok so enough rambling, I have been looking for a download manager for a while now and have recently seen Christof Rakowski's Download Manager.
This is ideal for me as I am able to just log into my WHS website and activate any download I need, at first glance you notice that it supports Rapidshare Free and Premium accounts, time scheduling, HTTP and FTP, it will also shutdown the server once the download is complete.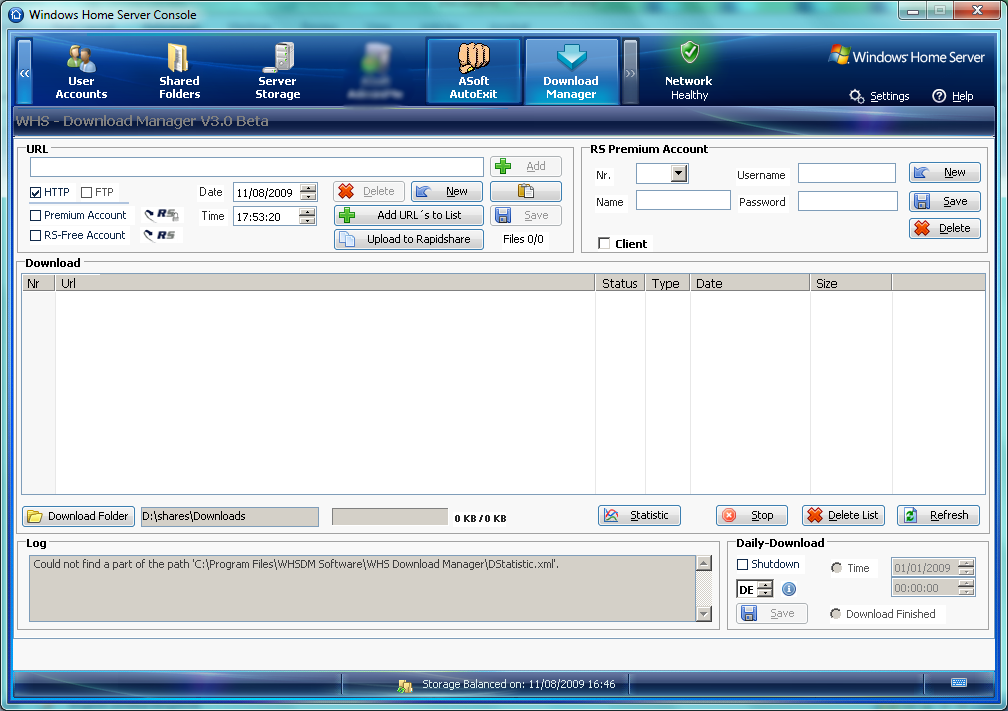 "Christof Rakowski's Download Manager Version 3"
The one to note is with version 3 I found the statistics button kept crashing the WHS console, the only way to recover from this would be to close and then re-open the console but version 3 is still in Beta so I am confident this will be rectified very soon, other than that no problems to report.
Conclusion
I have been using this add-in now for around 2 weeks and found it extremely useful and I am sure you all will to, it is a simple piece of software which is easily installed and most of all easily used with absolutely nothing to configure other than the relevant download you require, the add-in is also available in both English and German so this add-in definitely gets my thumbs up.
To download in IE right-click here and "Save Target As…"
Share this WHS Article with Others: