If you like the idea of a stay at home server incorporating Microsoft's Windows Home Server operating system, up until this point have really only had 2 choices so far. They could build their own,or they could buy one of the HP MediaSmart models. But fresh to the market is Acer with their Aspire easyStore H340.
What's in the box?
Inside the box there is the server itself, a power adapter and cable, an Ethernet cable, a software installation disc, a PC restore disc, a server recovery disc, and various documentation including warranty, packing list and quick start guide.
Technical Specification
Product
Acer Aspire H340
Processor
1.6GHz Intel Atom 230
Memory
2 GB RAM
Included capacity
2 x 640GB Seagate Barracuda 7200rpm SATA drives
Expandability
2 extra caddies available making a total of 4 SATA caddies
Ethernet Port
10/100/1000 Mbps
Ports
5 x USB 2.0 (4 rear, 1 front)
1 x ESATA (rear)
Dimensions & Weight
7.9" (200mm) W x 7.1" (180mm) D x 8.3" (212mm) H

 
9.9 lb (4.5kg) without hard drive, 11.2 lb. (5.1kg) with one hard drive
Supported OSs
Windows XP, Vista    
Interestingly this unit doesn't support OS X backups. The easyStore H340 doesn't support Time Machine and so it can't backup OS X natively like the HP LX and EX MediaSmart WHS machines.
The specification including the Atom 230 processor and 2GB Ram, and whilst this processor is not the quickest available, it is certainly up to the task and helps reduce the power usage of the unit as a whole.
CPU-Z Report
| | |
| --- | --- |
| Number of processors | 1 |
| Number of cores | 1 per processor |
| Number of threads | 2 per processor |
| Name | Intel Atom 230 |
| Code Name | Diamondville |
| Specification | Intel(R) Atom(TM) CPU 230 @ 1.60GHz |
| Package | Socket 437 FCBGA8 |
| Family/Model/Stepping | 6.C.2 |
| Extended Family/Model | 6.1C |
| Core Stepping | C0 |
| Technology | 45 nm |
| Core Speed | 1600.4 MHz |
| Multiplier x Bus speed | 12.0 x 133.4 MHz |
| Rated Bus speed | 533.5 MHz |
| Stock frequency | 1600 MHz |
| Instruction sets | MMX, SSE, SSE2, SSE3, SSSE3, EM64T |
| L1 Data cache (per processor) | 24 KBytes, 6-way set associative, 64-byte line size |
| L1 Instruction cache (per processor) | 32 KBytes, 8-way set associative, 64-byte line size |
| L2 cache (per processor) | 512 KBytes, 8-way set associative, 64-byte line size |
| | |
| --- | --- |
| Northbridge | Intel i945G rev. A2 |
| Southbridge | Intel 82801GB (ICH7/R) rev. A1 |
| Memory Type | DDR2 |
| Memory Size | 2048 MBytes |
| Memory Frequency | 200.0 MHz (2:3) |
| CAS# Latency (tCL) | 4.0 clocks |
| RAS# to CAS# (tRCD) | 4 clocks |
| RAS# Precharge (tRP) | 4 clocks |
| Cycle Time (tRAS) | 12 clocks |
| Bank Cycle Time (tRC) | 16 clocks |
| | |
| --- | --- |
| System Manufacturer | Acer |
| System Name | Aspire easyStore H340 |
| System S/N | 98H340EUBH915042F330A1 |
| Mainboard Vendor | Acer |
| Mainboard Model | WG945GCM |
| BIOS Vendor | Phoenix Technologies LTD |
| BIOS Version | P03 |
| BIOS Date | 02/03/2009 |
| | |
| --- | --- |
| Module 1 | DDR2, PC2-6400 (400 MHz), 2048 MBytes, unknown brand |
| | |
| --- | --- |
| Windows Version | Microsoft Windows Server 2003 Standard Edition Service Pack 2 (Build 3790) |
| DirectX Version | 9.0c |
Power Usage
Initial startup 60 watts settling back to a consistent 42 – 45 watts. Heavy file transfer didn't take this beyond 48watts.
Initial Impressions
This WHS machine is a rather strangely attractive cube, which in reality won't look out of place in any home study or office.It has a big power button at the top left of the unit, a number of blue lights, and a USB socket in the bottom left hand corner. The front of the unit is dominated by a door which opens left to right to reveal 4 hot swappable 3.5-inch SATA drive bays.
The case reminds me a little of the usual Shuttle PC form factor and it's dimensions, [7.9" (200mm) W x 7.1" (180mm) D x 8.3" (212mm) H] mean that despite its potential storage capacity of 8Tb, (more on this later), it is still in fact quite a discrete unit.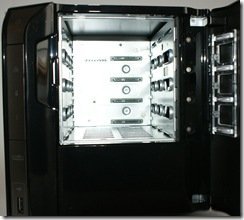 Case Off
Huge internal fan but slow spinning in order to keep the noise down.
As you would expect internal cabling is kept incredibly tidy.
Expandability
This machine is immediately impressive on this front because of the 4 caddies that are available to the user. The review machine was supplied with 2 caddies already filled with two 640Gb Seagate Barracuda drives. The system drive is neatly labeled and logically is drive 1.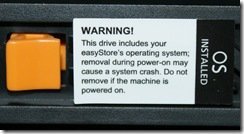 If you filled up all the caddies with 2Tb drives, (which of course would necessitate a WHS OS re-install on the system disc), this system could scale up to being a whopping 8Tb server…
All the drives, (apart from the system drive), are hot swappable, and so can be added or removed without having to power down the server. You just lift up the little orange tab, pull out the tray, slide in your new drive, and slide the whole unit back into the bay. There are four USB ports in the back, along with one eSATA port and a gigabit Ethernet port. Server back up is easily provided by connecting an external USB drive drive into the front USB port and touching one button.
Start her up!
The install process is the standard WHS install process, other than the almost mandatory custom splash screens.
A new user would simply put the provided CD into a client machines drive and start up the Acer installation utility if autorun hasn't already prompted you to do so.
At this point you would give your new server an appropriate name and assign an administrator password. Whatever you do, don't forget this otherwise you are going to have to install the system from scratch!
Home Server Console Splash Screen
When you start the console up from your client PCs you will be presented initially with the screen below, which is the same that you would see on any standard WHS implementation.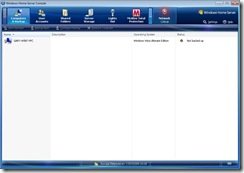 Server Storage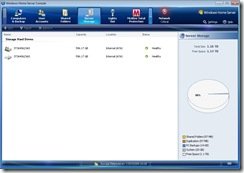 Lights Out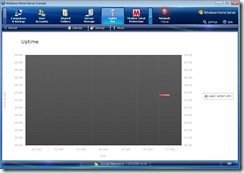 McAfee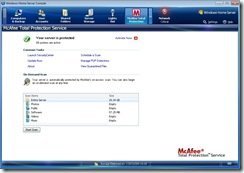 System Information
Acer supply an extra add in that provides an extra system information tab, that shows information that would otherwise be on the WHS Task Manager which would only be available if you RDP into the unit – this is a nice time saving tool.

Settings
In the settings dialogue the general tab shows all the usual information you would expect from a WHS setup.
*General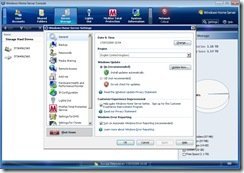 *Backup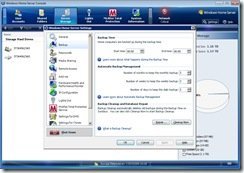 *Passwords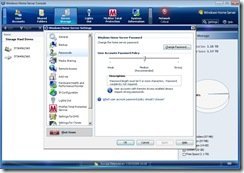 *Media Sharing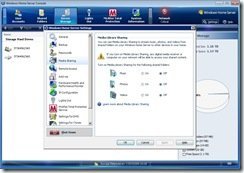 *Remote Access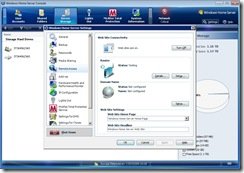 *Add Ins
Somewhat strangely as McAfee and Lights Out are pre-installed on this machine, no addins are shown as installed, (and none are available). So it's not entirely clear to the casual WHS user as to how you would uninstall these addins should you no longer require them. You would in fact need to RDP into the WHS and use the usual add/remove programs tool in the control panel to get rid of these programs.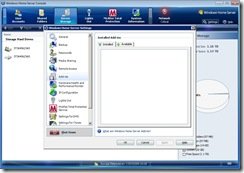 *Hardware Health and Performance Monitor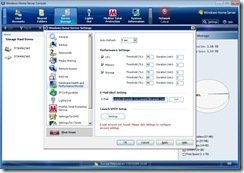 *IP configuration
A somewhat strange addin, as savvy IT professionals would know how to change IP addresses on their WHS machine; and if you aren't IT savvy these are settings you really wouldn't want to be playing with!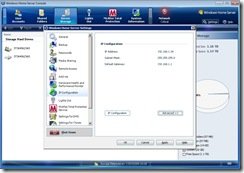 *Lights Out
Lights out enables you to configure hibernation times for your server, so that you can improve it's already impressive green credentials; by hibernating the server, when you are definitely not using any of the its capabilities. This addin is of course available to other WHS users here.
*McAfee Total Protection Service
Acer also includes a 60 day trial to McAfee Total Protection which includes an antivirus/antispyware security suite.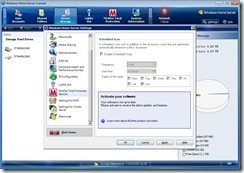 *Settings for DMS
Digital Media Server is a DLNA compatible program for streaming music, video and photos stored on the server, to DLNA compatible clients.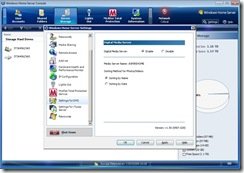 *Settings for ITunes Server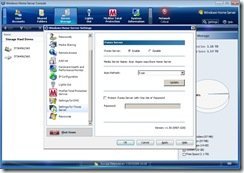 *Resources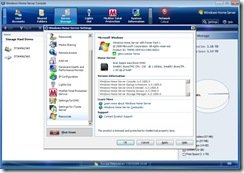 Pricing
UK pricing hasn't yet been revealed by Acer, but currently this unit is on sale for $399 at NewEgg in the US – so would probably expect UK pricing to be in the £300 – £350 range.
Conclusion
If you directly compare this machine to any of HP's MediaSmart machines, Acer's Aspire easyStore H340 doesn't have much in the way of extra software or features, but the pricing looks like it is going to be very sharp compared to these machines. In fact compared to the base LX195 machine with which it is likely to have comparable pricing, the H340 looks like a complete steal because of it's e
xpandability, larger memory and extra ESATA port. Any software that is "missing" can easily be found in the vast array of other WHS addins available.
If you need Mac support then out of the box the Acer cannot currently support you, but there are possibly addins out there that can assist you with this anyway.
This is a machine I like, (a lot!), and would definitely recommend that you consider this as your Home Server. It's nice to look at, it's well configured, and has masses of scope for expansion – if the price point comes in right then I'm not sure why you would currently look at anything else.
Share this WHS Article with Others: