Introduction
HP, who were one of the original entrants into the pre-built WHS market have introduced the MediaSmart LX195 to complement their existing range of machines. This unit is very much an entry level Windows Home Server machine as compared to the specifications of its EX siblings, because of a lower price and hence lower specification processor and available built in disk space.
What's in the box?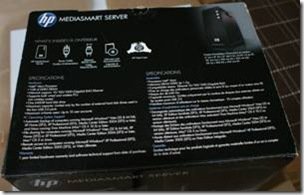 Inside the box there is the server itself, a power adapter and cable, an Ethernet cable, a software installation disc, a PC restore disc, a server recovery disc, a setup poster and HP support guides.
Technical Specification
| | |
| --- | --- |
| Product | HP MediaSmart LX195 |
| Processor | 1.6GHz Intel Atom 230 |
| Memory | 1 GB RAM |
| Included capacity | 1 bay – 640GB 7200rpm SATA |
| Expandability | By external hard disc only |
| Ethernet Port | Gigabit Ethernet port (supports 10/100Mbps) |
| USB Ports | 4 x USB 2.0 |
| Dimensions | 8.2" H, 3.9" W, 8.2" D | 202mm H, 101mm W, 202mm D |
| Supported OSs | Windows XP, Vista, Mac OS X 10.5 |
The specification including the Atom 230 processor and 1GB Ram, is not going to win it any awards for being a speed demon, but this is a perfectly adequate specification for an entry level server product such as this, and of course will keep power requirements to a minimum.
CPU-Z reports the following:
Processor
Number of processors 1
Number of cores 1 per processor
Number of threads 2 per processor
Name Intel Atom 230
Code Name Diamondville
Specification Intel(R) Core(TM) CPU 230 @ 1.60GHz
Package Socket 437 FCBGA8
Family/Model/Stepping 6.C.2
Extended Family/Model 6.1C
Core Stepping C0
Technology 45 nm
Core Speed 1596.2 MHz
Multiplier x Bus speed 12.0 x 133.0 MHz
Rated Bus speed 532.1 MHz
Stock frequency 1600 MHz
Instruction sets MMX, SSE, SSE2, SSE3, SSSE3, EM64T
L1 Data cache (per processor) 24 Kbytes, 6-way set associative, 64-byte line size
L1 Instruction cache (per processor) 32 Kbytes, 8-way set associative, 64-byte line size
L2 cache (per processor) 512 Kbytes, 8-way set associative, 64-byte line size
Chipset & Memory
Northbridge Intel i945G rev. A2
Southbridge Intel 82801GB (ICH7/R) rev. A1
Memory Type DDR2
Memory Size 1024 Mbytes
Memory Frequency 199.5 MHz (2:3)
CAS# Latency (tCL) 4.0 clocks
RAS# to CAS# (tRCD) 4 clocks
RAS# Precharge (tRP) 4 clocks
Cycle Time (tRAS) 12 clocks
Bank Cycle Time (tRC) 16 clocks
System
System Manufacturer HP
System Name MediaSmart Server
Mainboard Vendor Wistron
Mainboard Model LX19X
BIOS Vendor American Megatrends Inc.
BIOS Version HPMSS-01-B
BIOS Date 03/04/2009
Memory SPD Module 1 DDR2, PC2-6400 (400 MHz), 1024 MBytes, Elpida
Software
Windows Version Microsoft Windows Server 2003 Standard Edition Service Pack 2 (Build 3790)
DirectX Version 9.0c
Product Description
The HP MediaSmart Server LX 195 is a very small unit, (8.2" H, 3.9" W, 8.2" D | 202mm H, 101mm W, 202mm D), so should fit into any existing home office setup easily. In fact that is really small, as illustrated here!
The product itself is made of a matte finish plastic which is corrugated around the sides, with an internal metal cage, and I think is quite attractive and neatly understated for this type of device. Given enough space for air to move around it for heat dissipation, I see no reason why this couldn't even be put discretely on a bookshelf!

Initial Impressions
My initial problem with the review unit came when I realized that it had been supplied with a US style plug, (which no doubt will be fixed for shipping units). No problem I thought, I have loads of kettle type leads around from other projects – I'll just swap it over… But it wasn't to be as the HP power supply unit, (which fortunately is also a 100 – 250 volt switching unit, so I wasn't likely to blow a US unit up with UK voltage!), uses a less conventional connector! So job one, was to find a US to UK adapter.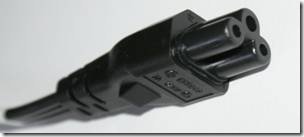 It reports itself to the world through 3 status lights. These status lights are for health, power and hard drive. The at rest status of these lights is 3 blues, (and the intensity of the blue can be altered from the WHS console if required!). However other statuses are communicated via the lights using different colors and various blink states. All of which are listed of course in the user manual, which interestingly is not available on the supplied disk but is easily found on the HP website.
As per all other WHS machines all you need is power and Ethernet connections, because it works as a headless device.
When you initially start working with the HP MediaSmart Server LX 195, you must connect with a Windows PC, which of course may cause issues for those with Apple only install bases, unless they have a dual boot machine. However there is no reason why you can't create a Windows virtual machine on your Mac and do this initial setup using this. In fact to see whether the software provided will work with Windows 7, I decided to create a Virtual Machine, (using Microsoft Virtual PC, but having used VMWare Server before, I know that this would be equally capable. So the client PC in this review was in fact a Windows 7 virtual machine. Did Windows Home Server treat it any differently? No, it was just seen as any other machine on the network.
Also because of an inadvertent power cut during my review period I was also able to test the units ability to recover from this situation. And you will be pleased to hear that it came up once the power was restored with no problems at all.
When you insert the supplied installation disc into your system, a web browser page opens and guide you through the initial server setup. This also includes the normal Windows home server connector setup which enables you to locate the server on your network.
Expandability
It's clear from the outset that if you are going to need more storage space than the 620Gb provided, (don't forget WHS takes a 20Gb partition for itself), or you want to take advantage of the disk duplication capabilities you are going to have to add extra hard discs. These will have to be external USB 2.0 devices as there is no capability for the HP MediaSmart Server LX 195 to have extra drives added internally.
If you take the side off of the HP MediaSmart Server LX 195, you are presented with a heat shield and fan.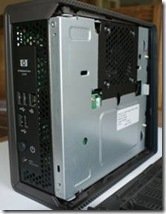 However with the removal of 2 screws at the side you can gain access to the innards of the machine, by a very nice opening door mechanism.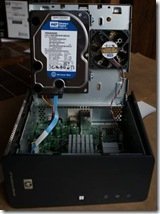 The hard disc is neatly attached to the lifting door, which locks in position when opened fully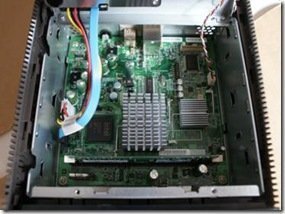 And this reveals the tiny but neat and tidy motherboard.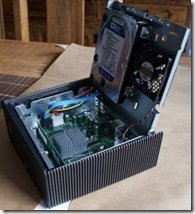 You can see at this point why there are basically only 2 upgrade options – upgrade the existing 640Gb hard disc to a larger one; and upgrade the single 1GB memory DIMM to a 2GB DIMM if you really feel the need.
Start her up!
The process from this point will be very familiar for hardened WHS users, but I will document it for those who are less familiar.
All the new owner of the HP MediaSmart Server LX 195 has to do is insert the provided software installation CD into one of your existing home computers. If you have autorun installed then the Windows Home Server Connector will start automatically and go off and search for your new WHS machine on the network. (Alternatively if you have autorun disabled then start up the HPInstall.exe program).
It will also start the HP MediaSmart Server page on the disc as shown below which you can peruse at your leisure to find out further details about your HP MediaSmart Server LX 195.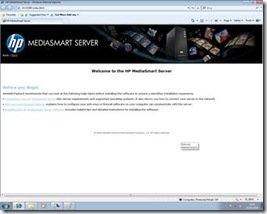 All things being well you are presented with the following screen which will allow you to start the install process.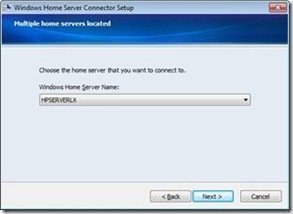 Once the server has been selected the install process goes off and downloads further software directly from the server.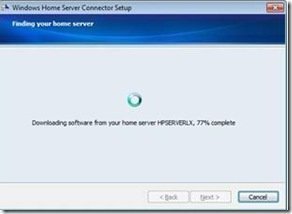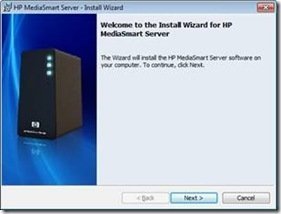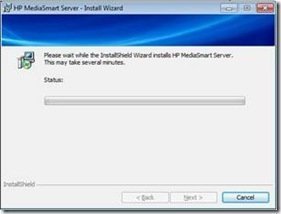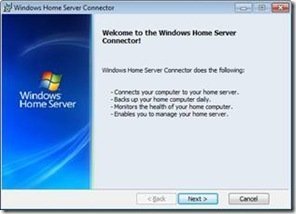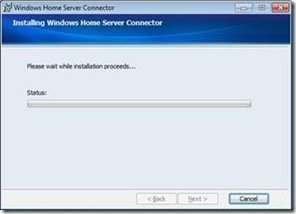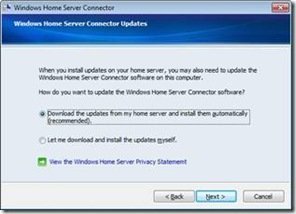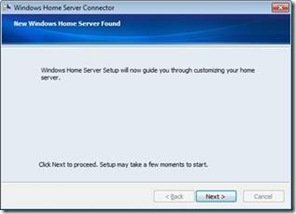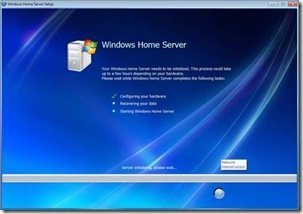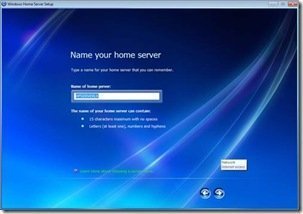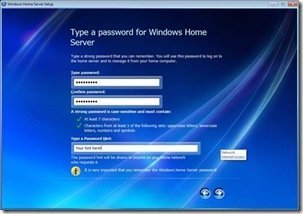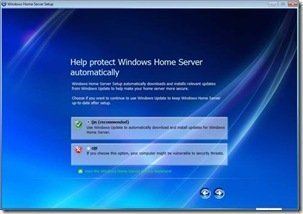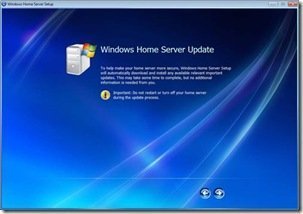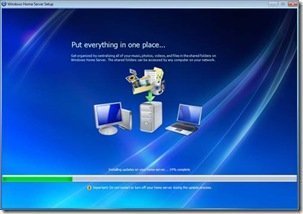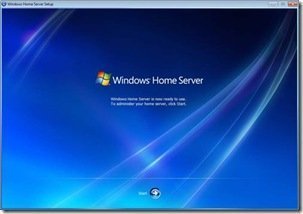 Home Server Console Splash Screen
When you start the console up from your client PCs you will be presented initially with the screen below, but otherwise this is a standard WHS implementation.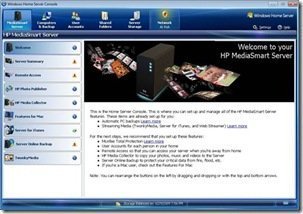 General
In the settings dialogue the general tab shows all the usual information you would expect from a WHS setup. The backup, passwords, media sharing, remote access and add-in tabs are also standard fare for WHS users.
HP MediaSmart Server Add-In
This add-in specifically addresses the LX 195s capabilities, including such functions as sleep times, updates, other notifications, the brightness of the LEDs on the unit and fan speeds, as well as a generic support screen.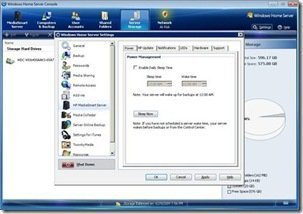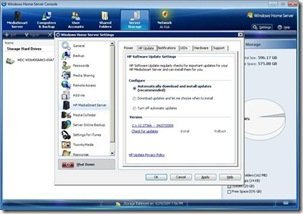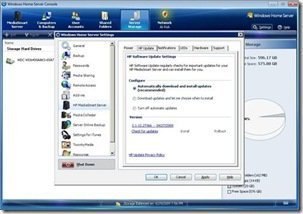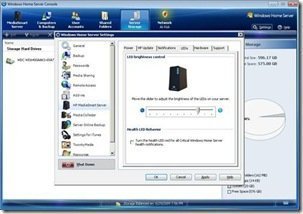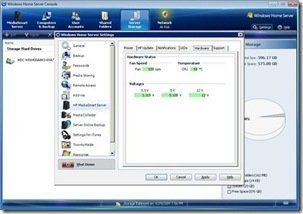 Media Collector
This add-in is the one that I would like to see available to the WHS community as a whole. Currently on my own WHS, I have scheduled MS Synctoy synchronizations scheduled to collect up music, picture and documents and placed them on the server. But this seems a much neater solution, especially directly integrated into the WHS interface.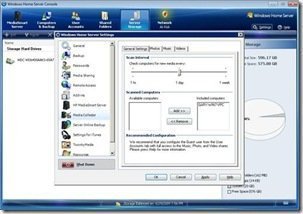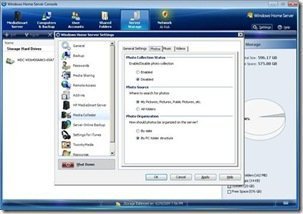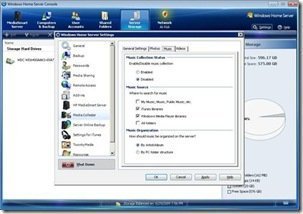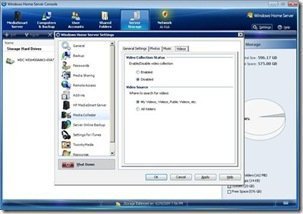 Server Online Backup
Another neat add-in is integration into the Amazon S3 online backup service. Of course there are charges associated to this. Just be aware that large amounts of data being saved online using this service, will take a long time to upload and will cost a fair bit of money!

iTunes Add-In
Another add-in available out of the box is the ITunes server, (which is enabled by default). This may or may not be of use de
pending on how you plan to distribute music throughout your network.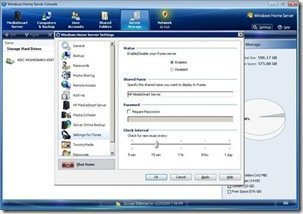 TwonkyMedia
To quote the TwonkyMedia website, TwonkyMedia manager works with DLNA-certified digital media adapters, A/V systems, TVs, PCs, game consoles and mobile devices. It also works with most UPnP AV-compliant devices, even if they are not DLNA-compliant. This means it also works with hundreds of UPnP media servers (both software and NAS devices) and UPnP control points–including popular mobile phones and UPnP media renderer hardware.
Therefore it is quite likely you would use TwonkyMedia Server over the iTunes server because of its broader range of capabilities.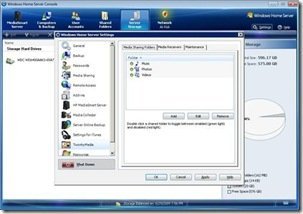 Add-Ins
The TwonkyMedia server and HP MediaSmart Server online backup add-ins are installed by default. And the McAfee total protection service is available for installation should you require it.
Client Desktop Software
On all client PCs there is also a icon installed on the desktop that points to the HP MediaSmart Server control centre, which basically just gives you an easy way to get to various folders on the WHS machine and to various other tools are available to use with it. The interface that you get when you use this with Microsoft Windows is shown below, but there is a similar interface available for Mac users.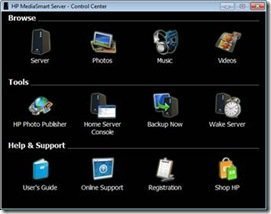 Conclusion
It is a clear that the add-in software HP includes as a matter of course, are intended to extend its media capabilities, and it seems to do this task very well. Of course this depends on you having appropriate other devices that can make use of this capability. This would include devices such as the Xbox 360 to play videos and music, but there are other devices that can take advantage of these capabilities.
The inclusion of a free trial of antivirus software on this device will also help to ensure the security of your data. Of course on the WHS community as a whole, there is still some debate as to whether antivirus is actually required on a server machine, but that discussion can be had elsewhere!
Overall the unit is very quiet and although not completely silent, the very faint hum of the fan is not going to disturb anybody.
The HP MediaSmart Server LX 195 is a very nice machine with lots of extras in the form of software add-ins which really make the machine a joy to use, especially the media collection tool. However, my big reservation about the unit is the lack of capability of adding just one further hard disc to the set up internally. My personal feel about all Windows Home Server machines is that they should have at least 2 separate physical drives, so that you automatically get the security of data duplication across the discs.
The HP MediaSmart Server LX 195 is well appointed with 4 USB ports to support the required external discs, but one possible omission is a eSata port for speedier throughput.
All in all I feel that the HP MediaSmart Server LX 195 is a great little machine, and it's very close to being the perfect entry level Windows Home Server, but just misses that goal because you can't internally expand its storage capabilities.
Share this WHS Article with Others: