This Add-In is used to put a Windows Home Server into suspended mode, or hibernation and resume on user defined events.
Description
To go to sleep, you can choose from several methods:
· On demand, when no more clients are active
· Based on a calendar, as a single action or repeated each weekday
· Or as a combination of both methods
You can define times, where the server has to be up and running:
· Using the calendar
· Based on the defined backup time
The reason for me reviewing the LightsOut add-in is that I have recently had the need to use it, I had heard of the add-in some time ago but I have never had the need to use it until now.
The reason for me wanting to use LightsOut was that my mother's home PC was being backed up irregularly with the backup option she has currently has, I had never given her a WHS box because she only had one machine. Recent events led to me having a spare machine ideal for WHS and my 2 of 3 sisters moving back in with my mother with their 2 laptops, so I thought it was an ideal time.
The machine I used for this was a custom build machine with a Celeron 420 1.6Ghz CPU, 2 x GB RAM 1 x 180GB Western Digital Hard Drive, I may look at putting a second hard drive in there at some point in the future but for now the one will suffice.
The main thing I was looking for from this add-in was that when one of the machines in the house was on, the WHS came on as well, this was pretty much all I wanted it to do. I was going to set a wide range for the backups to occur during the day between 10:00 till 00:00 this way as the machines are used in the day the WHS can back them up rather than wake them up, the reason for this is that the 2 laptops and running wirelessly so won't be able to be woken anyway.
Install wasn't as straight forward as most add-ins and there are some playing around with the services on the WHS so you will have to remote in to the WHS via Remote Desktop Connection. First of all download LightsOutInstaller0.8.2.235.msi from here and then place in the add-ins folder under the software share on your WHS.
The first thing you will notice when you re-login to the console and click on LightsOut is that it will show you this:

Disabling this is a requirement in order to use lights-out, to disable the SBCore service you will need to Remote Desktop into your WHS and then go Start >> Run. Type "services.msc" click "OK". The services panel will open and you need to go down to the SBCore service and double click it and this is what you will see.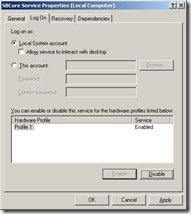 Click the "log On" tab and then in the bottom right-hand corner click "disable", once you have done this restart your WHS, if you have any problems with this please see here for more info.
Once restarted you will be able to go to the LightsOut tab and you should see the below: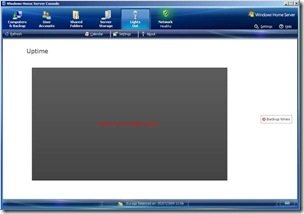 Click settings to start configuring.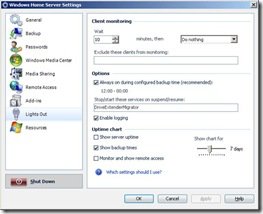 For my scenario I changed the settings to look like this: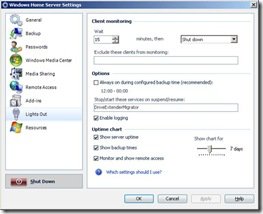 As you can see from my settings I have chosen to shut the server down, solely because each of the machines when turned on will turn the server on via WOL (wake-on-LAN) which must be setup in the BIOS first in order to work. There some further settings you can configure in the calendar section: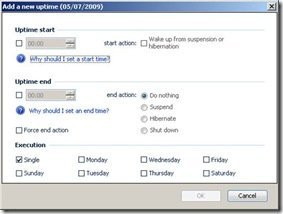 Here you can say what time your WHS starts and what time it shuts down it is entirely up to you.
Next thing is to install the LightsOut client on each of your machines, so navigate to the below: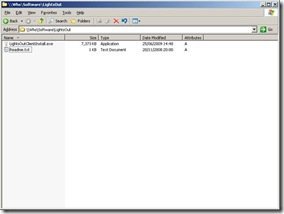 Once you launch the install and run through it you will be completely unsure to whether it has installed or not, but be assured it has installed but the only the thing it does install is a service on the machine.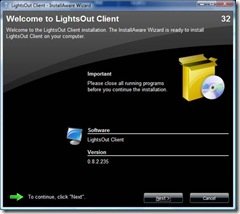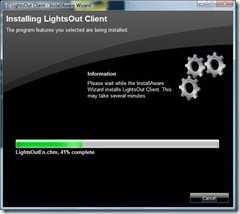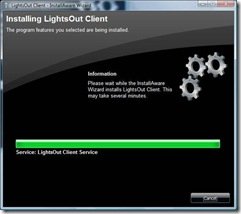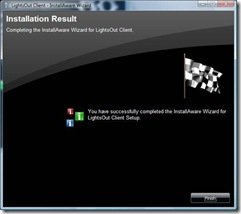 Conclusion
Overall this is a great add-in that's been well thought out and definitely has my vote, the only thing that could be a problem for some users is the SBCore service as some might be unsure how to deal with this, all in all though a great add-in.
Share this WHS Article with Others: