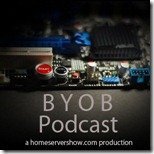 Episode 95 of the BYOB podcast is up, and:
"This week on the BYOB Podcast we are joined by John Stutsman, He'll update us on his recent hardware experiences. The Failure of Storage Spaces, Tunneling with unTangle, Corsair 550D debacle. Michel's new server is a nightmare. Cord Cutting update."
You can listen to episode 95 here.