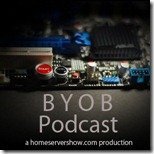 Episode 88 of the BYOB podcast is up:
"XBOX E3 hardware/compatibility updates, more server Issues, Windows on a laptop Mike gives us his experience. Thunderbolt comes to PC hardware, Cheap butt kicking HTPC, Server 12 first impressions. Another info packed show on this weeks BYOB Podcast."
You can find more details on episode 88 here.
Share this WHS Article with Others: