Our friends from the French Mon Home Server blog has bought the qy.Server running WHS 2011 to our attention.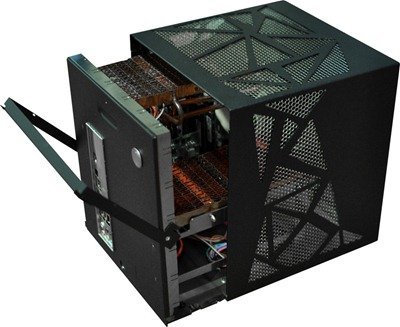 From French SME Splitted-Desktop System the qY.Server runs from a AMD Sempron 2 GHz and up to 8GB of memory and can take up to 4 hard drives, but only those of 2.5", the same size which are found in laptops and are more expensive.
Here's the specs:
Motherboard s2350 mini ITX format
AMD Sempron 2 GHz
RAM up to 8GB
1-4 2.5-inch internal drives (including models 3 shelves up to 1TB) , SSD and HDD technologies
Fanless
Power consumption <30W (varies depending on the type and number of hard drives)
2 Gigabit Ethernet ports
8 USB 2.0 ports, 2 front, 6 rear
1 DVI
1 HD Audio port
4 internal ports SATA-II
An internal compact flash connector
Microsoft Windows Home Server
The base system including 2GB of memory and a 120GB hard drive (fine for the OS) is available from 379 Euro.
More details (in French) are available from here.
Share this WHS Article with Others: