LDisk for Windows Home Server has had an update.
What is LDisk? Here is a re-cap:
LDisk™ Add-In adds iSCSI Target Storage capability to your Windows Home Server-2011, Windows Storage Server-Essentials and SBS-2011. Using LDisk™, you can create a single appliance to provide all your storage and backup needs.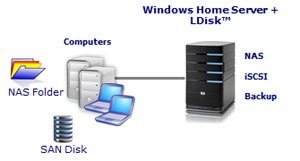 LDisk-2011 Beta version 2.0.0.3 includes the following changes:
Auto-refresh in iSCSI Tabs. That make your life a little easier that you do not have to click refresh moving around tabs. Auto-refresh for NAS tabs will be included in next release.
A change related to Virtual Disks. Their behavior is listed in Note #5 in email below.
A correction in capacity calculation in iSCSI volumes tab.
More details on LDisk can be found here.
Share this WHS Article with Others: