Joel Burt is part of the Windows Home Server team at Microsoft who has been at CES in Las Vegas demonstrating what's in store for Windows Phone 7 users come the next version, "Vail" courtesy of a soon to be released add-in.
The Vail add-in for Windows Phone 7 adds a new feature onto Windows Phone which is currently called, "My Server" enabling you to view via 3 screens Alerts, Media and Account information as the administrator or just Media and Account information as a user.
The Alert screen information is the same details the Dashboard would provide with information on any issues at hand and possible ways to resolve the problem. You are also given the ability to Disable/Enable the alert and to even try and repair.
The Media screen displays your library's allowing you to stream your music, video and photos from your home to your Windows Phone 7 device.
The Account screen allows you (if selected) to upload pictures to your home server from your phone for picture sharing. The Phone will create a new folder with its "phone name" called Mobile Uploads within the WHS pictures folder. Inside this folder, you can view all the photos you have uploaded from your phone both inside and outside your home.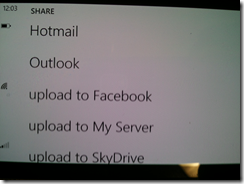 Joel's post is available here.
Share this WHS Article with Others: