The dudes at Tested.com have a really good guide on how to rid your DVDs to play on any device.
Ripping your DVD collection to a compressed, more compatible format will enable you to store more DVDs on Windows Home Server and allow you to stream them to your Windows Mobile, Zune, iPod/iPhone etc.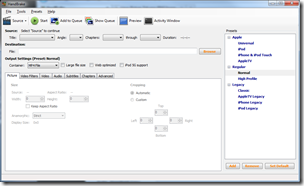 Its a great guide which goes through the various software packages available for both the PC and Mac user and the various presets available for your different devices:
Xbox 360
Playstation 3
AppleTV
WD TV/Popcorn Hour/Asus O!Play/Seagate FreeAgent/Etc
iPhone/iPod Touch
ZuneHD
Playstation Portable
Their comprehensive guide is available here.
Share this WHS Article with Others: