Tranquil PC have announced an update to their AVA Media add-in for Windows Home Server / AVA Media Servers.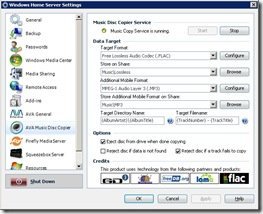 Version 1.5.1.0 of the free upgrade includes the following:
Added: User customization content for My Movies 3
Fix: Workaround to problem with special discs that AnyDVD cannot handle for external programs.
Fix: Issue preventing the program from getting album art from Amazon when copying CD's
Fix: Issue where reading a disc id from AnyDVD could fail
Fix: Issue with selecting language on Xtreamer, TViX and Dune integrations
Fix: Issue with Blu-ray copying where UDF driver broke
Update: Database version matches My Movies 3.04
Update: Minor changes to shared files between My Movies for WHS and My Movies for WMC
NOTE: The Please note the AVA Media add-in will only function on Tranquil PC / AVA Media systems.
Upgrade instructions and the download are located here.
Share this WHS Article with Others: