Directory Watcher is a new add-in which enables you to monitor any folder on your home server for changes and emails the user when changes occur. If email at the time is not accessible then you can retrieve the list of changes on the public website.
The Directory Watcher add-in allows you to:
Set the folder to be monitored
Set the file types, which are to be monitored
Set the type of notification (Notification to clients, RSS feed, email)
Check the status of the service
Number of days to log the events
Configure the email settings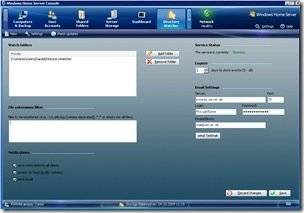 More information is available from here.
Share this WHS Article with Others: